Bird flu outbreak shows importance of GIS data sharing – panelists
In Minnesota alone, officials created more than 1,700 maps during the outbreak earlier this year, but local laws prevented them from sharing their data across state lines.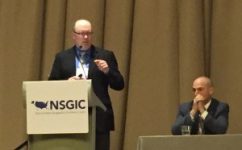 KANSAS CITY, Mo. — Better data sharing could have improved states' response to the bird flu outbreak earlier this year, officials said Tuesday.
After news of the outbreak broke, geographic information systems officials across the Midwest, South and Pacific Coast pieced together maps to help identify infected areas and buffer zones in their states. But generally, states weren't collaborating with each other. In Minnesota alone, officials created more than 1,700 maps during the five-month outbreak, but local laws prevented them from sharing their data across state lines, said Dan Ross, the state's chief geospatial information officer.
"Data sharing was easy [but] there are statutes against it — so we didn't share it," Ross said during a panel at the National States Geographic Information Council's annual conference Tuesday. "Sharing would've made it easier."
In some cases, states will have to work within their legislatures to overturn old statutes on data sharing. In others, states will need to turn to groups like NSGIC to share best practices, even if they can't share specific data.
In Iowa, the nation's largest egg producer, the outbreak affected 18 counties for nearly three months and resulted in the death of 32 million animals. Jon Paoli, the state's GIS coordinator, said that in a situation like the outbreak, data sharing will be crucial to containing outbreaks in the future, and despite getting several requests about what the state was doing with GIS to manage the outbreak, Paoli and his team couldn't legally share detailed information.
"State-to-state information sharing is going to be important," Paoli said. "We've had a lot of states reach out to Minnesota and Iowa asking what we did. We really do need GIS support, and they're going to rely on our agencies to do it again."
Across the country, the outbreak killed millions of birds and halted production on hundreds of poultry farms. If a farmer finds one turkey, chicken or other animal that is infected with the disease, he or she must kill the entire flock to stop the spread. The strain does not infect humans.
"When this disease happens, it's a [magnitude] 8 earthquake in the commercial poultry industry," said Shelby Johnson, Arkansas' geographic information officer and president of the council. "It is devastating."
Agriculture Department officials are gearing up for what could be another outbreak of bird flu this fall. Late last month, the department released a preparedness strategy, in which it lays out plans to share observational data, some of which includes geospatial data, from the spring outbreak with poultry producers at risk.
Despite initial challenges, the work showed the potential for geographic information system specialists to help contain an outbreak, panelists said.
"The big takeaway from this is GIS has become a valuable asset," said Chris Diller, NSGIC's president-elect and Wisconsin's Military Affairs department's GIS coordinator.