Oregon GIO Cy Smith to resign for policy director role
Smith, who helped get the federal Geospatial Data Act passed, will serve in a newly created role at the National States Geographic Information Council.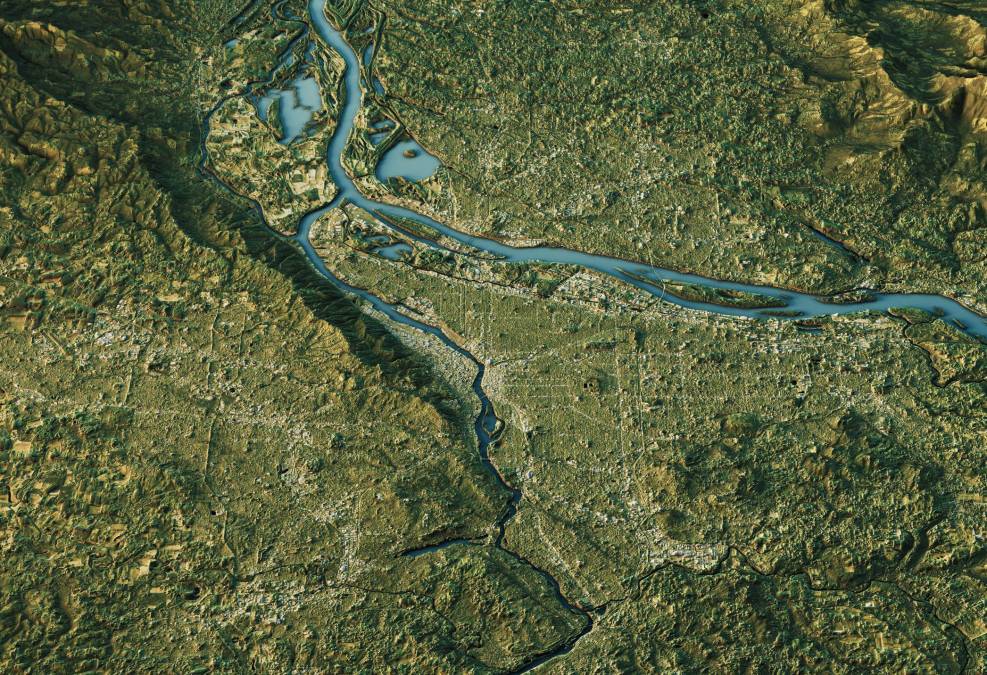 Cy Smith, who's spent the last 21 years as Oregon's lead geographic information systems official, said Wednesday he plans to leave state government later this year as he begins two new roles.
Smith told StateScoop he'll continue working part-time for the state as its geographic information officer until Nov. 12. He said he'll split the rest of his time between his new role as the policy director for the National States Geographic Information Council and as a private consultant developing relationships between emergency management agencies and private sector organizations that can assist during disasters.
"I think I've accomplished most of what I came here to do, although I remember thinking when I started 21 years ago that it was going to take about five years," said Smith, who previously worked for the State of Kansas. "We're still not quite completely done, but we got a lot done."
More than a decade ago, Smith helped develop the Real-time Assessment and Planning Tool for Oregon, or RAPTOR, a situational awareness tool that's since become perhaps the most widely adopted common operating picture used by first responders in the United States. Smith credited success of the project, which started at the U.S. Department of Homeland Security and White House Office of Science and Technology Policy, to its grassroots design process.
"We worked with the local governments to build it so that local governments could use it," Smith said. "And they use it all the time. It's just such a great tool. It's saved lots and lots of lives."
'This is my data'
Smith has spent the last four years as a member of the National Geospatial Advisory Committee, a U.S. Interior advisory group created by the Geospatial Data Act, a 2018 law that he helped push through Congress.
The committee is part of a nationwide effort in building what's known as the National Spatial Data Infrastructure, an ambitious project allowing agencies at all levels of government — as well as private sector organizations and higher education institutions — to share geospatial data.
Smith said his new role with NSGIC will include reporting back the to the group on the advisory committee's progress.
"We're doing really great stuff there with regard to public-private partnerships and it's another way of playing on this idea that everybody needs geospatial data," Smith said. "The private sector spends a whole bunch of money on geospatial data all the time, for logistics, for energy, for timber. And government spends the same amounts of money on geospatial data and to a great extent it's the same data. We're not doing a great job. We're spending at least twice as much probably as we need to spend."
The National Spatial Data Infrastructure, which GIS professionals had only dreamed about for decades before the 2018 law, could help eliminate that redundancy. Smith, who heads stakeholder engagement for the advisory committee, said the key is to give everyone working with GIS "an equitable seat at the table" in developing the NSDI.
"Right now, the NSDI doesn't mean anything to a county assessor who has critical parcel data that we all need," Smith said. "It has no value for them, they don't see their role in it, because they don't have a seat at the table when decisions get made. So they feel like, 'This is my data. If you want my data, you can pay me, but otherwise I'm building this for my purposes.'"
Infrastructure deal
Smith said his policy director role at NSGIC will also include taking greater advantage of an existing advocacy committee that taps into relationships with the private sector. One example, he said, involves a current widespread effort by GIS professionals to get geospatial data funding for state and local governments included in the federal infrastructure bill.
It would be "a natural fit" in the deal, he said, to provide greater funding for lidar projects, for example, that are frequently used by state transportation departments to guide decisions on infrastructure projects. Natural resources and emergency management departments, too, rely on such high-resolution topographic data, which Smith said is "very expensive" to generate, when planning for natural disasters such as landslides or floods.
"Everywhere we get lidar, we find out that those old elevation models give you the wrong answer about where the water's really going to go when it starts to rise," Smith said.
Private sector struggle
Smith said he'll also help NSGIC curate a database of the most helpful information that's been shared on the group's listserv over the years, but never chronicled anywhere accessible.
Beyond his work at NSGIC, Smith said he'll also begin consulting with G&H International, assisting the Consortium for Emergency Services Technology as it begins emergency-response planning for a potential catastrophic earthquake in the Pacific Northwest.
The exercise, to be hosted by the Federal Emergency Management Agency in June 2022, will gather emergency response officials and others from California, Idaho, Oregon and Washington to run through various scenarios that could unwind following a hypothetical 9.0 magnitude quake, which seismologists predict could destroy a significant portion of the region.
Smith said he's going to help coordinate the relationships between government and the businesses that control infrastructure and resources that the government doesn't — companies including Walmart, Costco, UPS, FedEx, Uber and Airbnb.
"The large companies in particular completely recognize that they have a role to play, that they would be called upon in a time of disaster and they over the years have been very interested in coordinating with government," Smith said. "But the private sector and government around emergency management have struggled. But it's starting to happen now."
He said participants are now developing tools — based on Microsoft Teams and Esri software — that will allow government and private industry to cooperate on various tasks, such as delivering supplies to a neighborhood after a landslide damaged its nearby bridges.
Smith said he's excited to work on both the tactical and strategic sides of GIS work that he called "critically important." But looking back at his career so far, he called working with former Sen. Orrin Hatch, R-Utah, to pass the Geospatial Data Act one of his proudest moments in government.
"I've been shocked, personally, at how much the federal agencies are engaged in working to implement that piece of legislation," Smith said. "I didn't anticipate that it was going to be like that, but that's very gratifying. The federal agencies were not really too keen on it all the way through, but after it got passed they were like, 'OK, that's the law of the land. Let's do it.'"