Sidewalk Labs releases master plan for Quayside project in Toronto
The urban technology subsidiary of Google parent Alphabet released a four-volume, 1,500-page master plan detailing its intentions for a brand-new neighborhood.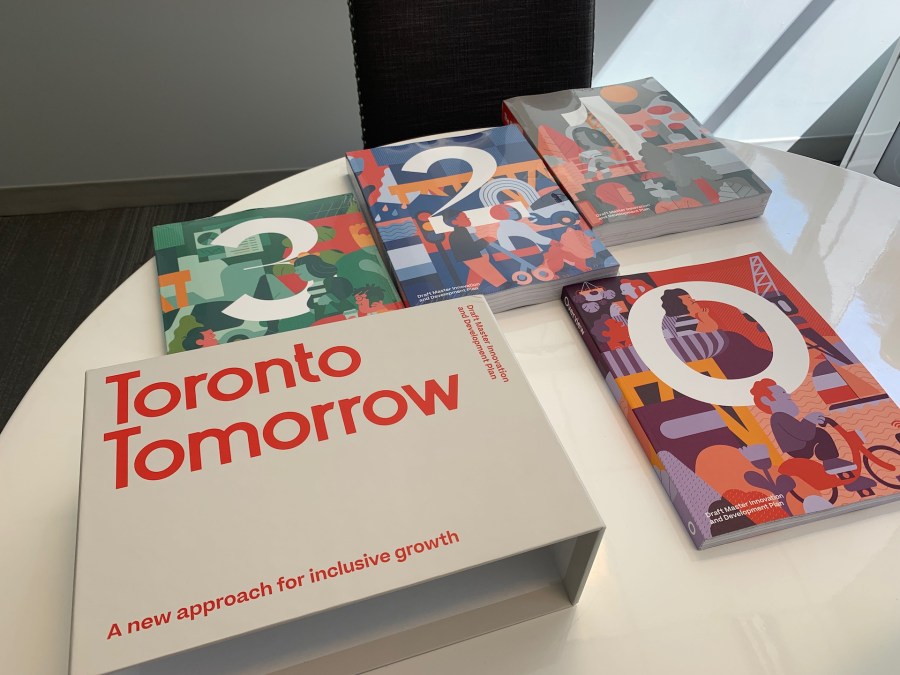 Sidewalk Labs, the urban technology subsidiary of Google parent Alphabet, released its long-awaited plan for the development of a technology-laden community in Toronto.
The plan represents the company's draft for developing at least 12 acres of the city's eastern shore in the Quayside neighborhood, which is covered almost entirely in vacant lots and warehouses. Dan Doctoroff, Sidewalk's chief executive, said on a conference call with reporters Monday that the development sets the stage for Toronto to claim the "most innovative [urban] district in the world."
The four-volume, 1,524 page plan is nearly two years in the making. Waterfront Toronto, an intergovernmental organization tasked with revitalizing the city's property along Lake Ontario, first signed Sidewalk on as its primary development partner in October 2017. Ever since, though, privacy advocates and public sector officials wary of Google's influence have consistently raised concerns and, in some cases, resigned from positions in protest of Sidewalk's proposed data collection and storage policies.
The release of today's plan did not quell pushback against the development project, which was recently approved for review by the city's executive committee.
"Sidewalk Labs has initial proposals relating to data collection, data use, and digital governance," read a letter from Steve Diamond, the new chairman of Waterfront Toronto, which is controlled by the city of Toronto, the Ontario provincial government and the federal government of Canada. "We will require additional information to establish whether they are in compliance with applicable laws and respect Waterfront Toronto's digital governance principles."
Diamond also noted that the Waterfront Toronto cannot commit to all of the regulatory changes that Sidewalk's draft plan calls for, including the extension of public transit to Quayside prior to development, new roles for public administrators, changes to regulations, and government investment.
"Whether the Quayside project proceeds or not, the conversation we are having is important for all of Toronto," Diamond wrote.
Renderings and charts in the plan suggest that Quayside's first residents will move in by 2022, with bigger developments to follow.
While the relatively small Quayside neighborhood will be the first area up for development, Doctoroff said, the company's draft plan unveiled an outline for eventually developing a 191-acre "IDEA" (Innovative Design and Economic Acceleration) District — an expansive project that would outfit seven lakeside neighborhoods with the data-collection technology and internet-connected devices expected to define the "smart" aspects of Quayside.
The IDEA District is the expanded, optional developmental plan for Sidewalk Labs, Doctoroff said. It is optional because projects beyond Quayside will require Waterfront Toronto's approval, among other barriers. Doctoroff said the district would need a centralized public administrator to oversee the district, as well as revised regulatory and financial frameworks for mobility and infrastructure development. If it were to be built, Sidewalk estimates it would create 44,000 jobs and 14.2 billion Canadian dollars in gross domestic product by 2040.
For now, the IDEA district appears to replace the original expansion plans that Sidewalk had for Quayside, which called for building out 800 acres of smart-city technology. The scope was pared down to just 12 acres last August, when the company and Waterfront Toronto reached a plan development agreement.
"Waterfront Toronto has told Sidewalk Labs that the concept of the IDEA District is premature and that Waterfront Toronto must first see its goals and objectives achieved at Quayside before deciding whether to work together in other areas," Diamond continued in his letter.
City officials will take the next several months to review the entire plan. Waterfront Toronto's board of directors will consider the plan, as well as recommendations from Waterfront Toronto management in late 2019 or early 2020, deputy city manager Tracey Cook wrote earlier this month. If the plan is approved, city staff would complete a work program that would culminate in a report to Mayor John Tory's office in the second quarter of 2020.
Urban innovations
Sidewalk intends on maximizing innovation across the 2.65 million square feet of developable space, according to the plan. To innovate how residents and workers move around the area, the plan proposes a self-funded extension of Toronto's light-rail line that would connect the neighborhood to the rest of the city, as well as a vast network of pedestrian and cycling infrastructure. Emphasis on multi-modal transportation, adaptive traffic signals that respond to vehicle and pedestrian congestion in real time and a "mobility management system" that fluctuates pricing in real time to respond to congestion are also a part of the mobility package.
The end goal is for 73 percent of all trips in the Quayside neighborhood to be made through walking, cycling or public transit, according to the plan. Across the mixed-use public spaces serving as destinations for these trips, the plan proposes heated pavement, a real-time map of parks and gardens to maintain public spaces and various modes of "smart" waste and energy services.
To facilitate this technological ecosystem, the company is planning to implement a "ubiquitous connectivity network" based on Super-PON, a new architecture for broadband deployments that Google is developing for its Google Fiber deployments in various cities.
Sidewalk also renewed its proposal for placing the data its devices collect in a civic trust that would be managed by a third party. The data collected by the devices would safeguard the data sets, while making anonymized versions of them available to the public by default. The trust would be responsible for creating its own responsible data-use guidelines, but companies or residents seeking to use publicly available data would have to complete an assessment to ensure that their use of the data is beneficial to the public.