Following CEO's resignation, Toronto development group pushes forward on Alphabet's smart city project
The group released an updated development plan earlier this week that reveals a much smaller development area than what was originally sought.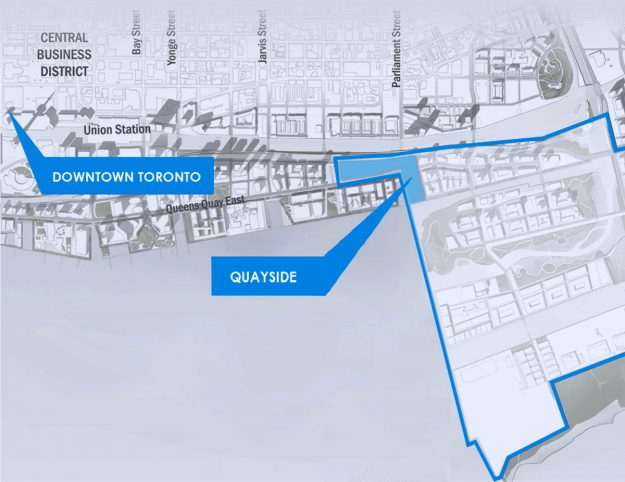 Waterfront Toronto, the tri-governmental public corporation in charge of developing Toronto's Quayside lot with Sidewalk Labs, has lost two board members in the last month, including its CEO — but the group is pushing forward to build out the 12 acres of vacant waterfront lots.
The group released its " Plan Development Agreement ", or PDA, with Sidewalk Labs, the urban innovation company run by Google's parent company, Alphabet, on Tuesday, marking a formal milestone in the partnership. The PDA replaces and declassifies the secretive " framework agreement " that had concerned politicians and activists alike since its announcement in October of 2017.
The new deal clarifies the scope of the project, limiting development to the 12-acre space, rather than a much larger, 800-acre space along the city's eastern waterfront that Sidewalk outlined a desire to build on in the framework agreement. The Toronto project has been watched closely by leaders of smart city projects far beyond Canada. Its success — or failure — will almost certainly influence how other municipalities approach theirs.
Sidewalk Labs spokesperson Dan Levitan also said on Tuesday that the company had committed another $40 million to the project, in addition to its initial $50 million investment in October .
"The Plan Development Agreement is based on months of successful collaboration with Waterfront Toronto. This agreement defines goals, roles and responsibilities and will guide all of our work together as we develop a groundbreaking plan that aims to achieve new levels of sustainability, affordability, mobility, and economic opportunity," Josh Sirefman, head of development at Sidewalk Labs, said in a statement.
Nearly a month prior to the release of the PDA, Waterfront Toronto's CEO, Will Fleissig, resigned after leading the business since December 2015.
"[Fleissig] is very proud of the accomplishments of Waterfront Toronto and the support he has received from the team. He knows that the next stage of the waterfront revitalization is in very good hands," said Helen Burstyn, Chair of the Waterfront Toronto Board, in a statement.
Fleissig directed request for comment his interim successor, Michael Nobrega, former President and CEO of OMERS, an Ontario pension fund company and Chair of the Ontario Centres of Excellence.
Julie Di Lorenzo, a former board member and city real estate developer who also resigned from the board on Monday, told the Toronto Star that Sidewalk Labs is "shortchanging" the city, and outlined her grievances in a letter to Burstyn, citing data privacy and digital governance issues. Burstyn takes a different position.
"Given the deep due diligence to date and the continued vigilance with which we will continue to conduct the next phases of this collaborative effort with Sidewalk Labs, our board is completely comfortable with the obligations undertaken at this time," Burstyn said.