Here's what Toronto's smart neighborhood might actually look like
We now know the kind of wood that will be used, but officials are still staying quiet on how the neighborhood will collect and use data.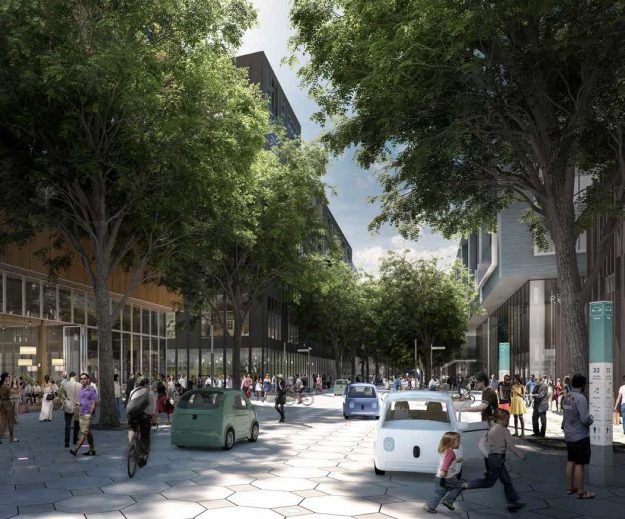 A public roundtable held on Tuesday for Toronto and Sidewalk Labs' "Sidewalk Toronto" project revealed new details in how the project might build out its 12-acre lot on the city's eastern shore — but stayed relatively quiet on how it might live up to its "smart city" vision.
Co-hosted by Sidewalk Labs urban planner Habon Ali and Waterfront Toronto's sustainability and innovation lead, Aaron Barter, the group's third public roundtable offered new insight into what a smart neighborhood might look like — which is, apparently, mostly wood.
The development, called Quayside, could be built with timber on "an unprecedented scale," according to the Karim Khalifa, director of buildings and innovation at Sidewalk Labs. Khalifa touted the material's economic, climate and health benefits while fixating on the flexibility that it would bring businesses and families — which he said, with Sidewalk's smart sensor technology, could "co-exist" and expand or shrink in spaces without the burden of traditional, static building code regulations.
"We can use that space collectively," he said. "It doesn't have to be door-by-door. It could be a quarter-plate or a half-plate — we can think of lots of arrangements to make that happen, but really just change the way we look at our [building] code to make it sensor-based or performance based on how people use spaces — not defined just because we don't know how to control all those [residential and commercial] use cases in one spot."
The roundtable also illustrated what public infrastructure might look like — heated roads, sidewalks and smart building facades designed to redirect rainwater were all presented as emerging technologies that could be built into the neighborhood. Modular, hexagonal pavement slabs could respond to weather and roadway conditions in real time, while built-in LED lights could change traffic patterns at any time without the need for a roadway crew to establish a detour.
Though Khalifa appeared keen on using sensors to monitor residential and commercial spaces, Sidewalk Labs — a sister company to Google, with both owned by Alphabet — did not address the myriad data privacy and ownership concerns it has faced since the initial contract signing in October of 2017.
"There's no question data and privacy are part of the work we're doing — they're very important to this project — but frankly there are a lot of other things that are also very important to this project and tonight we want to focus very much on this built environment aspect where there's a ton of work and creativity being put into it," said Rit Aggarwala, Sidewalk Labs' head of urban systems, at a briefing ahead of the roundtable.
Those data privacy concerns have manifested into real action, at least on behalf of the board at Waterfront Toronto. The tri-governmental public corporation charged with figuring out what to do with the city's dilapidated eastern shore saw its CEO and another board member resign last month , just days before the group released its Plan Development Agreement clarifying the funding and scope of the project.
Julie Di Lorenzo, a board member who resigned the day before the PDA was released to public, said Sidewalk Labs is "shortchanging" the city, and cited unresolved data privacy and digital governance issues in her decision to leave.
Sidewalk Labs hasn't addressed the issues publicly to quell recent concerns, but dates have been set for October, November and December when digital governance will be discussed.