NASCIO honors state IT innovations, welcomes new officers
The state chief information officer organization honored 11 IT innovations across eight states for achievements in state information technology.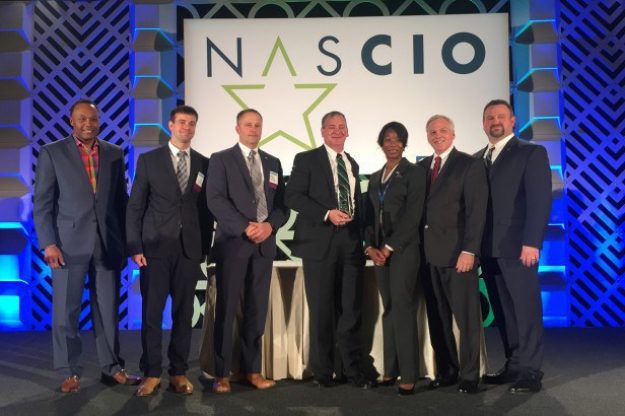 SALT LAKE CITY — The National Association of State Chief Information Officers honored several states and information technology projects with the 2015 State IT Recognition award at its annual conference.
The awards, given to eight states, recognized 11 different categories of projects and staff, and were chosen by a group of 40 NASCIO members.
"Peer reviews are what set NASCIO awards apart," Oklahoma's Chief Information Officer Bo Reese said at the reception. "Peers understand the difficulties and challenges that face state government."
The NASCIO Awards committee received more than 100 nominations across the 11 categories, and the association announced the four finalists in each category in August.
The winners, by state are:
— Universal Application*
— Secure Colorado: Achieving Quick and Sustainable Risk Reduction
— Internet Unemployment System (iUS)
Enterprise Information Management
Connecting 100,000 Minnesotans with jobs: Using technology to transform government
North Carolina Innovation Center*
— IT Optimization: Driving business value
— Oregon-Montana Disaster Recovery
— OReGO: Oregon Road Usage Charge
: Government to Business — Enhancing customer service through the Mobile Collectors Application
: Government to Citizen — Electronic death registration and birth certificates on demand
* Denotes a winner of a 2015 StateScoop 50 award
The association also recognized the winners of the Thomas Jarrett Conference Scholarship Award — a fund that pays for exception state chief information security officers to attend the conference — and the association's Meritorious Service Award.
The winners of the Jarrett scholarship were:
Danielle Alvarez, CISO, Florida
John Essner, chief security officer, New Jersey
Bill Nash, CISO, Washington
Craig Orgeron, the Mississippi CIO and NASCIO president from 2013-2014, received the Meritorious Service Award — given to someone who exemplifies the NASCIO vision and the principles of IT. Dugan Petty, the former CIO of Oregon and a past recipient of the award, called Orgeron a "terrific communicator" and applauded his work in Mississippi and with NASCIO.
"I'm the son of a high school dropout," Orgeron said. "I didn't expect to get a Ph.D., and didn't expect to be a CIO, and I didn't expect to be president of NASCIO. But I am honored to have been."
The new NASCIO executive committee as well as the executive leadership for the organization were also announced at the awards reception. Darryl Ackley, the CIO of New Mexico, will replace Stu Davis, Ohio's CIO, as president. Mark Raymond of Connecticut will become vice president, and Calvin Rhodes will take the reins as secretary/treasurer.
The executive committee be:
Tom Baden, CIO, Minnesota
Chris Estes, CIO, North Carolina
James Fowler, CIO, Kentucky
Craig Orgeron, CIO, Mississippi
Gale Given, chief technology officer, West Virginia
Jim Smith, CIO, Maine