StateScoop honors 50 innovative IT leaders and programs
StateScoop recognized 50 IT leaders and programs making a significant difference in state and local government. The winners were selected in a nationwide vote by StateScoop readers and announced at a ceremony Monday.
Editors Note: This story was updated to include photos from the awards reception (below).
The votes are in and StateScoop is pleased to announce the winners of the 2015 StateScoop 50 Awards, which honor the best and brightest who make state and local government more efficient and effective.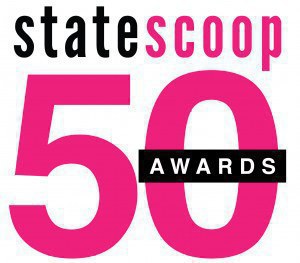 "We are thrilled to recognize the extraordinary accomplishments and innovations of the top 50 state IT leaders from government and tech who are making meaningful contributions to their organizations and communities," said Goldy Kamali, CEO of Scoop News Group, publisher of StateScoop and its affiliate website FedScoop.
This year's winners, which includes IT leaders and initiatives from California to Maine, were selected from the 100 top-ranking nominations submitted across six categories by the readers of StateScoop earlier this year. Readers were asked to identify visionary leaders, programs and rising stars that best highlight the transformational changes being made in state and local government.
Approximately 10,000 individuals from the state and local IT community across the U.S. logged on to StateScoop.com to cast their votes from late March to mid-April to determine this year's StateScoop 50 Awards winners.
"My team and I were delighted by the tremendous response in terms of the number of nominations and the number of votes we received from our readers," Kamali said.
The winners were honored at a special reception held Monday evening during NASCIO's midyear conference at the Hilton Alexandria Mark Center in Alexandria, Virginia. (View pictures from the event, below.)
2015 StateScoop 50 Winners:
Golden Gov: State Executive of the Year 2015
Ron Baldwin, CIO/State Information Technology Service Division, Montana
Paul Baltzell, CIO, Indiana
David Behen, director & CIO, Michigan
David Cagigal, CIO, Wisconsin
Monica Coughlin, chief strategy officer, Colorado Governor's Office of IT
Adel Ebeid, chief innovation officer, Philadelphia
Craig Orgeron, CIO/ITS, Mississippi
Carlos Ramos, CIO, California
Calvin Rhodes, CIO/Georgia Technology Authority, Georgia
State Leadership Award 2015
Kishor Bagul, CTO/ ITS, New York state
Patrick Fernan, DMV division administrator, Wisconsin Department of Transportation
Tim Garza, agency CIO, California Department of Natural Resources
Steve Nichols, CTO, Georgia Technology Authority
Laura Rudy, treasurer, Stafford County, Virginia
Jim Smith, CIO/OIT, Maine
Rep. Eric Swalwell, California member of the U.S. House of Representatives
State Rep. Max Tyler, Colorado General Assembly
Industry Leadership Award 2015
Todd Akers, VP, public sector, Acquia
Michael Donlan, VP, U.S. state and local government, Microsoft
Greg Herbold, director, SLED National Programs, HP
Tom Kennedy, VP, public sector, Symantec
Robert Knapp, COO, NIC
Shawn Rodriguez Sr., director, state and local government and education, NetApp
John Stuhrenberg, VP, government—education, AT&T
State Up & Comer 2015
Jason Allison, CIO/executive director, Agency for State Technology, Florida
Jose Colon, CIO, District of Columbia DOT/Office of IT & Innovation
Nikhil Deshpande, director, Georgia.gov Interactive, Georgia Technology Authority
Sandra Longs, training manager, Prince George's County, Maryland/OIT
Sara Marshall, director of Business Intelligence & Analytics, state of Indiana
Madeline Paguio, Web services manager, Information Technology Agency, city of Los Angeles
Innovation of the Year 2015
Central Business Licensing & Registration Portal, Maryland Department of Business & Economic Development
Innovating Municipal IT: Accessing Technology & Democratizing Data in Philadelphia, Office of Innovation and Technology, Philadelphia
Management & Performance Hub, state of Indiana
Maryland Safety Inspection System, Maryland State Police
my.IN.gov, Indiana Office of Technology
myStafford Citizen Portal, Stafford County, Virginia
PMO Agile Center of Excellence, Maine Office of IT
Responsive Web Design Implementation, Georgia Technology Authority
Transportation Online Permitting System (TOPS), District of Columbia DOT
State IT Program of the Year 2015
Dept. of Revenue Infrastructure Modernization Initiative, Colorado Governor's Office of IT
Innovation Center, state of North Carolina/OITS
Maine Corporate Fraud Monitoring, Maine Bureau of Corporations, Elections & Commissions
Maine State Communications Network (MSCommNet), state of Maine/OIT
NY Drupal Project, New York state/ITS
Program Eligibility & Application Kit (PEAK), Colorado Governor's Office of IT
Strategy to Execution Framework, state of Wisconsin/OET
The Drupal Project, city of Los Angeles IT Agency
The Maryland Cloud, Maryland Department of IT
Vermont Content Management System, state of Vermont
Veteran's Registry Application, Nebraska Department of Veterans Affairs
More than 150 state CIOs, IT officials and industry executives turned out for the StateScoop 50 Awards reception.
See who made the StateScoop 50 Awards list in 2014.