NASCIO recognizes top state IT leaders and projects for 2018
The annual awards honor top projects and "outstanding individuals who have made contributions to advance state technology policy".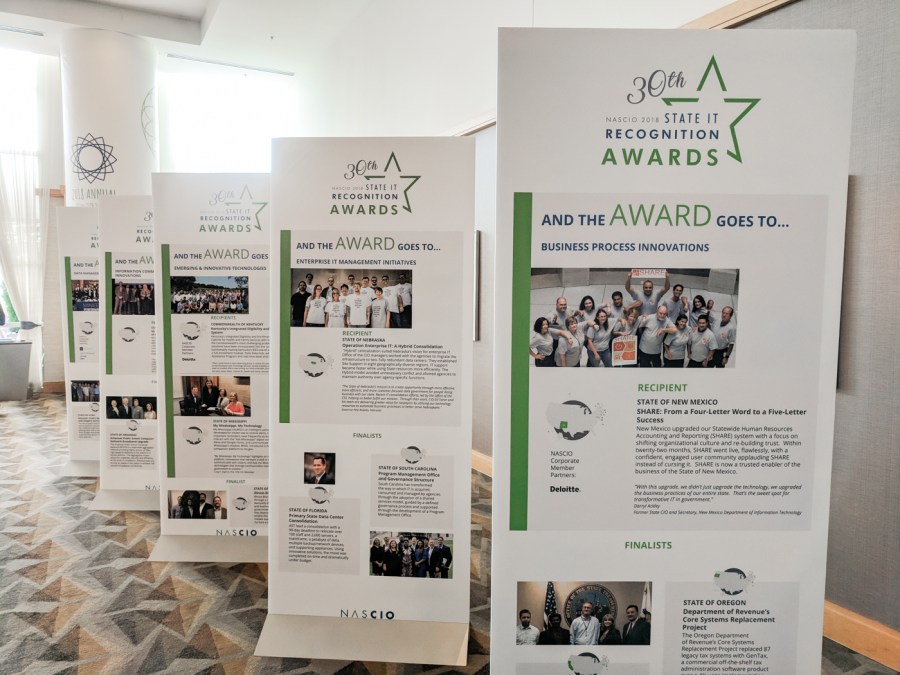 With so much happening in state IT, it can be overwhelming to spotlight the most effective projects and leaders, but that's how the National Association of State Chief Information Officers closed out its annual conference in San Diego on Tuesday and Wednesday. The association recognized three top IT officials, three cybersecurity leaders, 11 exceptional projects, and one meritorious service award recipient, with innovation, flexibility and commitment acting as their common attributes.
The association presented a State Technology Innovator Award to California Deputy CIO Chris Cruz, Colorado Chief Technology Officer David McCurdy and New York CTO Rajiv Rao, honoring "outstanding individuals who have made contributions to advance state technology policy through the promotion of best practices, adoption of new technologies and advancements in service delivery."
Cruz told StateScoop he was honored.
"It's more about the state of California and the folks that I work with and really less about me," Cruz said. "It takes a village to run a successful information technology organization."
He said the key to California's success has been an effective cloud migration plan and implementation of a common security posture across the state. Cruz, who has been deputy state CIO since 2015, said that since the recent integration of California's statewide data center with its security operations center, its information security officer works "hand-in-hand" with the chief technology officer.
McCurdy, who has been CTO of Colorado since 2014, was recognized for his contributions "to empower the state with flexible technology that will drive sustainable and intelligent business decisions for years to come," according to NASCIO.
McCurdy told StateScoop that his office hired him a deputy last year, allowing him to transition away from operations and toward strategy as he began to "dive deep" into important technologies like mobile computing and artificial intelligence.
Rajiv Rao, who has been New York's CTO since 2015, was recognized for helping to lead many of the state's large-scale projects, such as a data center consolidation, identity-as-a-service project, a single sign-on project that bridges more than 800 apps, and a foray into artificial intelligence and machine learning to support state operations.
"Rao is truly an innovator making a difference for the state of New York," NASCIO's press release says.
Thomas M. Jarrett Cybersecurity Scholarship
If they didn't already, the state governments of Alaska, Minnesota and Oklahoma now have something in common as their chief information security officers were also recognized by NASCIO with awards for exceptional performance.
The association recognized Alaska's Shannon Lawson, Minnesota's Aaron Call, and Oklahoma's Mark Gower with the Thomas M. Jarrett Cybersecurity Scholarship. The award was created in the name of Thomas M. Jarrett, who was president of NASCIO from 2004 to 2005; he had a "passion for cybersecurity," according to NASCIO.
Meritorious Service Award
Connecticut CIO Mark Raymond was the sole recipient of NASCIO's 2018 Meritorious Service Award. A special ceremony was held for Raymond Tuesday evening to honor his "dedication to the advancement of NASCIO's mission," the group said.
Bo Reese, Oklahoma CIO and NASCIO president, said Raymond is a "special leader who understands how to move an organization forward."
"I've worked with Mark as a peer and as a leader on the NASCIO Executive Committee, and he has been a standout in terms of strategic thinking and moving both NASCIO and his state forward," Reese said.
Acting as Connecticut's CIO the past seven years, Raymond is credited with advocating for enterprise-wide thinking and approaches to IT investments, according to NASCIO.
"He's been instrumental in the formation of the Information Technology Capital Investment Program, which invests in and creates interoperable systems," NASCIO's press release says. "He also led the development of the state's first cybersecurity plan and has been a leader in cybersecurity planning and execution not only for the state, but also for NASCIO having chaired the Cybersecurity Committee for three years."
Gov. Dannel Malloy also shared in recognizing Raymond's achievements, and said he couldn't have hired a better person to modernize the state's IT.
"Over the last eight years, he has played an essential role in upgrading Connecticut's information technology systems," Gov. Malloy said. "Operating obsolete information technology systems creates inefficiencies that cost taxpayers money, result in delays and inefficiencies, and in some cases the inability to allow agencies to share information is downright dangerous. Overseeing such a critical upgrade is no easy task. I have the highest regard for Mark. His decades of experience in this field have proven himself worthy of the recognition he is receiving today. And we are so very grateful for everything that he has helped us accomplish."
Recognition Awards
NASCIO also recognized 11 "exemplary initiatives" across state government offices as part of the 2018 Recognition Awards. The winners were selected from a pool of more than 100 nominees and according to the association, indicate the most effective and influential technology projects state government has to offer.
The winning initiatives by category:
Business Process Innovations — State of New Mexico, SHARE: From a Four-Letter Word to a Five Letter Success
Cross-Boundary Collaboration & Partnership — State of Georgia, Georgia Gateway
Cybersecurity — State of Missouri, Vendor Security Risk Management and Benchmarking
Data Management, Analytics and Visualization — State of Indiana, Facilitating Data-Driven Innovation: Indiana Management Performance Hub
Digital Government: Government to Business — State of Illinois, Unemployment Insurance Tax Modernization
Digital Government: Government to Citizen — State of Michigan, Michigan Education and Career Pathfinder
Emerging and Innovative Technologies — Commonwealth of Kentucky, Kentucky's Integrated Eligibility and Enrollment System
Emerging and Innovative Technologies — State of Mississippi, My Mississippi, My Technology
Enterprise IT Management Initiatives — State of Nebraska, Operation Enterprise IT: A Hybrid Consolidation
Information Communications Technology (ICT) Innovations — State of Michigan, Mi Bridges: Helping Michigan Citizens Every Step of the Way
State CIO Office Special Recognition — Commonwealth of Pennsylvania, Center of Excellence for Electronic Grants
For more of StateScoop's coverage of NASCIO's 2018 annual conference, read about the association's CIO survey or CISO survey , or read advice from state IT leaders on how to create effective partnerships between state and local government .