Apple, Google: Contact tracing to become standard smartphone feature
Nevada, Maryland, Virginia and D.C. will be the first to use a version of the tech giants' jointly developed API that does not require the installation of an app.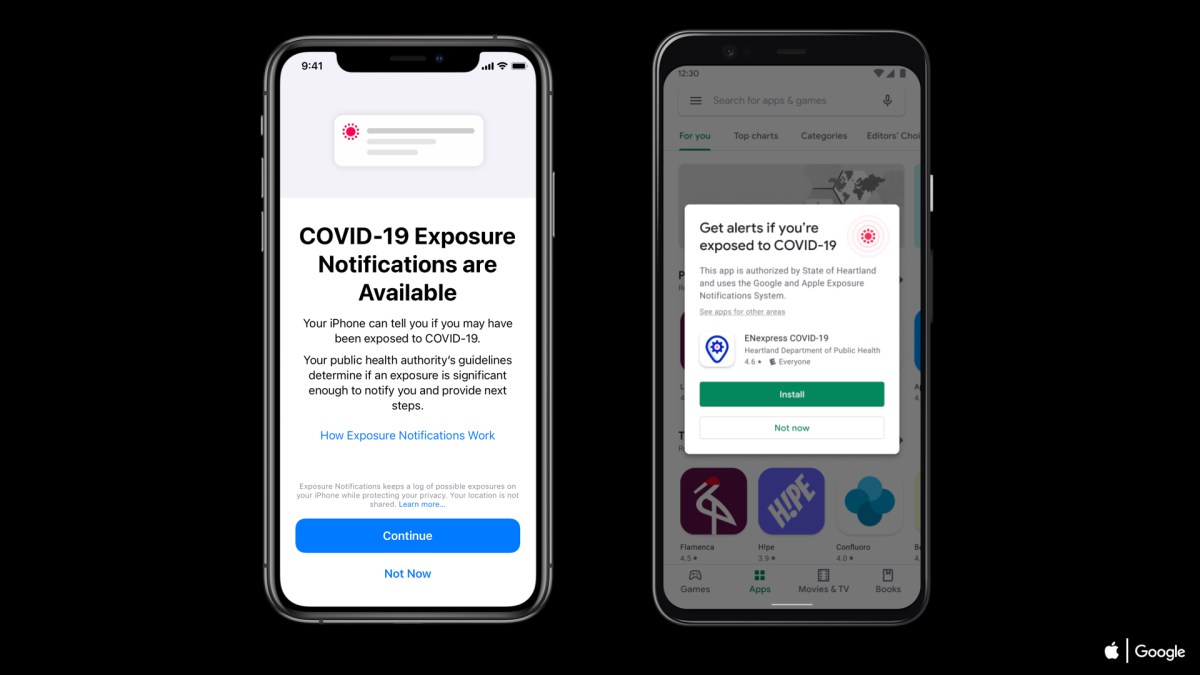 Apple and Google announced Tuesday that future versions of their mobile phone operating systems will include their jointly developed COVID-19 contact tracing platform as a built-in feature that users can voluntarily turn on if their states are using it.
The update to the Exposure Notifications API, the companies said in a conference call with reporters, will enable public health authorities to augment their contact tracing operations without having to develop or maintain a standalone app of their own. Health authorities in Nevada, Maryland, Virginia and the District of Columbia were the first to sign up for the new service.
An executive with Google's Android division said that many states that have expressed interest in using the platform have had difficulty finding the resources to create an app or find a third-party developer.
Introduced in May, the Exposure Notifications platform uses phones' Bluetooth capabilities to exchange digital tokens with nearby devices that remain within 6 feet for at least 15 minutes. Every day, apps built on the API download a list of all tokens associated with phones belonging to people who tested positive for COVID-19 and submitted that information into the app, with any matches triggering an alert telling users they may have been exposed to the coronavirus.
So far, though, Exposure Notification apps — some of which are limited to college campuses — have been rolled out in just six states. But Apple and Google said that 25 states and the District of Columbia, representing more than half the U.S. population, have expressed interest in the API.
Tuesday's update, called Exposure Notifications Express, will allow state health authorities to bring more phone owners into the tracing universe by foregoing the app-development process, executives from the two companies said. Instead, health agencies can submit unique configuration files — containing their preferred coronavirus risk levels, logos and branding, text of notifications that users will receive and URLs for the servers where the Bluetooth information is stored and verified — and let Apple and Google do the rest of the work.
IPhone users in participating jurisdictions who download the latest update to iOS, also being released Tuesday, will get a push alert from their state health authority asking if they want to activate the Exposure Notifications function, even if no standalone app is available. Android users will be directed to their states' tracing apps, if one exists, or given the option to use the Express service.
"We think this will make adoption much easier," an Apple engineer said during the conference call. "The opt-in process for users is streamlined."
The Apple representative also said that privacy protections on Exposure Notifications Express remain the same as the original version. Participation is voluntary, and the API does not track location data. The Bluetooth tokens are held by the relevant health agencies, and not transmitted back to Apple or Google or used for commercial purposes like advertising, according to the companies.
"Exposure Notifications Express provides another option for public health authorities to supplement their existing contact tracing operations with technology without compromising on the project's core tenets of user privacy and security," the companies said in a joint statement.
Still, public willingness remains one of the greatest hurdles to successfully tracking the spread of COVID-19, with many states finding that their residents won't take phone calls from live contact tracers, and surveys reporting majorities saying they won't download an app.
A spokesperson for the Virginia Department of Health, which launched the country's first statewide app based on Exposure Notifications last month, confirmed the commonwealth is participating in the Express feature, but will still promote its standalone app, Covidwise, which contains more features and information.