Boston greenlights autonomous vehicles citywide
Test cars previously limited to the city's predictable Seaport district will now be free to roam within city limits.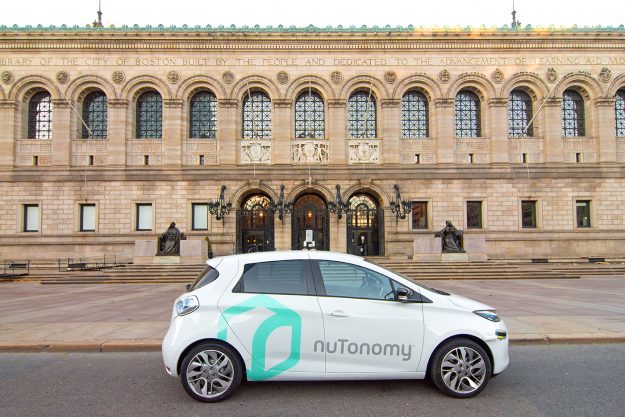 Cobblestone roads, a jumbled mix of winding, crooked streets, and aggressive drivers are all hallmarks of Boston, Massachusetts. Soon, the capital of New England will have another oddity to brag — or moan — about: self-driving cars.
The city announced Wednesday that it has granted approval to MIT-born startup nuTonomy to deploy its autonomous-vehicle fleet around greater Beantown.
The company had begun testing its driverless vehicle technology in the Seaport district, a newer Boston neighborhood with less challenging streets to navigate and a map that roughly takes the shape of a grid. Now, the robotic cars are moving beyond the confines of Seaport and will be set loose on the rest of the city, with its less predictable road patterns, congested thoroughfares, pedestrians, and sometimes erratic drivers.
Mayor Marty Walsh told the Boston Herald that testing autonomous vehicles in a "careful and methodical manner" will support the city's sweeping Go Boston 2030 Transportation Plan, an initiative that includes 58 projects intended to advance the city's transportation infrastructure and technology.
"If deployed thoughtfully, shared fleets of autonomous vehicles could offer the City of Boston the potential to improve safety on our streets, provide equitable connections to the [Massachusetts Bay Transportation Authority], and offer a new source of mobility to all Boston residents," Walsh said.
Boston's decision to expand autonomous-vehicle operations comes after the city briefly suspended testing in March when a self-driving Uber struck and killed a pedestrian in Tempe, Arizona. The episode led to Uber ending its autonomous vehicle program in Arizona, a statewide ban by Gov. Doug Ducey on the technology, and a national double-take on technology that has been scrutinized far more closely ever since.
The city says nuTonomy will have stringent policies that govern the vehicles. Two human passengers must be in the vehicle at all times — one will monitor the car's systems and the other will sit behind the driver's wheel, ready to step in and take over at any time if necessary.
Transportation Commissioner Gina Fiandaca also emphasized that autonomous vehicles have the potential to improve safety.
"That's one reason why we feel like it's important to be active partners around this technology," Fiandaca said.
NuTonomy embraced the announcement with gratitude, excitement, and a tad of jest.
"Boston drivers have a reputation," wrote Karl Iagnemma , president of nuTonomy's parent company, APTIV. "Between frequent double parking, spontaneous lane changes, and the famous 'Boston left,' they treat the rules of the road as mere suggestions."
For the past 18 months, he says, nuTonomy's autonomous vehicles have racked up miles in Seaport, preparing for this day.
"In close coordination with the City of Boston, we've executed a test plan that has seen our vehicles safely tackle increasingly complex driving conditions, in day and night, through rain, sleet and snow. [The] announcement is a milestone on our path to deploying a safe, reliable commercial autonomous vehicle service in Boston and beyond."