Michigan plans 40-mile autonomous vehicle research corridor
A stretch of highway outside of Detroit will become a new test bed for connected and autonomous vehicle research and the site of 12 "opportunity zones" in an economic development project.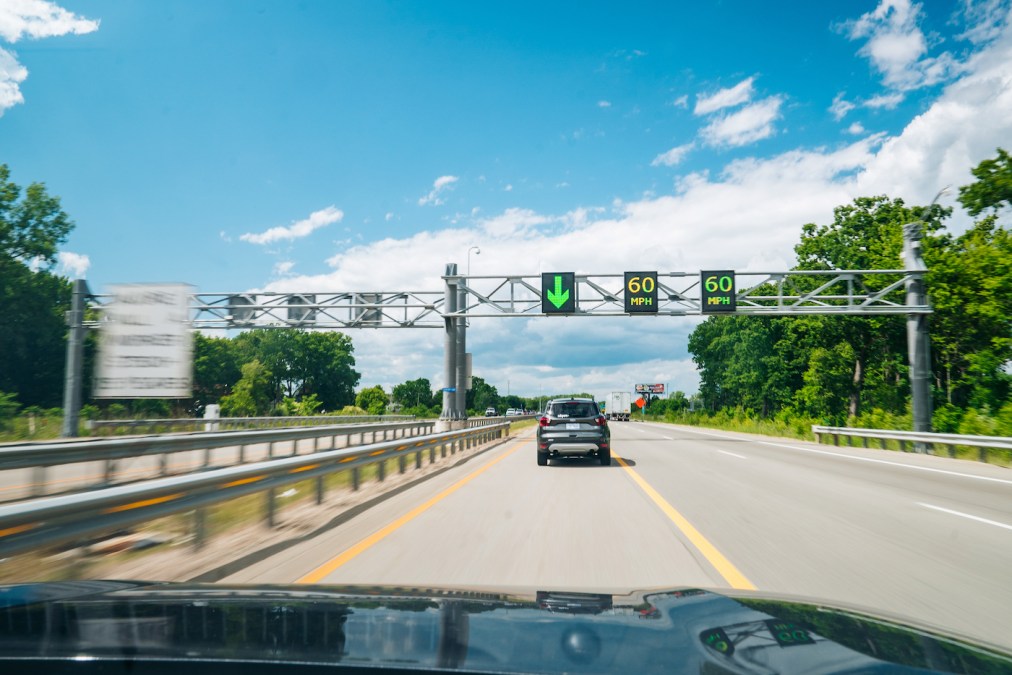 Over the next two years, a host of Michigan transportation agencies, including a new office of future mobility and electrification, will begin transforming a 40-mile stretch of highway outside of Detroit into a test bed for connected autonomous vehicles, Gov. Gretchen Whitmer announced Thursday.
The project, called CAV Corridor, will see the state and a number of industry and research partners like Ford, the University of Michigan and self-driving car company Waymo, "future-proof" a stretch of highway running from Ann Arbor, Michigan to Detroit. Beginning with connected buses and shuttles, partners on the project will spend the next two years researching roadway design and testing technologies. The Michigan Economic Development Corporation has focused on building the self-driving car industry up through hosting challenges and grant competitions for mobility startups in the past, but this new effort will involve virtually the state's entire automotive industry and regulatory environment.
"The time has come to start to integrate all of the momentum happening on the vehicle technology side with an equally strong push for innovation on our road assets themselves," said Brian Barlow, co-founder of Sidewalk Infrastructure Partners, a Google-owned subsidiary that spawned the project's developer, Cavnue. "We believe that combining technology and physical infrastructure can help unlock the full potential of CAVs and fundamentally transform mobility to improve safety, congestion, and public transit."
Cavnue will initially be in charge of developing standards for the equipment and technology used on the 40-mile corridor, which project organizers said will be vendor-neutral. Much of the technological development over the first two years of the project will be done by committee containing several technology and transportation developers, including Argo AI, Arrival, BMW, Honda, Ford, GM, Toyota and TuSimple.
The road will still be open to normal cars, but Cavnue's plan is to use technology that connects virtually every modern car with devices placed alongside the highway to collect data and let semi-autonomous cars know where they are at any given time. The "world's most sophisticated roadway," according to the announcement, will improve safety and resiliency along the corridor, as well as make transportation more accessible for the communities along the highway. This will be partially accomplished by the construction of 12 "opportunity zones" alongside the 40-mile stretch, where Whitmer's office plans to connect individuals and small businesses to the industrial and technological companies and university researchers setting up shop on the road.
"The action we're taking today is good for our families, our businesses, and our economy as a whole. Here in Michigan, the state that put the world on wheels, we are taking the initial steps to build the infrastructure to help us test and deploy the cars of the future," Whitmer said in the announcement. "As we rebuild our roads to ensure every Michigander can drive to work and drop their kids at school safely, we will also continue working to build smart infrastructure to help prepare us for the roads of tomorrow."
Whitmer developed Michigan's Office of Future Mobility and Electrification earlier this year to lead forward-thinking projects like the new mobility corridor, which previously would have had potentially involved 17 state agencies. Now, the new office will work alongside the state's economic development arm and Transportation and Labor Departments to build a testing ground for new mobility technology that might previously have been done under a different academic or industry partner, like the University of Michigan's "Mcity" project or Toyota's testing track built in 2018 to test self-driving vehicle technology.
"As the anatomy of vehicles continues to shift toward autonomous driving and electrification, Michigan has an opportunity to not only drive this evolution in the production of vehicles, but also in the very roads they drive on," Pawl said in the press release. "This groundbreaking project reinforces Michigan's current position as a global leader in mobility innovation, and it also keeps us moving forward on a path to more equitable, safe and environmentally conscious transportation in the state."