Sidewalk Labs claims its Toronto 'smart neighborhood' will create more than 9,000 jobs
Google's urban-innovation offshoot also said 40 percent of residential units in its Quayside development will be priced at below-market rates, but a housing expert said that won't solve Toronto's housing problems.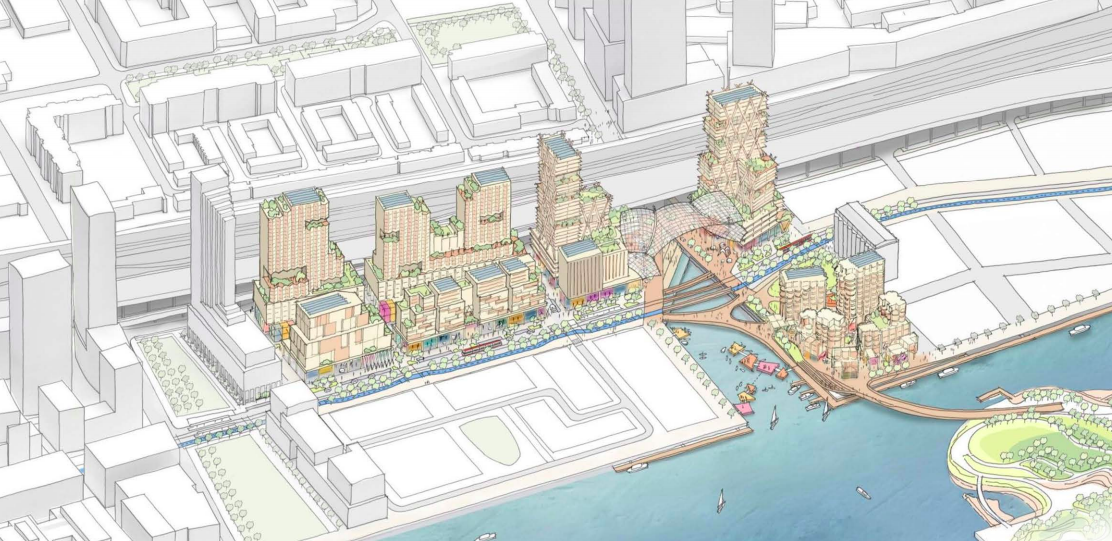 A new development proposal from Sidewalk Labs about the company's plans for Quayside, the technology-laden neighborhood it's building in Toronto, claims it will bring more than 9,000 new construction jobs, 2,500 housing units and integration into the city's light-rail transit system.
The Quayside proposal, which will be publicly presented next week at the company's fourth public roundtable, outlines the latest vision put forth for the 12-acre lot on Toronto's eastern shore. Sidewalk — the urban-innovation division of Google parent Alphabet — is the lead technology developer working with Waterfront Toronto, the agency that overseeing the transformation of the unused industrial lot into a tech-friendly neighborhood.
In addition to the construction jobs, Sidewalk says the development of the mixed-use neighborhood will result in 3,900 permanent jobs. The development will also aim to reduce its greenhouse gas emissions by 75 to 85 percent in comparison to similarly sized urban development projects.
Emphasizing a network of "people-first" streets and sustainable architecture, the new proposal doubles down on the company's previous commitment to timber as its primary building material, citing wood's sustainability and versatility. The document details the company's plan for five different sites within Quayside. Four of the sites will feature 25- or 30-story high-rises set along the back of the neighborhood, with shorter buildings placed closer to the water. The fifth will contain five low-rise buildings.
Sidewalk says 68 percent of the neighborhood's construction will be set aside for residential space — 2,500 units for 5,000 residents, according to the company's estimate. At least 40 percent of those will be classified as below-market. That's a step in the right direction, but its not going to solve the problem alone, according to an expert on Toronto's housing market.
"We're not going to solve Toronto's affordable housing crisis with 40 percent of 2,500 units," said Shauna Brail, director of the Urban Studies Program at the University of Toronto. "I don't think it's realistic to expect on one 12-acre site that we're going to solve that either. However, does it make a dent? Absolutely — every new affordable housing unit helps to create a home for a family that can't afford one or a household that otherwise can't afford one."
A Sidewalk official said he agrees. No one project will solve the crisis, said Andrew Winters, the company's associate director of mobility. The company has engaged with the public and the city on the issue, and the housing plan will create much-needed living space that isn't just affordable housing or high-end housing — what he called the "missing middle."
The new proposal also confirms the company's desire to solve an overarching question of so-called smart cities: What will Sidewalk do with all the data its devices collect on the residents who eventually move into Quayside? The company said it will store that information in an independent "civic data trust," a concept first described by Sidewalk in October as a way of transparently housing the data collected by the environmental sensors that will be present throughout the neighborhood.
Questions still abound how a data trust would even be funded or managed, and the company has repeatedly failed to elaborate on issues of privacy, which has led to people leaving the project. In July, Julie Di Lorenzo, then a board member of Waterfront Toronto, resigned over concerns that Sidewalk was "shortchanging" the city over the issue of privacy. In October, Ann Cavoukian, Ontario's former privacy commissioner and an expert-in-residence at Ryerson University, resigned as a paid consultant for Sidewalk over concerns that data collected by sensors would not be anonymized.