New app aims to take confusion out of Philadelphia parking
Lauren Ancona took matters into her own hands to map parking regulations in the city, and soon found herself working with the government on the project.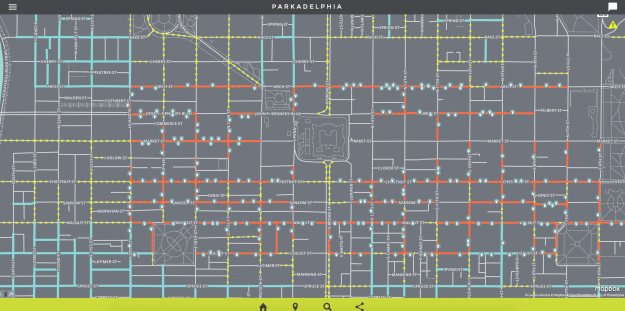 After years of grappling with Philadelphia's byzantine parking regulations, Lauren Ancona set out in search of a map showing the rules governing each block, only to find that such a resource doesn't exist.
Instead of simply giving up, she decided to take matters into her own hands. Over the last two years, Ancona has worked to craft an app called "Parkadelphia" through an unusual partnership with the city's government, officially launching the Web tool last week to provide a comprehensive map detailing the areas where different parking permits are required, the locations of parking meters and other restrictions like city snow routes.
Ancona told StateScoop that the app isn't quite finished, but she believes it can provide a valuable resource for a city where the heated debates between drivers and workers with the Philadelphia Parking Authority inspired a cable TV show: "Parking Wars" on A&E.
"It's such a contentious topic here that it had its own television show," Ancona said. "The customer experience here is challenging."
She remembers first seriously thinking about the issue when she was looking to move early in 2014. She was hoping to understand how easy it was to park at each prospective home she considered, but couldn't find a map laying out where residential parking permits were needed.
"I eventually discovered that the text of the city code is the only place where the boundaries are spelled out," Ancona said. "Nobody had ever seen it before because there was no map."
Ancona was working a marketing job at the time and had little experience with mapping software. But she eventually found Mapbox, an open source map design platform, and started working to plot all the information in the city code by geographic location.
She was able to release a parking permit map on her personal website by June 2014, and it captured the attention of a local tech blog, which wrote a story on the tool. That didn't go unnoticed by the city's parking authority, commonly known as the PPA.
"Someone from the PTA did call me up and asked, 'Why did you do that?'" Ancona said. "And then they said, 'Why don't you come in and meet us in the office?' and I was a little floored by that."
Ancona tried to use that meeting to impress upon the agency's leaders the value of tech contributions from outside the government, and despite some initial reticence, Ancona said the PPA provided her with some insights and encouraged her efforts.
As she continued to work on the project, she eventually started attending meetings of the city's Code for America chapter, where she met Philadelphia Chief Data Officer Tim Wisniewski. He was intrigued with Ancona's efforts and ended up setting up a meeting with the PPA to discuss how the two agencies could partner to better open up parking data.
Wisniewski was so impressed with Ancona's interest in the subject matter that he encouraged her to apply to work in his Office of Innovation and Technology. She ended up joining the city in December 2014, and these days, she works as a senior data scientist with Wisniewski.
Once she had a chance to focus on open data as part of her day job, Ancona worked even more closely with the PPA and encouraged them to open up more data sets that had never been released — like "where all of the valet parking permits were issued around the city and when" that she could use to further enhance "Parkadelphia."
[Read more: Philly works with 18F to debut city Web analytics portal]
Ancona also got to work closely with the city's GIS specialists to learn more about how to effectively match that information with physical locations for the app. But she noted that she also got help from outside sources as people sought her out to give her more data, since they'd heard she was "the parking lady."
"One reporter handed me a PDF, it was older, but it was the first source of the city-owned lot information, a list they'd acquired in the process of reporting on something," Ancona said. "So I used that as a source, then went in and found those locations and plotted them."
After all that work, Ancona felt she needed to stop fiddling with the app and launch it, so she assigned herself a deadline, and finally made "Parkadelphia" live on March 21.
"I just needed to put a period on the end of the sentence," Ancona said. "It's never going to be perfectly up to date, there's always going to be something that changes."
But Ancona is hoping to finalize parking meter data in the coming months, and see if there's a way to automate updates of the data supporting the map in the future.
Even if she can never make "Parkadelphia" perfect, Ancona still feels the whole process has been immensely valuable in showing the city and the hacking community alike what can happen with the right kind of partnership.
"I just think that that's the future, it can be a standard practice for hiring for government and result in a different kind of collaboration," Ancona said.
Contact the reporter at alex.koma@statescoop.com, and follow him on Twitter @AlexKomaSNG.