Autonomous and connected vehicles, housing, public safety win in first 'Georgia Smart' challenge
Four communities have been named as winners. They receive funding and research support as the governments now begin yearlong research projects.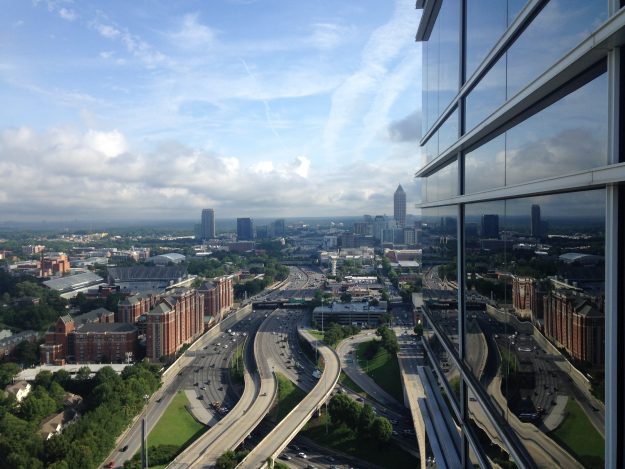 After announcing a new competition earlier this year designed to bring university and private sector resources together with local government to solve civic challenges, Georgia Institute of Technology has announced four winning projects this week centered around improving transportation, housing, and public safety.
The Georgia Smart Communities Challenge, or shortened as Georgia Smart, was announced in February as a way for communities to address common challenges. The four winning communities announced Tuesday — Albany, Chamblee, Chatham County and Gwinnett County — give through their project proposals an idea of what organizers had in mind when they created the challenge as they prepare their one-year research projects.
The city of Albany is partnering with other local governments to develop an automated housing registry to replace the city's outdated and inefficient housing inventory that contains more than 33,000 entries. Through a project called the Albany Housing Data Analytics and Visualization Initiative, city chief information officer Steven Carter says in his proposal that he hopes to enable the city to "be responsive to community housing needs as it utilizes technology and innovation for continued growth and development."
Like the other three winning communities, Albany will receive $50,000 in grants to support its project and $25,000 from the university in researcher support. (Each community has also raised an additional $50,000 in matching funds.) Omar Isaac Asensio, assistant professor from the Georgia Tech School of Public Policy has been dedicated to Albany's project, and each of the other winners has likewise been assigned a researcher to support the work.
The other projects include a shared autonomous-vehicle study by the City of Chamblee, which will seek to understand how autonomous vehicles might be used as a shared local transit option.
Catham County will research the use of smart sea-level tools for emergency planning and response. "The team will develop the pilot sensor and communications infrastructure, test system capacity and ability to supply data in real-time, design an online aggregation and visualization platform, and perform preliminary flood risk assessments under various environmental scenarios," the website explains.
Gwinnett County has partnered with the Georgia Department of Transportation on a connected vehicle technology master plan "to evaluate seamlessness and compatibility with other transportation systems, develop a public outreach strategy, and evaluate important benefit/cost considerations." Researchers say the Peachtree Industrial Boulevard Smart Corridor project — which is scheduled to begin next year and which the research will complement — is "envisioned to be the backbone of a smart technology roadway network which will ultimately cover the entire Atlanta region."
In this inaugural round of winning projects, Georgia Tech President G.P. "Bud" Peterson said in a press release that he believes these projects can become statewide models that other communities can replicate.
"The enthusiasm for this new program has been gratifying, and we look forward to seeing how Georgia Tech's research expertise and the communities' vision of smart development mesh together to improve the lives of their citizens," Peterson said.
More on the winners and their projects, including detailed proposals, can be found on the Georgia Smart Communities Challenge website .