How Smart Columbus is advancing city transportation tech
Commentary: Jordan Davis, a director at the Columbus Partnership, shares how the Ohio capital is making the most of its $570 million experiment.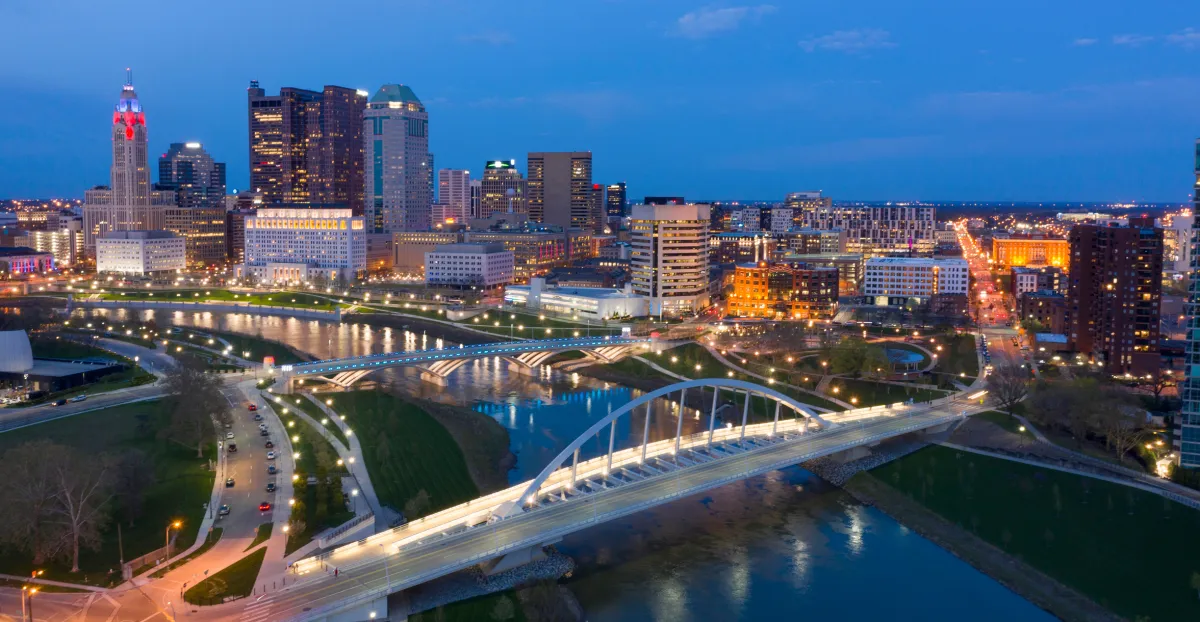 Columbus, Ohio, is America's test market. Fast food chains test hamburgers here. Clothing companies test designs here. And since winning the U.S. Department of Transportation's Smart City Challenge in 2016, Columbus has also become the place where innovative transportation technologies are tested.
Columbus looks like most midsize American cities facing mobility challenges caused by regional sprawl, but it's also the fastest growing city in the Midwest, providing a test bed of roadway congestion, high rates of single occupant vehicle commutes and disconnected neighborhoods. Through Smart Columbus, a regional smart-city initiative co-led by the City of Columbus and Columbus Partnership, we are seeking to solve these problems and harness our position as the nation's test market to write the playbook for how other local governments can solve their transportation challenges, too.
With $50 million in grant funding followed by $520 million in private investment, Smart Columbus has facilitated testing of intelligent transportation services, new mobility service models and new behaviors to uncover solutions to the problems we face in Columbus — and in turn, what can work across the country.
As we pursue solutions, we are exporting what we learn along the way. Through our online playbook, conferences and events, we're sharing what we've learned to propel other cities on their journeys to becoming "smart." By 2020, we hope to expose one million city officials, policymakers, business leaders and influencers to our successes and challenges.
We're testing connected vehicle technologies, piloting autonomous vehicles, integrating shared mobility into our transportation ecosystem and growing the electric vehicle market and charging infrastructure. But none of these projects would be possible if we worked alone.
Tactical learnings from autonomous vehicles
When we deployed the Smart Circuit in December 2018, Ohio's first self-driving shuttle, we were able to move quickly because we had a strong and aligned partnerships between Smart Columbus, the State of Ohio, researchers from The Ohio State University and other public and private partners.
Reflecting on the processes, there was one tactical exercise we would recommend to any other community pursuing something similar: an all-hands safety and standard operating review session. Before Smart Circuit launched to the public, Smart Columbus convened the shuttle operator, May Mobility, with the State of Ohio, Columbus public safety officials — including police and fire — and other expert stakeholders for a discussion-based session to define roles during day-to-day operations and to determine protocols in the event of an emergency. The exercise allowed for thoughtful dialogue and healthy interrogation of the standard operating procedures equipping all stakeholders with the understanding necessary for successful deployment.
That exercise, along with other controlled factory and field testing, contributed to the overall safety procedures that were developed. Safety plans include standard operating procedures, protocols for communications with first responders and a safety management plan.
Ultimately, research from the initial shuttle deployment will be used to enhance future mobility options for residents and visitors.
It has also helped our engineers and policy teams evaluate the abilities of this technology to operate on public roadways in Ohio and will help the project partners better understand the infrastructure required to implement and support the safe operation of this technology.
Importantly, learnings from the deployment of Smart Circuit will inform the operation of a second self-driving shuttle in Columbus' Linden neighborhood.
Transportation technology to solve complex problems
Residents in Columbus' Linden community live in a food desert, with above-average unemployment rates, and dire public health issues such as an infant mortality rate that is four times the national average. The challenges these residents face are complex and multi-faceted. While we don't have a silver-bullet solution, we have learned from engaging directly with neighborhood residents that transportation commonly contributes to the daily challenges they face.
We are deploying a series of solutions in this neighborhood, with hope that transportation is less of a barrier to resources. In November 2019, we will take the learnings from Smart Circuit and apply them to a new route that will solve for a first-mile/last-mile challenge from the Linden Transportation Center to St. Stephens Community House and other area resources. This route will connect residents to fresh food, childcare, senior services and other community resources in a more convenient way than what exists today.
As part of the city's shared scooter regulations, companies such as Bird, Lime, Lyft and Spin are required to locate 10 percent of their scooters in opportunity neighborhoods, including Linden. But the hard truth is that some of the neighborhood residents do not have access to a data plan, bank account or smartphone to unlock and use these cost-effective solutions. Smart Columbus is working not only to change this, but also to allow for private mobility options to be used more seamlessly in connection with public transportation.
Pivot, a multi-modal trip planning and common payment application will be accessible by mobile app and digital kiosks located throughout the neighborhood. Users will be able to approach a smart-city kiosk to plan, book and pay for a trip that consists of a bus ride, shared bike, scooter or taxi with a card that can be loaded with cash.
The first iteration of the application's trip-planning capabilities was released to 30 beta testers in February. Optimization remains ongoing in preparation for the public release of the trip planning features in August and the subsequent release of payment capabilities in early 2020.
Open technology, open collaboration
The multi-modal trip planning application and the Smart Columbus Operating System were both built using open source tools to enhance the potential use by others. The operating system is the backbone to our data-rich projects and our largest program investment totaling an estimated $11 million.
This data management platform's open source code was released in June, giving cities, nonprofits, companies and researchers a foundation for developing and managing their own data projects. The operating system will support all of our technology deployments funded by the USDOT grant but its value extends far beyond Columbus. We look forward to helping other cities benefit from this investment through their adoption of these tools.
We also spend a great deal of time meeting and exchanging information with other cities. To date, we've engaged with more than 60 cities in the U.S. and around the world. We see it as a great responsibility to advance the collective smart city movement by documenting and sharing our journey via the Smart Columbus Playbook, which can be accessed online at our website.
Jordan Davis is the director of Smart Columbus for the Columbus Partnership, a regional economic-development organization.