'Autonomous Illinois' promises economic benefit, public goods
The initiative for connected and autonomous vehicles comes from an executive order signed by Gov. Bruce Rauner.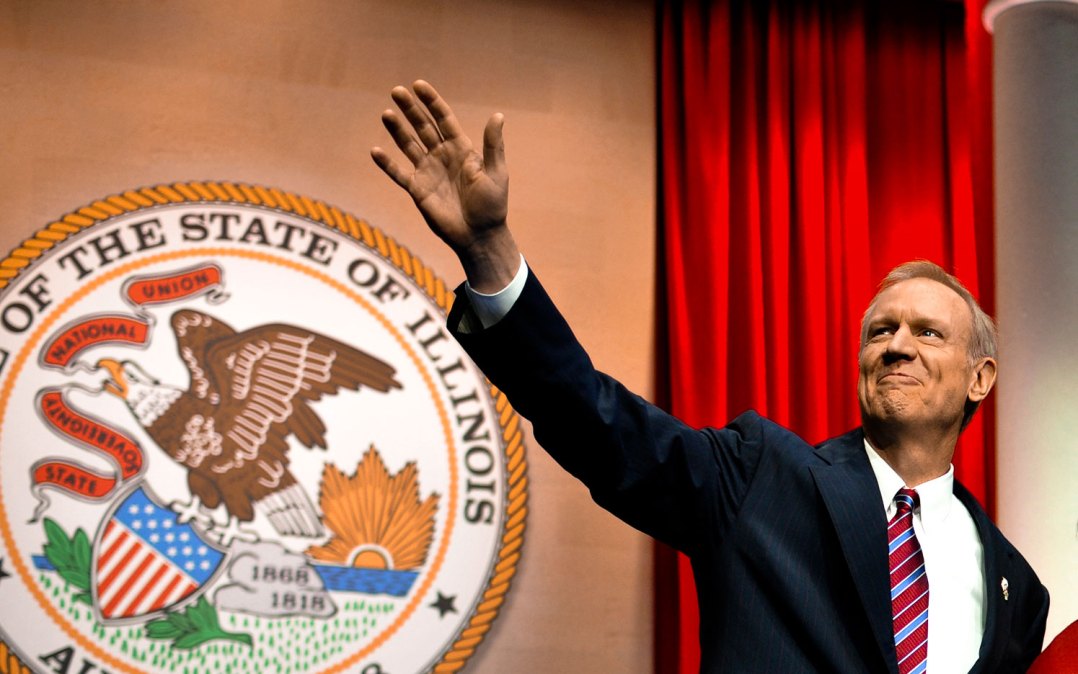 A new initiative for connected and autonomous vehicles in Illinois will permit companies to pilot their transportation technologies and explore the industry's reach as an engine for economic development, Gov. Bruce Rauner said in signing an executive order Thursday to create the program.
The initiative takes a form similar to those that had been launched by states and cities with growing regularity before an Uber-operated autonomous vehicle fatally struck a woman in Tempe, Arizona, in March. The order establishes a framework for Illinois' transportation department to work closely with other state agencies, local governments, and private industry in pursuit of anticipated benefits around public safety, the economy, and everyday convenience for residents.
The death in Tempe gave leaders around the country pause, and though initiatives quietly continued in many places, it was with a renewed focus on safety. Some localities halted testing, including Arizona, though Gov. Doug Ducey signed an executive order earlier this month establishing a public-private research center to continue developing emerging transportation technologies.
Rauner's order cites the potential of the technology to "profoundly improve Illinois residents' lives and communities" and in a press release the governor says "this technology is here and Illinois is ready to embrace it. Working with our public and private partners, we can make our roads safer, save lives, attract investment and create new high-tech jobs throughout the state."
The initiative, called " Autonomous Illinois ," charges the transportation department and its collaborators to review connected and autonomous vehicle research as it pertains to issues of privacy, law enforcement, environmental efforts, insurance coverage, liability, data-sharing arrangements, and the state's infrastructure needs. Initiative leadership is also to evaluate current laws, inform the public of its findings, work closely with industry experts and other government bodies with a particular emphasis on improving safety and mobility for "the elderly, disabled, and underserved populations."
A pilot testing program outlines policies and procedures for companies interested in testing their technologies in Illinois. The program adds Illinois to a list of 39 other states that have either enacted some form of legislation or issued executive orders related to autonomous vehicles, according to data gathered by the National Conference of State Legislators.
As in other states, Illinois officials are banking on the promise by the technology's proponents that autonomous vehicles will improve public safety. According to the governor's office, roadway accidents in Illinois killed more than 1,000 people in each of the past two years, with human error attributed as a major factor in 94 percent of fatal crashes. Yet this hope is paradoxically balanced with safety concerns — Tesla's semi-autonomous driving technology, Autpilot, has been linked with two deaths and a handful of minor incidents underscoring the technology's immaturity.
But perhaps the biggest motivator for the state is the financial incentive. The governor's office cites projections of an industry projected to generate $800 billion in annual economic benefit globally by 2050.
"As the transportation hub for the entire country, Illinois is ideally situated to be a leader in the research of connected and automated vehicles," Rauner said.
If any state could use an economic boost, it's Illinois, which was ranked earlier this month by George Mason University as having the worst economy of any state in the nation. Illinois carries $130 billion in unfunded pension liabilities and a political stalemate in the legislature has left the government without complete budgets for two fiscal years running. Illinois also holds the lowest credit rating of any state, flirting with junk status in recent months.