Meet the StateScoop 50 GoldenGov Nominees: Colorado CIO Suma Nallapati
In this Q&A, StateScoop introduces StateScoop 50 GoldenGov nominee Suma Nallapati, the chief information officer for Colorado.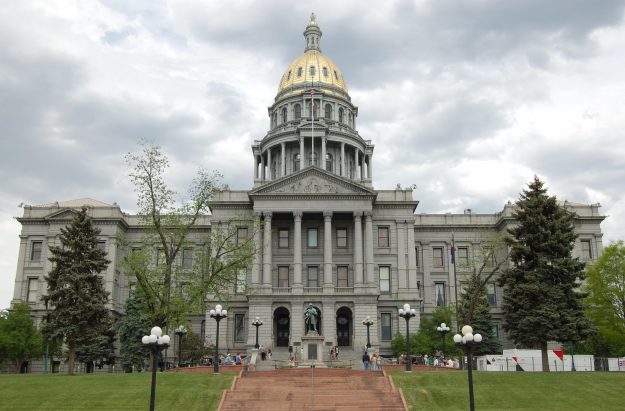 The Colorado Governor's Office of Information Technology has spent the last year focusing on how to improve its customer service.
The department has received recognition for its Medicaid portal and several other projects, and it has pushed to break down technical divides that exist between departments. Chief Information Officer Suma Nallapati said her team's work has increased satisfaction among other agencies and the public by more than 30 percent.
For these efforts, Nallapati was nominated for a StateScoop 50 Golden Gov award, which highlights the visionary leaders in state government who take states into a new technology future.
StateScoop talked to Nallapati about her work in Colorado, the challenges she faces and the inspiration that brings her to work every day.
Editor's note: This interview was edited for clarity and conciseness.
StateScoop: Tell us about some of your main achievements over the past year that may have resulted in your nomination for a GoldenGov award?
Suma Nallapati: This past year, I have seen the Governor's Office of Information Technology begin to truly flourish in the delivery of my vision of a customer-service-focused organization that provides secure, innovative solutions to Colorado's state agencies.
Our customer satisfaction went up 31 percent from July 2015 to January 2016. Our information security risk score is at an all-time low (10.25), [lower than] the goal we set for July 2016. Additionally, we have increased employee engagement in the last two years by 12 percent. And finally, a robust major incident and change management program has drastically reduced outages and mean time to resolution. I feel very honored to have a team that has exceeded every aggressive target metric for our four "Wildly Important Goals" for this year.
SS: What are you most proud of accomplishing during your time in your role? What's still left to be done?
SN: I am most proud of encouraging a culture of collaboration and breaking down silos. Our teams know that I hold my senior leaders to the same standard I expect of each employee. That is, to be innovative in their work every day, bring strong solutions to the table and be creative when it comes to resources. I think when employees feel empowered to do that, they have a stake in the work they do, and they know it truly matters for Colorado.
SS: What's been the biggest challenge you guys have faced in the past year? How'd you overcome it?
SN: I think our biggest challenge in the past year is knowing we have technology hurdles to overcome but at the same time we are facing very tight budget constraints. We have been fortunate, though, to have a supportive Legislature that understands the importance of critical IT projects. At the same time, we have a responsibility to be very diligent in our prioritization. We must look at our needs as part of the whole picture for all agencies serving Colorado. Through that lens, we have managed to make a business case for our most crucial projects, while letting go of some priorities that would be "nice to haves" but not necessarily "must haves."
SS: Why public service? What lessons would you like to share with the next generation of state and local IT leaders?
SN: I can tell you that the most gratifying job I have ever had is this one. Working for the public sector with fellow leaders and technologists passionate about serving the state's residents is about as rewarding as it gets.
Our projects impact lives daily. Whether it's to help those most in need get access to food, cash or medical assistance through the Colorado Benefits Management System, or to help technology run more smoothly at the Division of Motor Vehicles, we know our work has a broad impact. You can't always say that when you work in IT in the private sector. I have always believed we gain far more value in our lives when we are giving for the greater good, than when we are in perhaps a better paying job, that doesn't have that immediate and critical impact on people's lives.
SS: What advice do you have for next year's eventual class of GoldenGov nominees?
SN: My advice would be to stay true to yourself. Make sure you are focused on quality, integrity and courage in your daily work. It is sometimes hard to make the right call due to politics or pressure from stakeholders, but that is why our work is so important. Embrace it and enjoy all that it brings — the highs, the lows, the challenges and the successes.
This Q&A is part of a StateScoop series highlighting the nominees for the StateScoop 50 GoldenGov award. To vote for this nominee, and to vote in the other categories up for awards, go to the StateScoop 50 awards page. Winners of the StateScoop 50 awards will be announced on May 4.