2019 StateScoop 50 Awards recognize top state IT leaders and projects
The awards, in their sixth year, recognize winners from more than a dozen states, for excellence in technology and cybersecurity.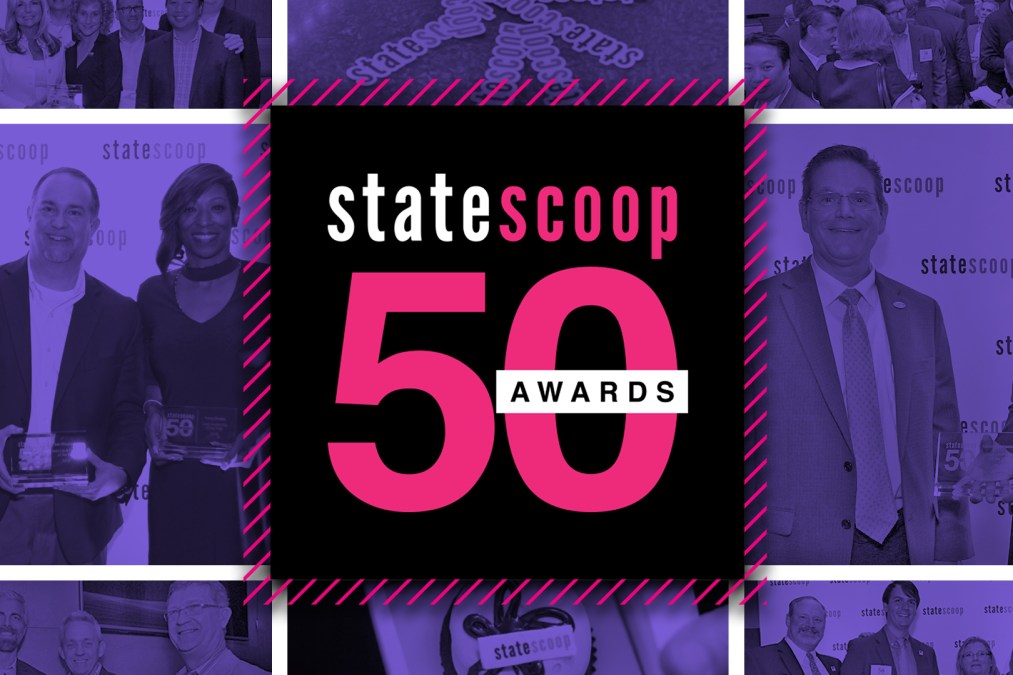 Scoop News Group announced on Sunday the winners of the 2019 StateScoop 50 Awards in National Harbor, Maryland, to kick off the National Association of State Chief Information Officers' midyear conference.
Presented for their sixth year, the StateScoop 50 awards honor the projects and people driving state government technology and cybersecurity.
In January, members of the state and local IT community nominated thousands of leaders and projects for the awards. StateScoop narrowed the list to 180 of those who received the most nominations and readers cast more than 2 million votes nationally between March and April to select the final 50 winners.
Winners were honored Sunday at a reception in National Harbor, sponsored by Salesforce and McAfee.
"As we look across the entire government landscape at Scoop News Group, we know that community is what drives true change in government," said Goldy Kamali, founder and CEO of Scoop News Group, StateScoop's parent company. "We are honored to celebrate the brightest leaders from government and the tech industry for the sixth StateScoop 50 Awards."
"StateScoop is excited to recognize the most inspiring and dynamic leaders across the state government community," said Jake Williams, StateScoop's associate publisher and director of strategic initiatives. "The team and I are so proud to be a part of this industry and to celebrate these individuals and projects."
The winners:
GoldenGov: State Executive of the Year
Eric Boyette, State of North Carolina
David Cagigal, State of Wisconsin
James Collins, State of Delaware
Gov. Larry Hogan, Jr., State of Maryland
Yessica Jones, State of Arkansas
Jim Purcell, State of Alabama
Calvin Rhodes, State of Georgia
Angelo Riddick, U.S. Virgin Islands
State Leadership of the Year
Christie Burris, State of North Carolina
Dan Donnelly, State of New York
Dayne Freeman, State of Maryland
Mike Hussey, State of Utah
Susan Miller, State of Georgia
Debbie Price, State of Illinois
Pete Tenebruso, State of New Jersey
Robert Thompson, State of Florida
Industry Leadership of the Year
Jennifer Axt, Tanium
Michael Daniels, Salesforce
Chris Dilley, ServiceNow
Deborah Giles, Center for Technology
Ken Kartsen, McAfee
Josh Morgan, SAS
Herb Thompson, VMware
State Up & Comer of the Year
Easha Canada, State of Connecticut
Carder Hawkins, State of Arkansas
William Hensel, State of New York
Alexandra Ibragic, State of Indiana
Nina Ligget, District of Columbia
Connor Norwood, State of Indiana
Christopher Paez, State of Maryland
Beth Pruitt, State of Illinois
Ervan Rodgers, State of Ohio
State Cybersecurity Leader of the Year
Ryan Allen, State of Alabama
Suneel Cherukuri, District of Columbia
John Evans, State of Maryland
Hemant Jain, State of Indiana
Mohamed Malki, State of Colorado
Deborah Snyder, State of New York
Thomas Vaughn, State of Florida
State IT Innovation of the Year
Business Startup Wizard, State of West Virginia
iKan, State of Kansas
INConnect, State of Indiana
Maryland Opportunity Zone Information Exchange, State of Maryland
MI Bridges, State of Michigan
MyDMV, State of Arkansas
NC360, State of North Carolina
Nebraska Department of Revenue Tax Payment Plan, State of Nebraska
Smart Inspection Initiative, State of New Jersey
Unified Communications and Collaboration, State of Illinois
West Virginia Insurance Verification Program, State of West Virginia