Former U.S. CIO Kundra on smart cities, engaged citizens
Nearly three years after leaving his job as federal chief information officer, Vivek Kundra is still working on connecting governments with citizens.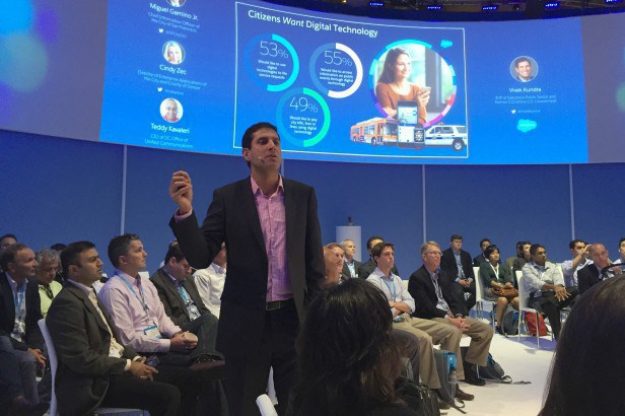 SAN FRANCISCO — Nearly three years after leaving his job as federal chief information officer, Vivek Kundra is still working on connecting governments with citizens.
As Salesforce's executive vice president of industries, he's back to trying to bring government — at any level — into a customer-focused 21st century.
"We all know the story — there's an app for that," Kundra said during a keynote on connected governments at Salesforce's Dreamforce conference. "Unfortunately, for government, there's a form for that."
As Salesforce moves more into the smart cities space — the company released a report earlier this year on the status of connected cities and is the cloud technology behind the digital service offerings in several major metropolitan areas — Kundra talked to StateScoop about the latest announcements from the White House and how cities can offer digital services to their citizens.
Editor's note: Interview edited for clarity and length.
StateScoop: The White House just announced funding for smart city research, and given your background in city, state and federal government IT as well as your current focus on connected cities at Salesforce, what are you thinking when an announcement like that comes down?
Vivek Kundra: I feel like a kid in a candy store.
What's so exciting is you're beginning to see the convergence of two forces. One is more technology. We're in an era now where you have mobile, social, cloud and data science. The second is you have citizens who are demanding that the government provide them the same experience that they have in their everyday lives, from Uber, from Nest and from Airbnb. With those forces, from the demand side, and with the technologies in place, it's an amazing time to be alive.
What we're beginning to see with the Internet of Things are parking meters that can talk to you — a smart grid — and with the big investment the president made, you look at what's going on with sensor data. As a matter of fact, if you look at the last 12 months, more data has been generated than the beginning of civilization. Now it's the ability to slice and dice and keep all of that information, and provide core services to citizens.
SS: It's been about three years since you left the White House as federal CIO, but recently we've seen an incredible amount of technology-focused announcements coming from 1600 Pennsylvania Ave. — from the creation of the U.S. Digital Service to an increased focus on cybersecurity to this week's smart cities announcement. What are you and Salesforce doing to provide some of the services to governments that the executive branch has been pushing?
VK: Well if you look at technology in general, in terms of how we came from an era of mainframes and many computers, and frankly a lot of governments are still operating as though we're in the 1960s, and now you move to the client server era. And today, in the era of data science, mobile, social, cloud, you can actually go from an idea to an app in days rather than decades, and it would be amazing if every single organization — private sector, public sector, NGO — was there, but what we're finding is a lot of these organizations are recognizing that "you know what, I can have meaningful results in days at 90 percent lower costs, and with customers that love me."
That's probably the best part about my job, is to be part of a movement that's transforming every industry, not just government, but look at health care. It's no longer just about treating patients, it's about improving the lives of people. It's about managing quality care. Look at what's going on in financial services, it's no longer just a mortgage or an application for a bank account, it's about how do you help me in my personal journey to financial freedom? So it's very exciting because every industry is being transformed and it's because of this third wave of computing.
SS: Earlier this year, Salesforce released its 2015 Connected Cities survey. In there, one of the findings was that citizens want easily accessible digital services from their governments, but even if they exist, citizens don't know about them. How are you and Salesforce trying to close that awareness gap?
VK: I think it begins with every interaction citizens have with their government. Because if you look at the last 40 years, the majority of the IT investments were in the back office. It was about optimizing supply chains, it was about ERP systems. Now, it's about building one-to-one enduring relationships, and those positive relationships are now built in a transactional way. It's every interaction that you have. That is why Salesforce, which is a customer company, helps governments put citizens at the heart of government operations.
SS: You've talked about how governments need to reset citizen expectations. How can governments do that, and have the digital offerings to back that up?
VK: It begins with execution. At the end of the day, whether it's the markets, or whether it's citizens, they value execution above all. For most governments, it's not another strategic document that's going to sit in some Washington filing cabinet that no one ever reads, it has to be delivering and delighting your citizens every day with every experience you have. You've got to do it app by app, brick by brick, and it's got to be at every interaction you have with your customers.