California Gov. Newsom unveils unemployment-tech 'strike team'
The new team includes Code For America Founder Jennifer Pahlka, who will help streamline an outdated process that has resulted in what Gov. Gavin Newsom called an "unacceptable" claims backlog.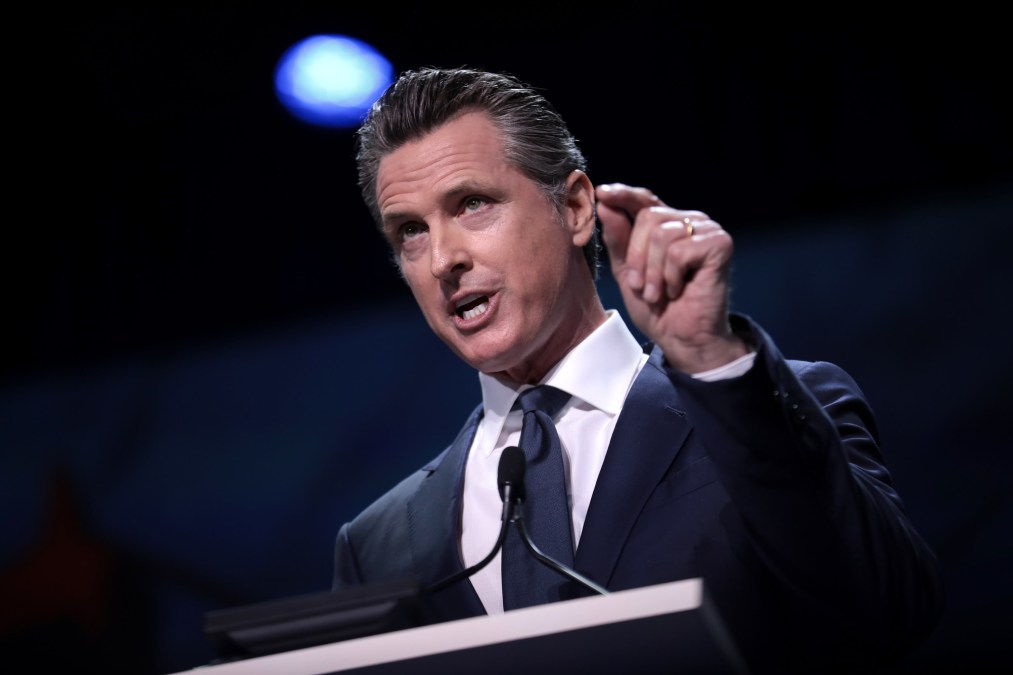 California Gov. Gavin Newsom announced on Wednesday the launch of a "strike team" of technologists, including Code for America and U.S. Digital Response founder Jennifer Pahlka, to modernize the state's backlogged unemployment systems.
The group, which will also include California Government Operations Agency Secretary Yolanda Richardson, will create a "blueprint" for new technology systems within the state's Employment Development Department, which oversees insurance and benefits for the state's nearly 3 million unemployed residents. Newsom said the department has processed more than 8 million unemployment insurance claims since March, but that outdated technology is saddling the state with an ongoing backlog of claims.
"There should be no barriers between Californians and the benefits they have earned," Newsom said in a press release. "Unprecedented demand due to job loss during this pandemic paired with an antiquated system have created an unacceptable backlog of claims. Californians deserve better, and these reform efforts aim to move the Department in that direction."
With support from California's Department of Technology and Office of Digital Innovation, the new strike team is set to deliver recommendations within the next 45 days on short-, mid- and long-term recommendations for improving user experience. The team will also suggest ways for the EDD to process nearly 1 million unemployment claims that may be eligible for benefits by September, with a focus on processing the oldest claims first. The department launched an chat bot and a text-messaging alert system in April to let claimants know the status of their benefits, but Pahlka and Richardson have been tasked with helping the EDD make the process easier for residents.
"While we have faced unprecedented challenges this year, unemployment insurance should be a human-centered system that supports people during hard times. From the first contact to final resolution and all communication in between, we are committed making the UI experience better for Californians," Julie Su, secretary of the Labor and Workforce Development Agency, said in the press announcement.
In a statement emailed to StateScoop, Pahlka said she looks forward to recommending updates to policies, processes and technology that can enable "scalable, agile, human-centered services to meet the needs of Californians."
"The challenges facing government today are complex, but California's public servants have the will and the skills to update government services so they can help more people more quickly," she wrote.
State unemployment systems have been under duress for the majority of the coronavirus pandemic, as people who have lost their jobs place unprecedented demand for benefits on IT systems that are often decades old. The rapid modernization has caused some states, like Arkansas and Illinois, to leak data or develop backlogs. States including New York and New Jersey, meanwhile, have enlisted technology companies to help build entirely new functionality into their unemployment systems.
Newsom acknowledged that the state's IT infrastructure was overwhelmed with unemployment claims in April, but said Wednesday that the new strike team will also help build a foundation for more effective communication between the state and residents regarding unemployment claims. EDD will continue meeting bi-weekly with state legislators to improve communication between EDD staff and residents, Newsom said, and communicate requirements like that unemployment claimants must certify their claim every two weeks.