State unemployment systems are still struggling
Governors continue to apologize for computer systems that continue to have new problems as the pandemic wears on.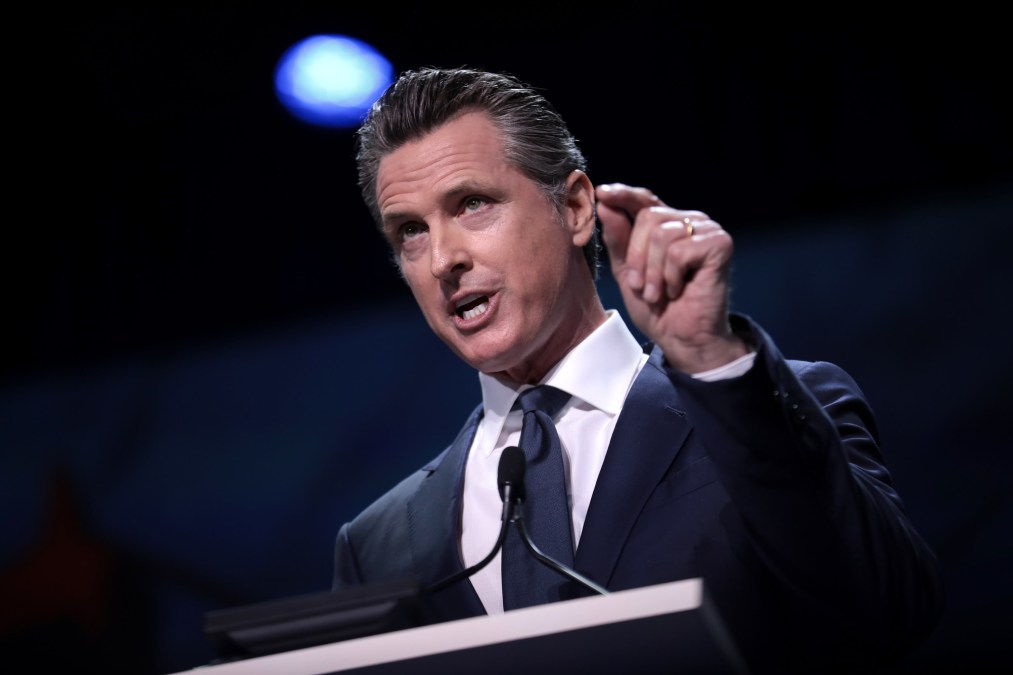 As state unemployment systems fail in new ways, governors are continuing to apologize for the outdated technology that is preventing financial relief to millions of Americans.
In a briefing Monday, California Gov. Gavin Newsom said the state is continuing to layer in new functionality to meet demand from residents who have questions about unemployment insurance or need to make new claims. Newsom said that within the last few days the state added 600 additional staff members to support unemployment call centers and launched a new chatbot that can answer frequently asked questions.
California will also launch a new system this week that will allow people to receive answers via text message, which is meant to reduce the burden on human operators, Newsom said. The state also plans to loosen several existing regulations to allow the state to communicate with the public more readily.
But despite all this, Newsom said California's IT systems still aren't "out of the woods by any stretch of the imagination," noting that the state's call center for unemployment benefits received 15 million calls last week alone.
"I'm not going to sit here and complain about old IT systems, except we have an old IT system. And let me just acknowledge head-on that's not the only old IT system in government," Newsom said, pointing out that the California Department of Motor Vehicles has also struggled to update its technology.
In New York, unemployment insurance applicants are claiming they received paperwork with the personal information of other applicants that includes names, addresses and Social Security numbers, WHEC reported Monday. The New York State Department of Labor reported Saturday it's distributed $3.1 billion in unemployment benefits since the pandemic started.
New Jersey's unemployment system, which has received more than 1 million claims within the last six weeks, went back online Monday after weekend maintenance. Gov. Phil Murphy on Monday, meanwhile, outlined his "responsible economic restart" plan to begin reopening some businesses throughout the state.
Florida, which has received 1.8 million unemployment claims, put its system back online Monday after three days of maintenance. The Sunshine State not only continues to face a steep backlog of claims, having processed only 652,000, but is now facing criticism from rejected applicants who say their claims were wrongfully marked as "ineligible."
In a briefing Monday, Gov. Ron DeSantis admitted the state's unemployment system, which was developed by the consulting firm Deloitte under the direction of former Gov. Rick Scott in 2013, is "a clunker, there's no doubt about it." He also verified that the state is only catching about half of the calls made to its unemployment office.
Though DeSantis said that the system has been improved "by leaps and bounds" in recent weeks, he has previously accused his fellow Republican Scott of purposefully designing the system to fail.
Three unemployed Floridians waiting for checks have filed lawsuits against Deloitte, DeSantis and the Florida Department of Economic Opportunity.
Michigan, which added hundreds of new call-takers and redesigned its unemployment website after it was pummeled by requests, announced Monday that it's distributed more than $1.66 billion to more than 1 million workers.
Oregon Gov. Kate Brown apologized for the claims backlog in her state in a tweet on Sunday, also noting the addition of new call-takers and expanded benefits, such as those for gig workers. Last week, Oregon officials announced that a glitch in its decades-old unemployment system required many who'd already filed for benefits to resubmit their claims.