How Austin turned to social media to get the word out during March bombings
Austin Mayor Steve Adler says technology played a huge role in helping to find the perpetrator while social media services like Twitter helped keep residents notified of potential threats.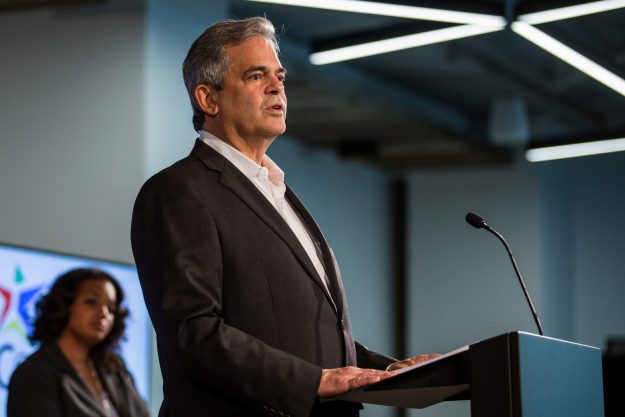 When Austin Mayor Steve Adler walked up to nearly 40 national and international television cameras in March to deliver an update on a series of bombings that had occurred across the city and its surrounding area, he couldn't believe what he was experiencing.
"Standing behind not only my police chief, but also the special agents in charge from the FBI and ATF, knowing that at this moment CNN was cutting into their regular broadcast to show that, plus the number of times I had seen that [happen] in other cities… it was surreal," Adler told StateScoop in a May 2018 interview in downtown Austin.
"I was looking around so much, taking it all in, that my wife actually texted me and said 'keep looking forward,'" Adler said.
The string of bombings spanned 19 days, from March 2 to March 21, and resulted in 6 explosions in and around the Austin area. The bombings began with explosives included in a series of packages shipped to private residences, but also included a tripwire-activated bomb in the southwest part of the city. Two civilians died as a result of the package bombings.
Mark Anthony Conditt, whom police said confessed to the bombings in a self-made video, died on March 21 after setting off a bomb inside his vehicle while being pursued by state, local and federal authorities on Interstate 35 in Round Rock, Texas, north of Austin.
Those authorities were able to track down Conditt at least in part thanks to a sophisticated technology and data operation, Adler said.
"Technology played a huge role at multiple different levels," Adler said. "The first is when FBI and ATF were deployed, along with our folks. The level of technology employed in trying to solve something like that and solve it quickly is amazing."
Law enforcement conducted cell phone tower analysis and used data tools that helped forensic investigators focus on the most important details of the case and uncover clues that eventually led to the identification of the suspect. In addition to the sheer amount of technology the team of authorities from multiple levels of government used in the process, Adler said the way the teams analyzed data was "amazing."
"The capacity to be able to deal with large amounts of data and find incongruities, or needles in haystacks, are amazing to me, and in part responsible for being able to resolve that as quickly as that was resolved."
For Adler personally, technology was essential in alerting the public with information about what public safety officials knew so far, and what to be concerned about. Adler, an active Twitter user with more than 23,000 followers, sent his first tweet about a bombing on March 12 after a second package bomb exploded, 10 days after the initial explosion.
In addition to Adler, city social media accounts, as well as those operated by other city leaders — including then-interim Police Chief Brian Manley — were used to disseminate information on the bombings as they unfolded.
Police briefings with media were also streamed live on Periscope — a live-streaming service owned by Twitter, and hosted on the Austin Police Department account.
"Most of [the social media communication] is built around getting as much information as you can to as much of the community as quickly as you can," Adler said. "We tried to do that from the very beginning — to get that information, to not hold anything back, to let people make the best decisions that they can in terms of what they're going to do."
That communication enabled the public to channel concern and fear into action.
"While they're concerned and horrified, they're not in the dark, and they can help," Adler said. "They can make individual determinations about what they should be doing to help the community."
Adler said he and the city did their best to use social media — paired with a mix of media briefings and television appearances — to "get out very early with a very clear description for what the delivery system was for the bomb." In addition, the mayor said he and his team were careful to not explain that package bombs — the first three explosions in the series of attacks — were not the only possible vehicle for explosive devices.
After the initial three package bombs, a tripwire bomb was triggered in the southwest part of the city on March 18, bringing a new dimension to a public case that had many in the community worried and scared. At a press conference , Interim Austin Police Chief Brian Manley said the fourth bomb showed "a higher level of sophistication, a higher level of skill" than they had seen in previous bombs.
"You don't want people thinking that's the only way a bomb can be delivered, or else you would have people being really, really careful about packages on their doorstep, but not looking down as they walk through a park for tripwires," Adler said. "You don't want people saying, 'well, you didn't tell me tripwires were a possibility,' so we could talk about the delivery system [packages] but we could say, beyond that, notify us when you see something suspicious."
In addition to social media, some Austin residents also received emergency alerts to stay in place. Those alerts were clarified by official city social media accounts.
"Being able to get warnings out with the technologies we have set up, the emergency warning systems that we have [was crucial]," Adler said. "So that when something hits a neighborhood like a tripwire, you can communicate to people."
Two days after the tripwire-activated bomb, another bomb exploded at 12:30 a.m. a FedEx Ground facility outside of San Antonio. Later that morning, officials deactivated yet another bomb — a package bomb at a FedEx Ground facility in the southeast section of the city.
Two days later, Conditt was dead and the bombing had stopped.
Social media accounts operated by Adler and the city pivoted to honoring the two civilians killed in the explosions, and recognizing the work of public safety officials.
"The whole thing was very surreal and horrific," Adler told StateScoop, "but the way the community came together to spread information, work with law enforcement and keep each other safe was representative of what Austin represents as a culture.
At a city council meeting held after the bombings concluded, Adler praised the city, state and local public safety officials who helped respond during those 19 days, calling out the Austin Police Department in particular, whom he said "did a hell of a job, and our entire community is indebted to you."