Website redesign launches N.C. into digital services
As the demand for digital services grows nationwide, North Carolina is stepping up its game — starting with a website redesign across state government.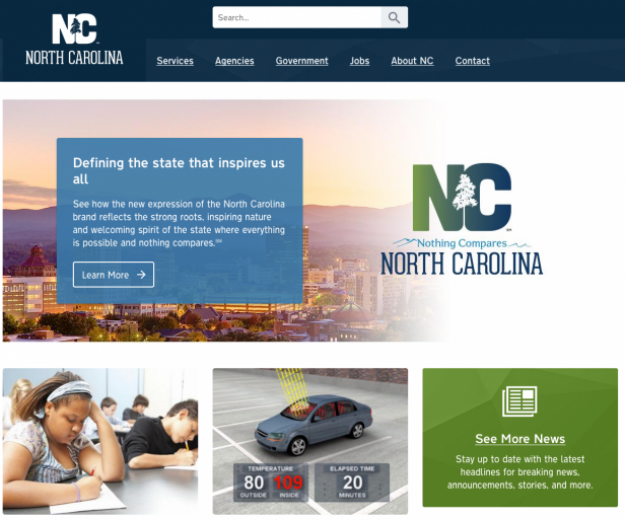 RALEIGH, N.C. — The state government here is stepping into the digital services arena — starting with a redesign of its main portal, NC.gov.
Tech officials unveiled the new Drupal-based website earlier this summer, and already some agencies (including the Office of Information Technology Services, where the redesign project is based) have started migrating to the site's new content management system. All state cabinet-level departments will be using the new system by the end of the year, said Billy Hylton, the state's digital services director.
At North Carolina's Innovation Center, Hylton told StateScoop that the redesign is an effort to unify the look and feel of state government sites.
"We're all using some sort of modern website or app out there, and that's the expectation we have as far as consuming media and interacting," Hylton said. "With digital interactions, there are expectations about how it should be, and traditionally, as state government, we haven't locked into those expectations yet."
The project, dubbed Digital Commons, started in 2014 and is centered on Gov. Pat McCrory's plan to make accessing government services as easy as checking scores on a smartphone.
To develop the design of the new site, officials worked with Raleigh-based design company Atlantic BT. The company will also work with agencies to develop content strategy and a governance structure within the Digital Commons redesign.
The new websites are built on a Drupal backbone developed by Arlington, Virginia's Phase2, which has also worked with the White House and Georgia state government. The Drupal platform, OpenPublic, is an open source content management system Phase2 specially designed for government, according to Hylton. The site is hosted on OpenShift — Red Hat's cloud-based platform-as-a-service product — on an Amazon Web Services infrastructure, and most state website operations are handled in AWS' cloud.
Digital Commons is a massive undertaking for the digital services team, Hylton said. Though, it's a way to build a collaborative culture in state agencies that will make it easier to launch other digital services in the future.
"That collaborative ethos, I really want that to gel so that, in the years to come, as there are new ideas that we don't always have to put out an RFP on the street and get the vendor to do the work for us," Hylton said. "We can leverage skills across multiple agencies to do that project, and so that is something that is important to me."
Going forward, Hylton said he will embrace the example Utah, Hawaii and New York established with their open data platforms. Hylton and his team aim to find ways to use data to help the state's citizens.
"To me, there's a caveat," Hylton said. "It's not just saying we have this amount that's electronic or digital, it's done in a way that people want to use the services and they're effective."
Hylton said the website redesign effort only scratches the surface of the services he wants to deliver.
"Year two, we could be doing some really amazing things," Hylton said.