Nevada joins states using Apple-Google API for contact tracing app
The state is the latest to publish a smartphone app based on the tech giants' joint programming kit in an attempt to track the spread of COVID-19.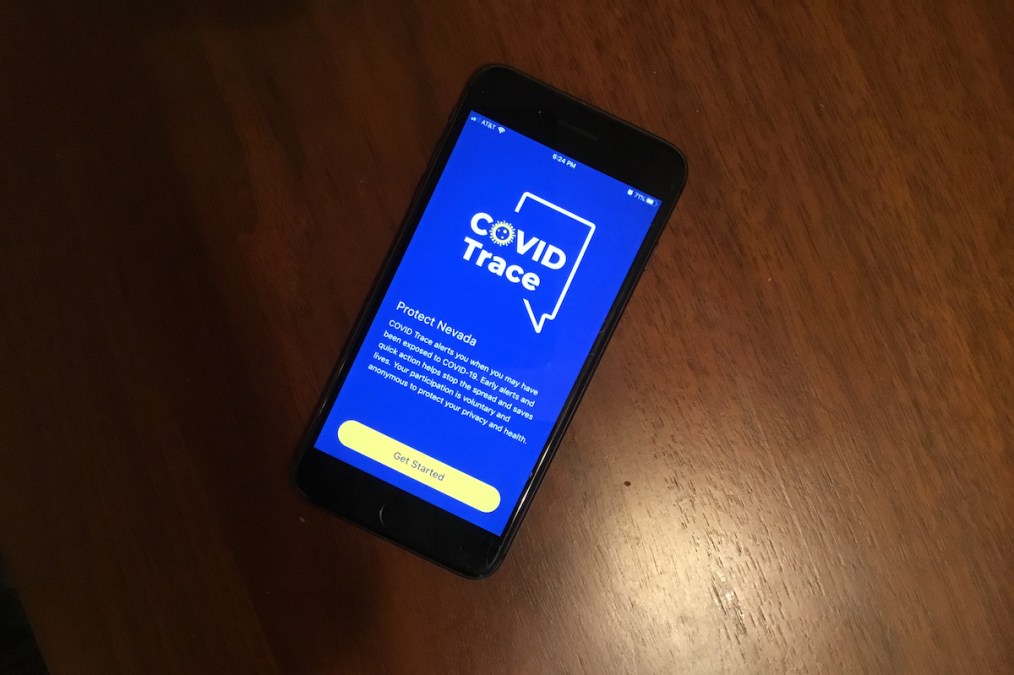 The State of Nevada this week became the latest state to release a mobile app for tracking COVID-19 using a platform developed jointly by Apple and Google.
The app, called COVID Trace, runs on Exposure Notifications, an API published earlier this year by the two tech giants that uses phones' Bluetooth capabilities to let individuals know if they've been exposed to someone who's tested positive for the coronavirus, and should seek a diagnostic test and proceed to quarantine.
With the app's release, Nevada became at least the fourth state to go public with a smartphone app meant to enhance its contact tracing efforts, which have been sluggish in many states due to a lack of personnel and uncontrolled spread of the virus, which has infected about 66,000 Nevadans and killed 1,200 since March. Nevada currently has a 14-day average of 548 new cases daily, and is listed by a number of states — including New York, New Jersey and the District of Columbia — as a location from which returning travelers must self-quarantine for two weeks.
Phones with the app exchange strings of random numbers — which change every 10 to 20 minutes — with nearby devices that remain within 6 feet for at least 15 minutes, consistent with the Centers for Disease Control's definition of "close contact." The app periodically downloads a list of all tokens associated with phones belonging to people who tested positive for COVID-19. Any matches trigger an alert from the Nevada Department of Health and Human Services.
Apps based on Exposure Notifications do not track users' physical locations or identities, and are prohibited from tapping into a phone's GPS capability, according to the terms of the Apple-Google developer kit.
The Nevada app was developed in tandem with a trio of independent software engineers from Seattle who had been trying to build an open-source contact tracing app, but could not make it available in Apple's App Store because the company limits such programs to government health authorities. GeekWire reported that a Nevada entrepreneur became aware of the developers and connected them with Jim Murren, the former MGM Resorts executive who leads Nevada's COVID-19 task force.
Virginia earlier this month became the first state to make a contact-tracing app based on Exposure Notifications available to all of its residents. Pennsylvania officials last week announced a pilot period for a similar app, which is expected to go public next month. Alabama is also testing an app with college students returning to campuses, and more states are expected to follow.
But contact tracing has had numerous growing pains in the U.S. response to the coronavirus pandemic. The absence of a federal strategy has left the task to individual states, all of which are proceeding at their own paces. And distrust of a mobile app meant to slow the spread of COVID-19 remains high, with 71% of people responding to a June poll saying they would not download an app.
But Julia Peek, a deputy administrator for the Nevada Division of Public and Behavioral Health, described COVID Trace last Friday as "an awesome opportunity for Nevadans, and our visitors to do more, one more thing to continue the fight against COVID to protect themselves and move Nevada to reopening fully again," according to the Nevada Independent.