D.C., San Francisco tech leaders aim for 'future-proof' procurement
If cities can revamp their procurement practices, they'll have a better shot buying innovative technology from a diverse set of vendors, city tech execs said.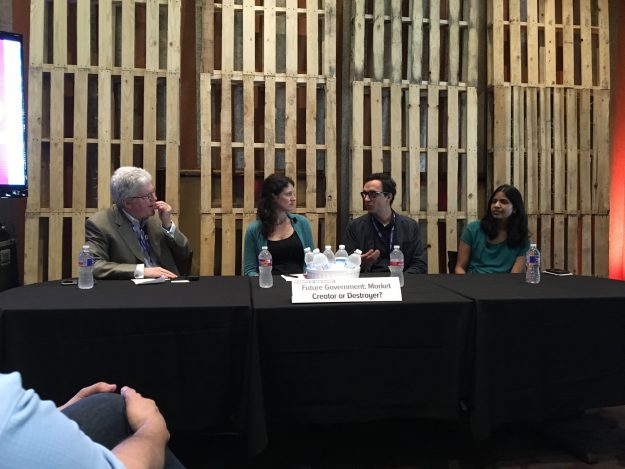 AUSTIN, Texas — Cities must look into adopting creative procurement strategies if they want their tech departments to stay on top of innovation, said technology leaders from Washington, D.C., and San Francisco.
On a panel Saturday sponsored by the nonprofit Washington, D.C. Economic Partnership at South by Southwest Interactive, D.C. Chief Technology Officer Archana Vemulapalli said the District has made "great strides" in how it procures technology, but it needs to make procurement more flexible.
"I think procurement gets a bad rap," Vemulapalli said. "Having dealt with the process in the last few weeks and gone through the motions, one thing I realize is there is a place for standard procurement, but also a need for future-proofing procurement."
Vemulapalli, who started as CTO six weeks before speaking on the panel at South by Southwest, said her time in the private sector taught her that inflexible procurement processes halt progress and make it difficult to adopt new models of technology. While Vemulapalli didn't offer specific examples, officials across the country have complained that drawn-out technology procurements can exclude smaller, leaner companies in favor of tech behemoths.
The idea of future-proofing procurement, Vemulapalli said, is to make it easier for city governments to procure technology from a diverse group of vendors — from massive international companies to local startups in the civic innovation space.
Krista Canellakis, the deputy innovation officer for San Francisco, said she is "obsessed with procurement." Canellakis highlighted the work San Francisco has done on its "Startup in Residence" program — which brings startups physically into city government to help address its technology challenges. The program first launched in 2014 and was relaunched in 2016.
"I think [procurement] is a really bureaucratic, complex thing to understand," Canellakis said. "One of the things we've done that's been really interesting is figuring out a way to help startups break into this black box of government."
For the 2016 iteration of the Startup in Residence program, Canellakis said the city has already crafted a procurement pathway for the participating startups. And ultimately, by embracing startup culture, Canellakis said the city was taking a step to integrating a healthy amount of risk into the procurement process.
"We still have people within our city that are skeptical of change," Canellakis said. "It's important, though, that we are able to take risks and do it in a way that we're really addressing the issues."
Vemulapalli agreed, adding that governments are more willing to take on risk when the cost is low.
"There's a very high appetite for risk, there's a willingness to be open to new things, there's a willingness to engage and a willingness to have a dialogue," Vemulapalli said. "But when it's close to a billion dollars, of course the appetite for risk is low."