Will cities work remotely? Officials still have unanswered questions
Local governments adapted well to their remote working environments, but city leaders now want more thoughtful governance before making the switch for good.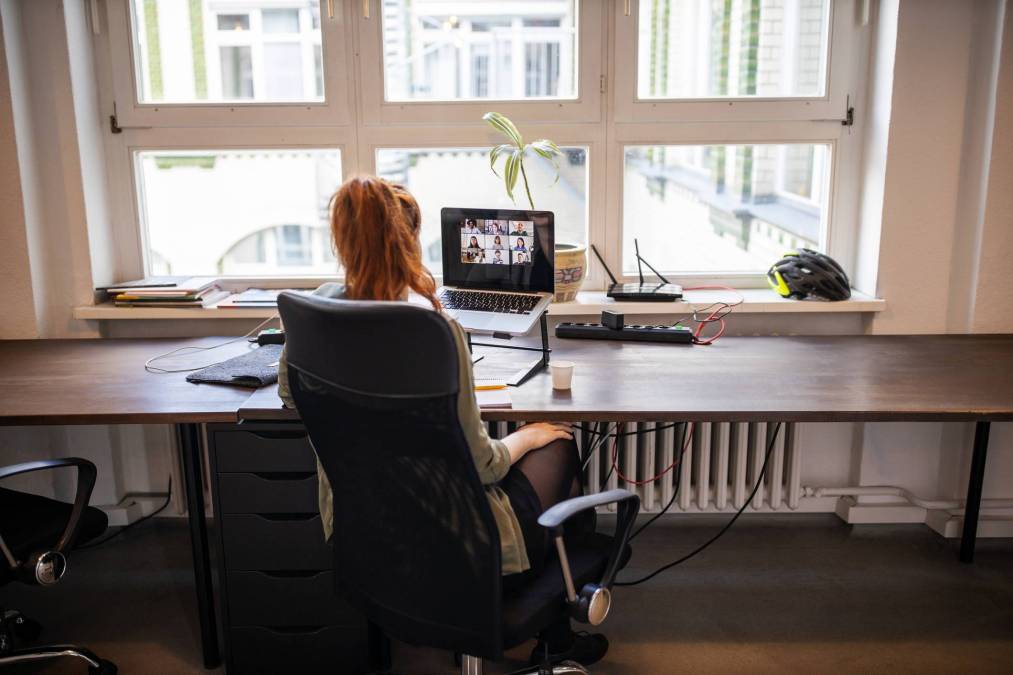 There is "a light at the end of tunnel" in sight for technology executives that were tasked with suddenly transitioning thousands of city employees and public students to remote work and learning environments last year at the onset of the coronavirus pandemic, David Elges, Boston's chief information officer, told StateScoop. But even as the public sector gradually opens for in-person government services and business, Elges and his counterparts around the country say there's still more questions than answers surrounding what the "new normal" of city government will look like.
Nearly a year after adjusting to remote work, Elges said, the City of Boston is reckoning with the question of how its remote workforce should return to city hall. They're also asking about the new role of video-conferencing, digital chatbots and other virtual collaboration tools that have been critical to the continuity of operations over the last year. The city doubled down on growing digital government quickly during the pandemic, Elges said, and over the next several months, the city plans to "lean in" on developing new business processes to match an office schedule that doesn't fully exist yet.
"What is the future of work going to look like?" Elges said. "'Are we going to continue to have people working remotely? Are we going to go into a hybrid environment? These are the conversations we're having now. And some of these tools we quickly implemented, are we looking to bolster them up and support them going forward for a longer-term strategy?"
Preparing for change
Those questions don't have complete answers yet, but Elges isn't alone in asking them. Officials in Austin, Texas; Portland, Oregon; and San Jose, California, said they're unsure what the next several months will hold for currently remote staff and residents who rely on newly digital government services.
"As we move towards greater vaccination numbers and dramatically decreasing infection rates, the work from home experiment may become the norm for many City employees and we are preparing now for that change," Chris Stewart, Austin's acting CIO. wrote StateScoop in an email. "A benefit of pausing technology deployments last year is that we have an opportunity to address the new needs of departments instead of meeting pre-COVID expectations."
The City of Austin was transitioning to a more mobile workforce even before the pandemic, Stewart said, but the city is still planning to deploy additional devices to employee homes to establish remote connectivity.
The city hasn't decided whether it will keep various digital government services, like streaming and enabling real-time online commenting during city council meetings, available beyond the pandemic, he said, adding that those decisions will be largely based on resident demand.
Unanswered questions
San Jose City Manager Kip Harkness told StateScoop he's also undecided on continuing to offer some digital services developed during the pandemic, but he has a hunch that there's no going back to how things were. The city saved residents 40 years of waiting time annually just by digitizing five paper-based permitting processes over the last several months, he said.
"Our guess is that just like people have shown in their consumer experience is once they understand and are able to work a simple, easy-to-use, self-serve experience," Harkness said. "They're not going to want to come to city hall and stand in line for five hours, wait for their number to be called and have to come back later because they forgot one of their forms at home."
San Jose CIO Rob Lloyd said city employees and residents can expect a "reimagining" of IT services in the city, as he comes up with answers to questions — like whether city staff should be allowed to work from home — that weren't often raised before the pandemic. Lloyd said he's still deciding how to prioritize government services offered both in-person and online and how different agencies will collaborate with each other online.
"We've figured out how to do remote work, but the tricky part will be hybrid," Harkness said. "Our emergency operations center, we've been running that remote. We know exactly how to do that and run it very efficiently. But what happens when 12 people are in a physical EOC and 20 people are virtual?"
Harkness and Lloyd largely attributed the city's cohesive pandemic response to its emergency operations center, which virtually gathered representatives from every agency early on to ensure San Jose's public-health and remote-work measures were well thought out. But a permanent switch to a hybrid work environment, like Harkness suggested, likely won't be a one-size-fits-all policy for the entire city.
"What works for the airport will not necessarily work for the zoo, which will not necessarily work for the city manager's office," Harkness said.
This story is part of StateScoop & EdScoop's special report on one year of the COVID-19 pandemic.