State and local groups praise passage of long-awaited infrastructure bill
NASCIO celebrated the House's passage of a $1.2 trillion infrastructure bill, which funds a new cybersecurity grant program for state and local governments.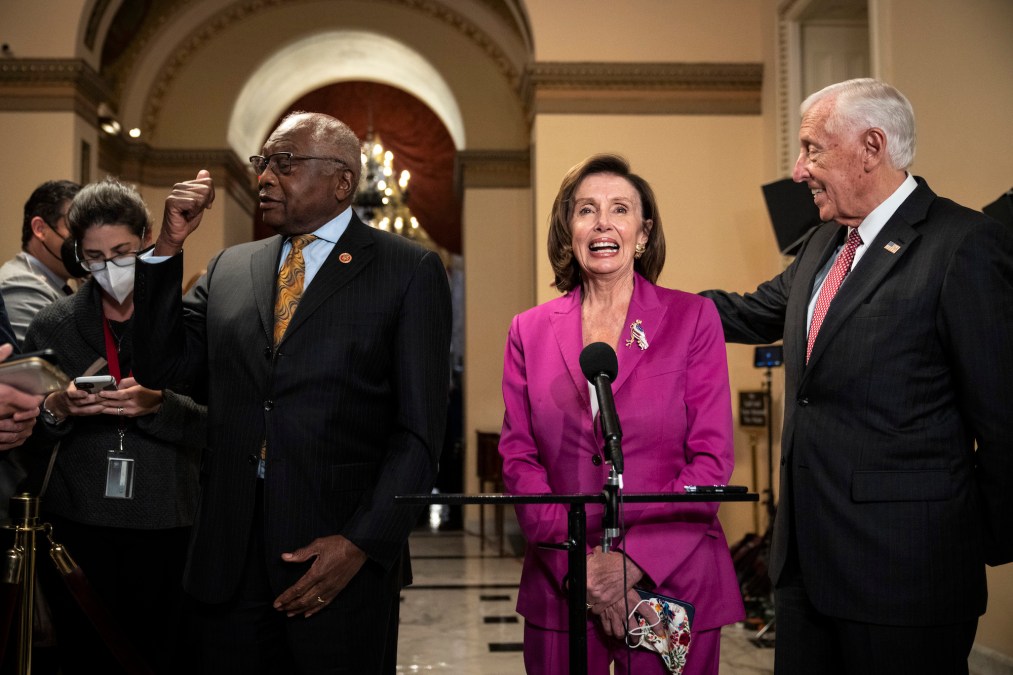 The National Association of State Chief Information Officers and other groups representing state and local officials praised the U.S. House of Representatives voting late Friday night to approve a $1.2 trillion infrastructure spending bill that includes, among many measures, a new cybersecurity grant program and record-setting investments in broadband development.
Included in the 2,700-page bill — which mostly addresses improvements to roadways, ports and mass transit — is $1 billion to set up a four-year grant program inside the Department of Homeland Security to assist state and local governments with cybersecurity funding. The grants, which are to be administered by the Federal Emergency Management Agency — with the Cybersecurity and Infrastructure Security Agency serving in an advisory role — will satisfy one of NASCIO's longtime federal legislative priorities.
While FEMA's longstanding Homeland Security Grant program has always included some funding for information security, Congress had for years attempted — and failed — to create a standalone program supporting state and local cyber efforts.
"We are grateful for the passage of the bipartisan Infrastructure Investment and Jobs Act, which includes the $1 billion State and Local Cybersecurity Grant Program," said Matt Pincus, NASCIO's director of government affairs. "Dedicated cybersecurity funding for state and local governments and an emphasis on increased collaboration between state and local governments with our federal counterparts has been a long-standing priority for our association. The creation of this grant program is a significant step toward improving the cyber resilience for state and local governments across the country. The state CIOs and CISOs look forward to playing a significant role in the implementation of this grant program."
The grant program was added to the package at the urging of Sen. Maggie Hassan, D-N.H., one of the lead infrastructure negotiators in the Senate, which approved the bill in August.
The House's 228-206 vote on the bill — with 13 Republicans joining nearly all Democrats in supporting it — clears the way for President Joe Biden to sign it, which he said Saturday he'll do "soon."
Along with the cybersecurity grant program, the Infrastructure Investment and Jobs Act also includes $65 billion for broadband deployment, the single largest federal investment in high-speed internet access. Of that sum, $42.45 billion would go toward grants — available to both states and localities — to build out networks capable of download speeds of 100 megabits per second and uploads of 20 Mbps. There's also money to extend the Emergency Broadband Benefit, a pandemic-era program the Federal Communications Commission created to help low-income households afford internet service.
"[For] the first time, Congress has empowered entities closest to the problem of insufficient and unaffordable broadband access—state and local governments—to solve it," Kathryn de Wit, project director of Pew Charitable Trusts' broadband initiative, said in a press release.
The infrastructure bill's passage was also praised by groups like the National Governors Association, U.S. Conference of Mayors and National Association of Cities. In a joint statement that was also signed by the National Conference of State Legislatures, Council of State Governments, International City/County Management Association and National League of Cities, the groups said Biden should sign the bill quickly so money for long-awaited projects can start flowing.
"This vital legislation should be sent to the President's desk as soon as possible so that states, local governments and territories can deploy these crucial infrastructure funds," the statement read. "A strong federal-state-local partnership is critical to delivering these investments in every community and this package will provide the investments we need to expand and repair our nation's infrastructure."