State, local officials praise Senate passage of infrastructure bill
The $1.2 trillion package, including a new cybersecurity grant program and $65 billion for broadband, now heads to the House of Representatives.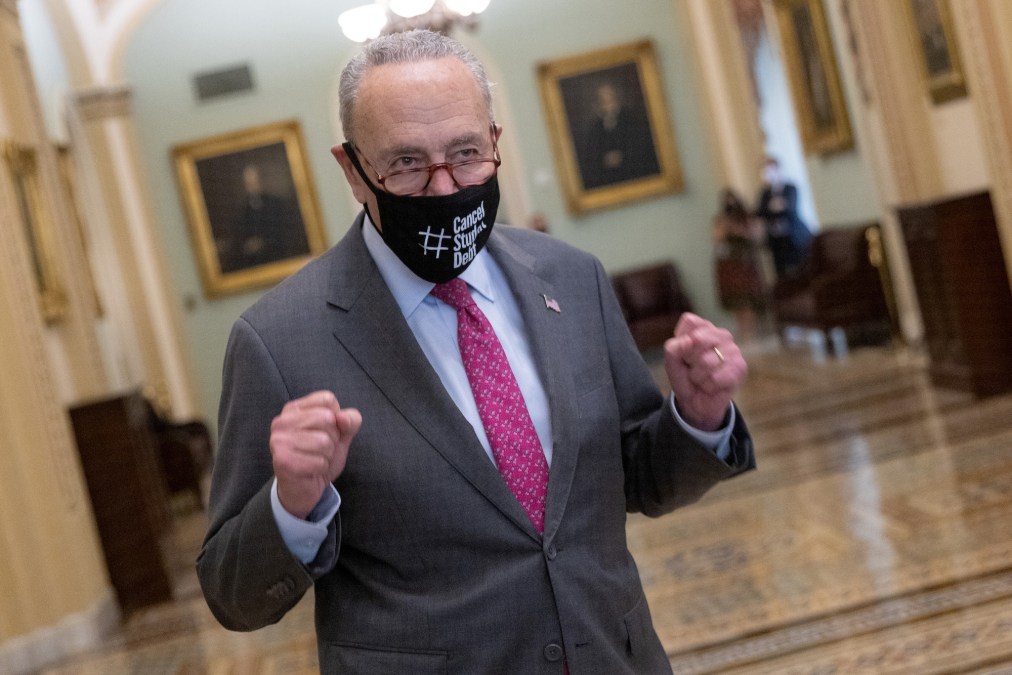 Organizations representing state and local government officials on Tuesday celebrated the U.S. Senate's approval of a $1.2 trillion infrastructure spending package that includes major new investments in broadband internet and cybersecurity funding. The bill, which was crafted by bipartisan group of senators, passed by a comfortable 69-30 margin, leaving state and local officials hopeful the House will follow suit later this year.
Among the programs in the roughly 2,700-page legislation is $65 billion for broadband — the single-largest federal investment in high-speed internet — and $1 billion for a new Department of Homeland Security grant program to help state and local governments improve their cybersecurity postures. Both components have been longstanding goals of groups like the National Association of State Chief Information Officers, which told StateScoop in an emailed statement it's "very pleased" with the Senate vote.
The cybersecurity grant program, which will be spaced over four years, according to the bill text, will see the Federal Emergency Management Agency — advised by DHS's Cybersecurity and Infrastructure Security Agency — distribute funds to states, localities and tribal nations that have been under siege by ransomware and other digital threats. The grant program was included with the backing of Sen. Maggie Hassan, D-N.H., who was part of the group negotiating the infrastructure deal. Both DHS Secretary Alejandro Mayorkas and CISA Director Jen Easterly said during their confirmation hearings earlier this year they were supportive of a cybersecurity grant program.
The package contains several other cybersecurity-related items, including a response and recovery fund at CISA, research and development at DHS's Science and Technology Directorate and funding for the new Office of the National Cyber Director. There is also several billion dollars available for critical infrastructure and supply chain cybersecurity.
Along with NASCIO, the National Governors Association and National Association of Counties were quick to applaud the bill, with the latter calling its broadband spending "historic."
While the $65 billion for broadband is record-setting, senators stopped short of including language that would block state laws that prohibit or heavily restrict the creation of municipal networks. It does, however, set high goals for improving internet service, with states set to receive $42.45 billion to build networks capable of download speeds of 100 megabits per second and uploads of 20 Mbps, with a priority being given to areas without high-speed service.
"This is an historic investment in broadband and one that will help put affordable, reliable connections in reach for Americans across the country," Kathryn de Wit, director of the Pew Charitable Trusts' broadband access program, said in an emailed statement.
Aside from cybersecurity and broadband, the infrastructure bill will also distribute to states funds to be used on roadways, rail, public transit, electrical grid upgrades, water systems, ports and environmental cleanup. Overall, it includes $550 billion in new spending, with much of the remainder funded by untapped COVID-19 relief funding and unemployment benefits returned by states that ended their pandemic assistance programs early.
While the infrastructure package passed the Senate by a wide margin, it now heads to the House, which Speaker Nancy Pelosi, D-Calif., has said will not begin deliberations until the Senate approves a separate $3.5 trillion budget resolution funding the Biden administration's priorities on climate change, health care and social safety net programs.