Small-city mayor says citizen-centric government is what's 'smart'
Eugene Grant, mayor of Seat Pleasant, Maryland, says digital transformation has allowed citizens to be engaged in the day-to-day activities of city operations.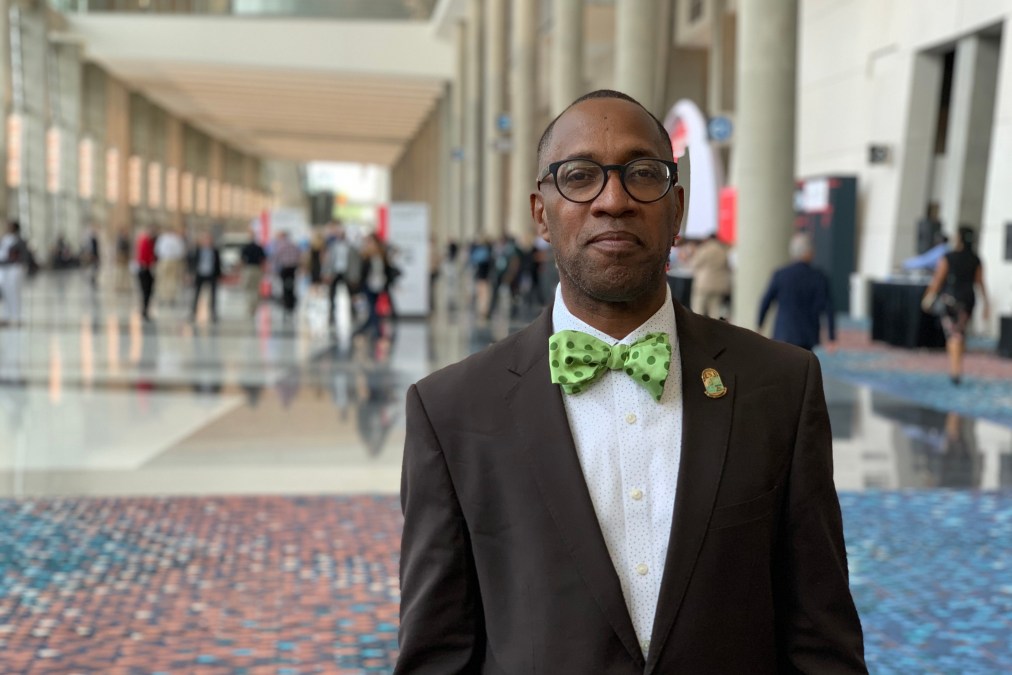 The city of Seat Pleasant, Maryland, may have a small population with just 4,500 residents, but that doesn't mean digital transformation isn't an opportunity for big change. Eugene Grant, the mayor of Seat Pleasant, located just 5 miles from the U.S. Capitol, told StateScoop he's aiming to create a government that's driven by engagement.
"[We have] moved toward this digital transformation to create a citizen-centric government that allows our residents to be very much engaged in the day-to-day activities of our operations of our city," Grant said.
To facilitate that development, Grant said the city established a Public Engagement Department, "where citizens are first and foremost in everything." The city also created an application residents can use to file complaints or requests, retrieve information and communicate with their elected officials. On that app, Grant said the city prioritizes communication and transparency.
"We get that information in, we begin to process that and every step of the way we notify our residents of each step in the process," Grant said. "At the very end, we tell them how much it cost to take care of that."
StateScoop sat down with Grant to learn more about how he encourages technology innovation within the city and how he sees technology as a tool to solve city challenges.
StateScoop's Jake Williams: You've said cost transparency is imperative to justify the use of resident tax dollars. Can you explain more of your thinking on this?
Seat Pleasant Mayor Eugene Grant: It's very important that our taxpayers get an idea and a true picture of how much it actually costs to take care of the day-to-day needs that [residents] expect of their government. Often times, citizens have this misconception that we have an endless supply of money and that we can fix all problems at any point in time and given day, but that's not reality.
JW: How else are you encouraging technology innovation within city government?
Grant: It's important that people understand that as you're going through a digital transformation, particularly for a small city, it's important that you make the proper investments so you're not going out and buying technology that's not going to really, truly, give you a return on that investment. Some of the areas where we have seen tremendous progress has been in the area of trash collection by using the Bigbelly [smart] trash cans. By using those, we're able to deploy our Public Works Department only to those trash cans where it's needed. That's saving on time, that's manpower savings, that's savings on the wear and tear of your vehicles, so it goes into the life-cycle cost of those vehicles of your apparatuses in the city.
We're also using BoardDocs as another technology, which is our agenda management system. We've been able to cut our paper consumption by over 50 percent. That is a tremendous savings to us. It took us two years before we started buying paper again because we were able to utilize the paper that was already in our inventory. So that gives you just a couple of examples. There are many more that we could use.
JW: Every day there are more challenges that city governments need to deal with. How do you see technology helping to solve some of those challenges?
Grant: Well, we look at going smart as the new social justice platform where you can achieve equity and social justice for everyone in the community. It's ensuring and making certain that every component of the community has access to their government and utilizing those investments to ensure that everyone has an opportunity to connect with their government.
This Q&A was conducted in September 2019 at Smart City Expo Atlanta through a partnership between StateScoop and IGNITE CITIES.