'Smart cities' can be 'almost anything you want,' mayor admits
Mayors from the U.S. and Canada shared widely diverging ideas on what constitutes a "smart city" at the Cities Summit of the Americas.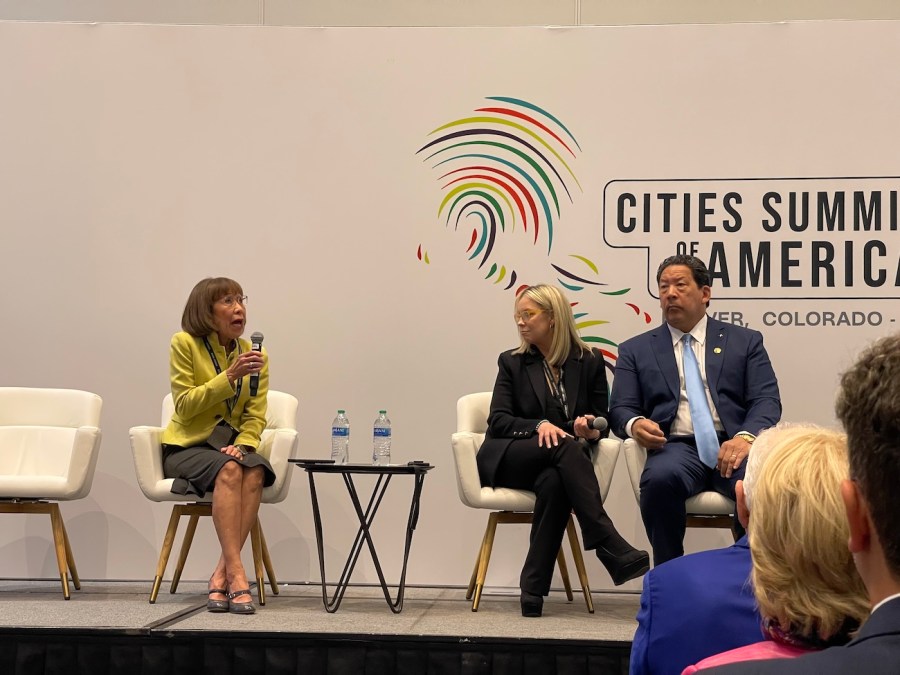 DENVER — There's no real way to firmly define what a "smart city" is, a group of mayors from the United States and Canada said Thursday at a convention for city leaders across the Western Hemisphere.
While the term has always been a slippery one — loosely built around municipal governments incorporating more data analytics and internet-connected devices into their services and operations — Oklahoma City Mayor David Holt put it bluntly during a wide-ranging conversation at the inaugural Cities Summit of the Americas here in Denver.
"Smart cities is a term that can mean almost anything you can want it to mean," Holt said. "Traditionally it is using technology to provision city services."
During Thursday's panel discussion, that ranged from hard-infrastructure upgrades like the installation of LED lights and upgrading water meters to a city-backed startup incubator and musical therapy programs that operate in virtual reality.
"I define it as being as effective as possible," Seattle Mayor Bruce Harrell said. "We all like shiny things. Shiny things are cool. Things that work effectively are better."
Shiny and bright
Some of the projects touted across two panels were decidedly not shiny, such as a 2017 initiative in Burnsville, Minnesota, to replace nearly 17,000 water meters with new devices that automatically transmit usage measurements back to the city-owned utility.
"We chose to lay fiber throughout the whole city to connect all our facilities, all of our assets," Burnsville Mayor Elizabeth Kautz said. "It's not sexy, but it had an impact on our community. Helped us move to advanced water meters. That is important because we have real-time information on everyone's water intake."
And Fremont, California, Mayor Lily Mei cited the wholesale replacement of streetlights in her Bay Area city with LED bulbs, a project credited with cutting energy bills and reducing fatal car crashes by nearly half since 2016.
"When you think about technology, it's about how you innovate to create better lives for your constituents," said Mei, who was first elected in 2014. "So when I say our city got brighter, it's not just the people. It got brighter."
'Payoff in the long run'
On the more experimental end of the spectrum, Reno, Nevada, Mayor Hillary Schieve quickly invoked decentralized technology and the so-called metaverse as potential opportunities for her city.
"I'm a big believer in web3, blockchain, virtual reality," she said, noting that the city last year loaded its historic records onto a distributed-ledger platform.
She also said she's interested in advancing a mental-health agenda — one that, during the COVID-19 pandemic, included offering Reno residents free access to online therapy services — with music therapy sessions held in a VR setting. (She mentioned the singer Jewel as a potential partner in such a project.)
Meanwhile, Mississauga, Ontario, Mayor Bonnie Crombie said she's tried to make investments in new technologies that leverage her city's international reach and industrial hubs. (Mississauga, in addition to hosting the airport serving Toronto, is also a major base of automobile and pharmaceutical production.)
"We're only a 50-year-old city, but we're a powerhouse," she said. "Canadians are a little more risk-averse than others, but if you put some real money behind it, it pays off."
Crombie said a 10-year plan her administration kicked off in 2019 has included a municipal fiber network, expansive free public Wi-Fi access and a startup incubator developed with nearby universities and business groups.
"Smart city programs often have a payoff in the long run," said Holt, the Oklahoma City mayor. "I think it takes a little bit of courage for mayors to execute."