What role does a national agenda play in developing smart cities?
How will a new presidential administration affect smart city efforts around the nation?
Cities strive for a high degree of control over their autonomy and daily decision-making, leading state and federal goals to frequently push up against city independence and override local authority. All too often this creates a perpetual state of governance tension, but on certain issues, regional or national priorities taking precedence makes sense.
It wouldn't be productive to address all major road and rail networks, regional telecommunications or significant climate-related goals on a city-by-city basis. In many instances, cities are only too happy for regional and federal participation.
With a new administration getting to work on its priorities, the question of how it can support municipalities in becoming smart cities is particularly timely and relevant.
Infrastructure
We must recognize the important role the federal government has in its ability to fund large and complex projects, including those of national importance. The Interstate Highway System, a multi-decade federal project, for example, has greatly benefited the nation and all cities.
Today, major infrastructure needs for our country as a whole and for our cities have greater urgency than ever. More transportation options, such as high-speed intercity rail, 5G telecommunications and more wired and wireless internet options in general, climate-crisis mitigation efforts and air and water quality improvements are all areas that align well with typical smart city priorities. Even if the work isn't directly performed by the federal government, the money can originate there in the form of grants, low interest loans and other financial instruments.
These types of projects benefit the whole country but also have a direct upside for local communities in terms of health, economics, resiliency and more. Reviewing the new federal administration's infrastructure priorities can tell us a lot about the potential impact on smart city ambitions.
Collaboration and research
A best practice emerging out of smart city experiences is the need for sharing knowledge and creating opportunities for collaboration between cities and other stakeholder groups. The federal government has traditionally been in a good position to offer a forum for bringing together all manner of participants to discuss priorities of mutual benefit. It can begin at the very top, too. The president can convene leaders and bring attention to issues of importance to cities.
On a more routine basis, agencies such as the National Institute of Standards and Technology play an essential role in managing research and funding efforts that directly benefit local communities. For example, NIST runs the Global City Teams Challenge program as a collaborative platform for the development of technologies to power smart cities.
Funding for high-risk experimentation that can later benefit cities often originates at the national level. Leaving this solely to cities or even the private sector may result in insufficient momentum. NASA's space program, meanwhile, has resulted in more than 2,000 spin-off technologies.
The federal government funds work on quantum computing and artificial intelligence, and it's not just that these are expensive and risky efforts, but they are increasingly important for national competitiveness and security. Both of these technologies will feature prominently in the function of our cities in the years ahead.
Public safety and cybersecurity
A major goal of smart city strategies is to make cities safer. An important lesson that emerged from 9/11 was that all government agencies must be able to communicate better together, particularly in an urban setting, and there must be reliable telecommunications for public safety personnel during a crisis. These lessons have led to local and national investments in greater bandwidth capacity and have significantly improved communications between public safety agencies, such as through the creation of FirstNet.
As cities implement more technology to support their services and operations, cybersecurity risks rapidly increase, too. After being off the radar for far too long, cybersecurity is finally becoming a city priority.
The high-profile nature of cyberattacks, and the interconnectedness of city networks with outside organizations, makes a federal role critical. For example, an attack on an energy grid would not only impact a specific city but could have downstream impacts regionally or become a national security threat.
As more cities begin their smart-city journeys, they would be well-served by evaluating the benefits and areas of intersection with federal efforts and assistance. As I discuss in detail in my book, a smart city strategy doesn't belong to a single department. It's an all-of-government effort that must include a wide range of external stakeholders.
While there will continue to be challenges of city autonomy relative to regional and national priorities, a smart city strategy seems like a place where cities and the federal government can agree on opportunities that benefit everyone.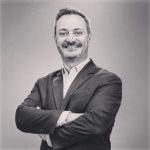 Jonathan Reichental is the former chief information officer of Palo Alto, California. He's now an instructor at several institutions, including the University of California, Berkeley, and online through LinkedIn. He's the founder and CEO of the advisory and investment firm Human Future, and the author of Smart Cities For Dummies.