Illinois veterans network overhauls Web portal to better connect with users
Illinois Joining Forces is readying a full website relaunch to try to become more responsive to the needs of veterans and active-duty service members in the state.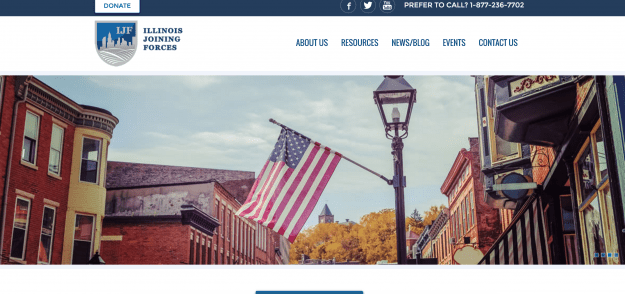 A state-run program working to connect active-duty service members and veterans in Illinois with resources is completely overhauling its Web presence, in an effort to better understand the needs of current and former military personnel in the state.
Illinois Joining Forces — an organization created through a partnership between the state's Departments of Veterans Affairs and Military Affairs — is readying a full relaunch of its website, following an initial redesign in January. IJF works to connect service members, veterans and their families with public and private organizations offering resources for those connected with the military, and the new Web tool is aimed at easing that process and getting IJF staff more data on what kinds of services people need.
Ken Barber, the group's executive director, told StateScoop that IJF's old website was barely functional, describing it as "clunky and not very user friendly." Now, he hopes the new portal can provide a front end featuring a "seamless user experience" and a "robust" back end that helps the IJF gather feedback and better respond to the issues confronting veterans and service members in the state.
"Our mission is to be a single point of entry for service members, veterans and their families to access the service providers throughout the state of Illinois," Barber said. "We're hearing, 'Wow, you guys did a lot of good work in a very short period of time' and a lot of that is attributed to the website."
Since the group's creation in 2012, Barber said IJF used the same old website, but "it didn't really provide the kinds of functionality that supported our mission." As IJF prepared to host a gathering of philanthropic organizations offering services to veterans last December, Barber felt the program needed a Web revamp to show attendees that IJF is serious about getting more tech savvy.
As he spoke with other veterans groups, he ultimately settled on Unite US, a company that develops software platforms for organizations like IJF.
"In the circles I travel in, it's generally accepted that Unite US has the most robust and user friendly software platform," Barber said. "This was what we considered the new industry standard for case management in the veterans space."
He reached out to Dan Brillman, the company's co-founder and CEO, last August. By September, they reached an agreement, and Unite US was able to get a version of the site ready to present at IJF's summit in December.
"The first phase of this was really quick, it doesn't take us long to deploy at all," Brillman said.
Barber said all in attendance "loved" the demonstration of the site, and they were able to formally launch it by Jan. 15.
Now, the portal can help users get a look at all the various organizations that are part of the IJF network, with individual pages highlighting their services "kind of like what Yelp does," Brillman said.
"A veteran or military family member can now go there, search for the service based on many different data points, like where they are, what they're looking for, who they are, when they were in service, and get back granular search results," Brillman said.
[Read more: Illinois CIO lays out plans for modernization push]
The site also includes a calendar of events put on by IJF's partner organizations, and includes a feature to let groups submit their own events for consideration.
But beyond the expanded functionality, Barber notes that the new site's search-engine-friendly text has it flying to the top of search results, while the old site was often buried and harder to find.
He added that Unite US has also helped them parse user data like "how many pages they've viewed, how long they stay on each page, where they've gone throughout the site," to help them understand what people are interested in. Based on the early results, Barber said he's been surprised by the volume of interest in resources for families and active-duty service members, and plans to adjust the group's efforts accordingly.
"What we expected is that vets were going to call us, maybe here and there we'd get some active-duty service members," Barber said. "We're getting a fair number of veterans, but we're also getting spouses and active-duty service members that are curious about what the future for them in Illinois looks like before they transition out of the military."
In the next few months, Brillman is hoping to stand up the "second phase" of the project, connecting the "fragmented" organizations that are part of the IJF's network in one "coordinated system" to help them get a statewide picture of what services are most in demand.
"They have much larger access to deeper data around demographics, specific outcomes that are being provided, so they can then look at that data over time," Brillman said.
Barber said he's hoping to see that come online by May, and he's excited about its potential to help the IJF and its network become more response to the people they serve.
"Our member organizations can make plans to address the issues we feel like the veterans are asking us to address," Barber said.
Contact the reporter who wrote this story at alex.koma@statescoop.com, or follow him on Twitter at @AlexKomaSNG.