After budget-writing failure, Minnesota's struggling vehicle licensing system is left hanging
As the dust settles following a final political joust between the outgoing governor and Republican lawmakers, everyone is left a loser.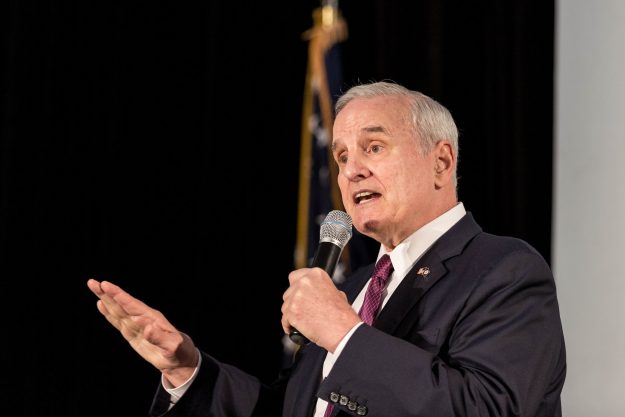 This year's legislative session in Minnesota has ended in what is being widely regarded as a giant failure , and the state's still-unrepaired vehicle licensing and registration system, known as MNLARS, is being dragged along for the ride.
Democratic Gov. Mark Dayton, who is not running for re-election in November, vetoed two bills last month that contained the bulk of the work done by the Republican-led legislature this year. Dayton blamed lawmakers for ignoring his warnings against lumping decisions that he didn't like — such as less-than-requested school funding and tax provisions that appear to favor the rich — with less-controversial provisions that the state needs in order to keep running.
"Repeatedly over the past several months, I implored the Legislature to send separate bills on Minnesotans' most urgent priorities," Dayton's veto letter for the budget bill reads. "We agreed that we must reform elder care, address the opioid epidemic, and ensure safe schools for our children. Yet instead of coming together to find shared solutions to these critical issues, you have deposited them into a 989 page budget bill, with 51 policy provisions, which I oppose. This legislative gamesmanship was terrible, and I will not sign the result."
With the legislative session ended and no special session coming, many of the state's issues, such as what to do with MNLARS, have been put in limbo until the legislature reconvenes in January under a new governor. A spokesperson for Minnesota IT Services, or MNIT, the state's technology agency, told StateScoop that none of the stakeholders involved with MNLARS across the state are happy with how things ended.
The new vehicle licensing and registration system has had problems since launch last year and the subsequent fallout has been almost continuous. Bugs began emerging almost immediately after launch in July 2017, leading to long backlogs at local motor vehicle offices. There were reports of state employees seeking medical attention to deal with the stress of managing the new system.
One owner of a license bureau in the city of Prior Lake told a local news outlet last week that, despite months of ongoing repairs by the state, the system is still not working properly.
"You have to do three extra steps to get something done, just to try and make the system work," bureau owner Kellie Davison said . "It's a nightmare for training employees or retaining current employees. It's so stressful and almost unteachable."
Deputy registrars say they've lost tens of millions of dollars in revenue that would have been generated if not for the faulty system and its delays, and those losses are expected to continue so long as the system remains unrepaired.
The prolonged failure led to the firing of former project leader Paul Meekin, who bitterly defended his work and accused the state of making him a scapegoat.
"The underlying premise that fueled this investigation — that the success of a large-scale IT project like MNLARS rests in the hands of one person — is fundamentally flawed," Meekin said in a statement earlier this year. "This report underscores the Governor's office and Legislature's unwillingness to look at the real and serious systemic issues that plague State IT projects."
MNIT told the legislature in January it would need another $43 million to complete repairs to the system that had already cost more than $93 million to build in its flawed state. Republican lawmakers scoffed at the request and in March introduced legislation that would have MNIT shuffled under the Department of Administration .
A bill to provide relief to deputy registrars that have lost millions as a result of the buggy system was also vetoed by Dayton in May. He said he wanted a single MNLARS bill that would also include complete funding for the system to be fixed, but that bill never came.
The state did approve $9.6 million in emergency funding for MNLARS so that work could continue and contractors assigned to repairing critical problems would not be sent home, but a MNIT spokesperson told StateScoop that the failure of the legislature to find complete funding will require stakeholders to prioritize those repairs thought to be most critical while the agency waits for a more thorough solution next year.
A quarterly MNLARS update report released last week says "in the absence of additional funding, the state faces a number of serious concerns, including the inability to retain and recruit talent, address priority fixes and gaps in the system, fully move production from the mainframe, allow for needed maintenance, and hire sufficient staff to provide the level of oversight identified in other reports."
The technology agency says its now exploring what is "technically possible" with the funding available, and MNIT Commissioner Johanna Clyborne told StateScoop in a statement that the agency is "working hard to deliver as much as possible with the resources we have, and we must carefully balance those resources against the needs and priorities of each group that uses the system."
The report shows that progress is being made on fixing the system's hundreds of problems, but that 163 defects, performance "gaps" and new feature requests still remain unresolved.