'World's Smartest Intersection' debuts in Detroit
Through a partnership with vendor Miovision, the city aims to have all of its intersections outfitted with an expandable application platform by the end of the year.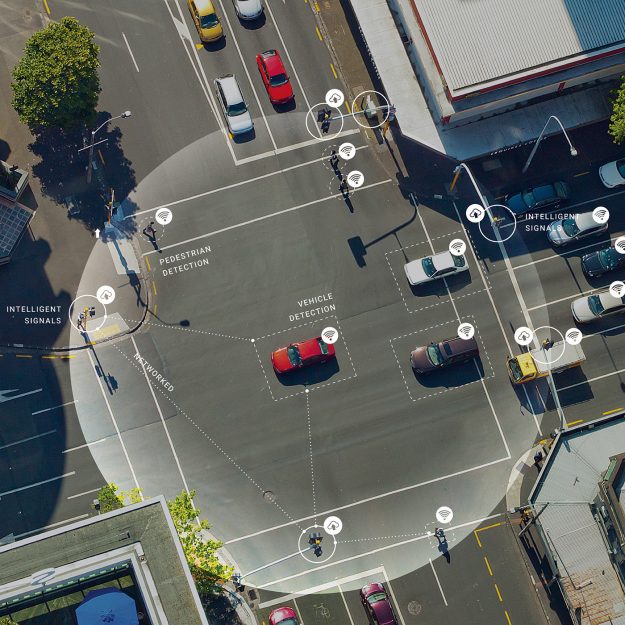 A four-year partnership with traffic technology company Miovision has given the city of Detroit a claim to having the " World's Smartest Intersection." The project, announced earlier this month, is the latest — and most technologically advanced — stage in the city's partnership with the company. The solution consists of open-architecture hardware on intersections that monitors, adjusts and reacts to pedestrian and vehicle movement.
It's not just one intersection, really. The "smartest" is any of five test sites in the city's downtown area using the latest Miovision technology. Detroit officials explained that they had solved basic data analysis and congestion issues with Miovision's help in the past, but new artificial intelligence and machine learning tools within the company's hardware are enabling them to understand how exactly pedestrians and riders use crosswalks, traffic signals and road signage to optimize their intersections.
Miovision has outfitted roughly 50 percent of the city's intersections with hardware and has plans to reach all of them by the end of the year. The five "smartest" differ from the rest of the Detroit's crossings in the iteration of software that Miovision and the city are currently testing after the Michigan State Administrative Board approved $492,000 in funds for two years of state planning and research with the company in 2015.
Since the pilot, the city has seen travel times reduced by 30 percent and emergency vehicle response times improved by 20 percent in crossings using the technology, according to Sunny Jacob, head of the city's traffic operations department. The apps used to facilitate the improvements have come from both Miovision and third-party vendors, including students from Detroit's own Wayne State University.
Expansion is key
Dave Bullock, Miovision's vice president of market strategy called the strategy an "iPhone" approach to software development — allowing interested parties, like private sector organizations and university students, to build apps to be used on Miovision's hardware. The approach is a public-sector-friendly one — Bullock said that if Miovision can't provide an app that Detroit is looking for, it wants to be able to help find it.
"[When city officials have a problem], they usually buy a box or sensor, and then when they have a second problem, they repeat that," Bullock told StateScoop. "This ends with the city having a collection of sensors at the roadside. The approach we took was fundamentally different."
Bullock said Miovision's business model is build around the idea of creating an expandable platform, so cities don't need to constantly buy new hardware, sensors and devices.
"Let's put one platform there at the intersection that is scalable and that we can evolve in functionality by just dropping new apps onto it," Bullock said.
For example, the "World's Smartest Intersection" uses an app that helps cyclists eliminate their "dilemma zone," he said — the awkward and dangerous time when cyclists are caught approaching an intersection as the light suddenly changes to yellow. The app uses machine learning to monitor cyclists, and if a rider is detected when a light is getting ready to change, the green light will hold for an extra two seconds, enabling the cyclist to pass through without being harmed.
The city is also using an app to gather data on near-miss crashes that includes the cause and location of each potential crash. With that, Bullock said, the city can identify hazardous zones even before anything happens.
The idea is to eventually create a dashboard on which public can view and interpret city traffic data, said Mark de la Vergne, the city's chief of mobility innovation. But that won't happen until the city figures out how to handle the wealth of new data, he said. The data from sensors and cameras, which Bullock says does not include personally identifiable information, is processed at each intersection before being sent to the city.
The city is also experimenting with apps that give priority to emergency and freight vehicles, as well as a jaywalking-alert system for drivers of network-connected vehicles and Waze users.
"The end goal is not to be reactive, but ideally to use technology to be predictive," de la Vergne said. "Whether that's being predictive around traffic sensors being able to see behavior like speeding, or red light-running and notifying us that we need to start doing some work out there to get in front of a crash."