Senate approves relief package with $350B in state and local aid
The $1.9 trillion package also includes $7 billion in funding for broadband deployment in rural and low-income communities.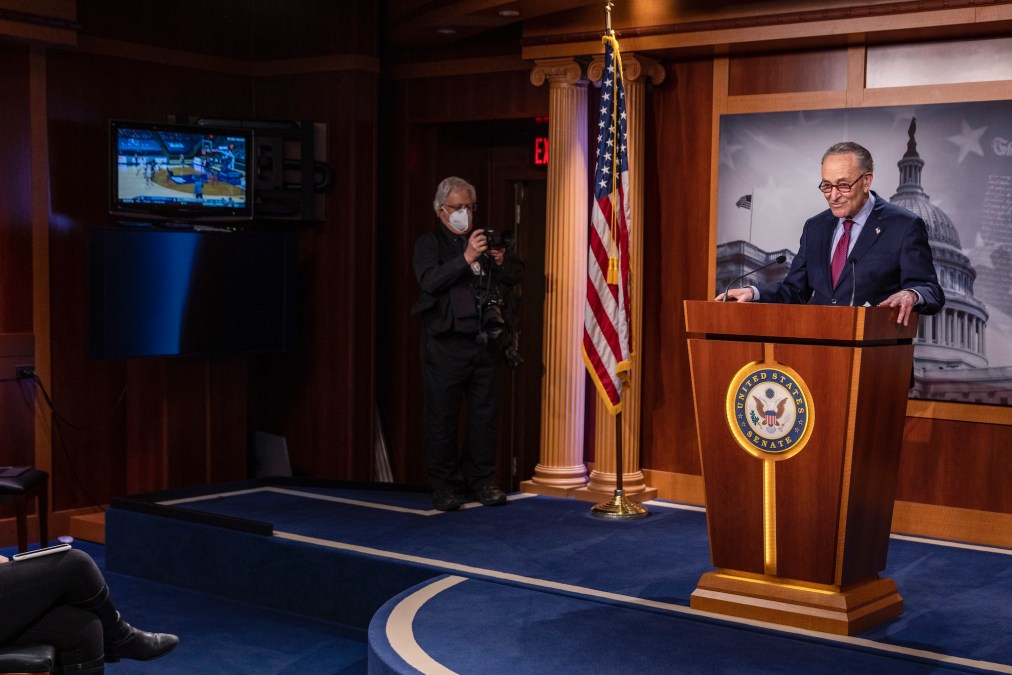 The Senate on Saturday approved its version of a $1.9 trillion COVID-19 relief package that includes $350 billion in long-sought assistance to state and local governments that've seen their budgets depleted by the pandemic. The bill, which passed after a marathon vote that began early Friday, is expected to be passed by the House on Tuesday before it goes to President Joe Biden.
The inclusion of state and local government aid was cheered broadly by organizations representing mayors, county leaders and other officials who spent much of 2020 pleading with Congress to rescue their agencies, which shed jobs and incurred massive expenses responding to the health crisis as tax revenues plummeted.
About 1.4 million state and local government workers, many of them employed by schools, have lost their jobs since the beginning of the pandemic last March, according to the federal Bureau of Labor Statistics.
"For too long, the pressing challenges and needs facing our counties have outstripped our depleted local resources," Matthew Chase, the executive director of the National Association of Counties, said in a press release. "The passage of this bill affirms a strong federal-state-local partnership, an investment in counties on the front lines and a commitment to defeating this pandemic together."
Louisville, Kentucky, Mayor Greg Fischer, the president of the U.S. Conference of Mayors, said the relief bill "will allow our cities to keep our residents healthy, provide essential services, keep our first responders on the job, and begin to unleash the full power of the American economy."
While groups like NACo, the Conference of Mayors and the National Governors Association had hoped Congress would allow the state and local funding to be used flexibly, the Senate bill places some restrictions on the money — notably that it can only be used to provide government services or plug budget holes left by revenue that was lost due to the pandemic; using the aid to pay down pension funds or offset new tax cuts is prohibited.
The bill was also amended to give Treasury Secretary Janet Yellen the power to withhold 50% of a state's aid amount based on local unemployment rates.
Of the $350 billion, states and the District of Columbia would split $195 billion. Cities and counties would get $120 billion, while $10 billion is set aside for infrastructure projects.
The CARES Act that former President Donald Trump signed in March 2020 included $150 billion in state and local aid, though that money could only be used for direct pandemic response. At the local level, it also only provided direct funding for cities and counties with at least 500,000 residents; smaller jurisdictions had to apply to their state governments for grants. The new funding will be provided directly to those communities.
The stimulus package Congress passed last December omitted state and local aid entirely.
"If there's no new injection of federal dollars, localities are totally exposed," Alan Shark, executive director of CompTIA's Public Technology Institute, said in January.
And while none of the new state and local aid in the American Rescue Plan is specifically tailored toward IT expenditures, the pandemic has tested the staff and resources of technology agencies across the country as they've raced to outfit entire workforces for remote work, reinforce overwhelmed unemployment systems and develop new digital government programs.
There are smaller technology-focused areas of the relief package, including $7 billion for broadband deployment for rural and low-income communities. At the federal level, the bill also boosts the Cybersecurity and Infrastructure Security Agency by $650 million, the U.S. Digital Service by $200 million and the Technology Modernization Fund by $1 billion.