Phoenix builds out wireless infrastructure ahead of Super Bowl
Phoenix Mayor Kate Gallego said her city upgraded its 5G wireless capacity in preparation of Super Bowl 57.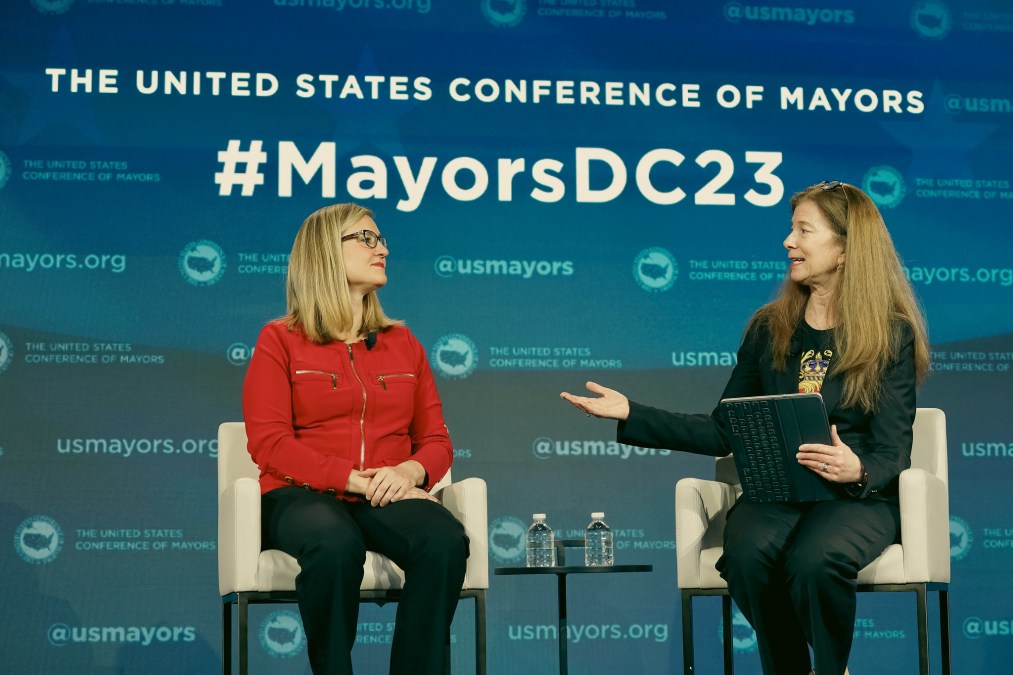 The ongoing preparations in and around Phoenix ahead of Super Bowl 57 next month has included a drastic expansion of wireless connectivity to support the government and emergency personnel staffing the game and the hundreds of thousands of people expected to arrive, Mayor Kate Gallego said Thursday.
Speaking at the U.S. Conference of Mayors winter meeting in Washington, D.C., Gallego said there've been major upgrades to the local 5G canopy, which will provide service for the NFL's events and a massive security operation.
"We think of ourselves as technology-forward city," Gallego said while on stage with Maggie Hallbach, senior vice president of Verizon's public-sector business. "I understand there are at least six mayors here convinced their teams are coming to us."
One of those mayors was Cincinnati's Aftab Pureval, who said earlier in the week that if he ran into Buffalo Mayor Byron Brown at the conference, he would be "talking shit." (The Bengals play the Bills on Sunday in an AFC Divisional Round game.)
One "technology-forward" example that Gallego said will be on display in the run-up to the Feb. 12 game is an autonomously driven shuttle — operated by Waymo, an Alphabet subsidiary — that'll run between Phoenix Sky Harbor International Airport and downtown. "That takes a lot of 5G infrastructure," she said.
Gallego, who took office in 2019, said local preparations for Super Bowl 57 began in 2018 when the NFL awarded the game to State Farm Stadium, home of the Arizona Cardinals. While the stadium is in neighboring Glendale, most of the ancillary events — including concerts, a fan festival and media availabilities — are planned to take place in Phoenix.
Gallego said five local governments are coordinating on the Super Bowl, along with federal agencies, the State of Arizona and the NFL. Tim Roemer, Arizona's former homeland security director and chief information security officer, told StateScoop last month that Super Bowl preparations include securing physical assets like utilities and public transportation and beefing up the cybersecurity of tech like mobile ticketing apps and video-streaming software.
Gallego said Thursday there are about 50 Phoenix employees who've been meeting regularly with their counterparts from other participating governments ahead of the game. There's another major sporting event scheduled that weekend in nearby Scottsdale: the WM Phoenix Open, a golf tournament that often draws upward of a half-million spectators and that's infamous as the rowdiest, booziest date on the PGA Tour calendar.
"We expect the day after the Super Bowl to be the busiest ever for our airport," Gallego said. "And the day before to be the busiest ever for downtown."
Along with the wireless connectivity expansions, Verizon's Hallbach said her company is bringing in a mobile network operations center that's previously been sent to assist refugee-processing centers in Virginia and hurricane relief in Florida. Hallbach said the mobile facility — which Verizon calls Tactical Humanitarian Operation and Response, or THOR — is designed to ensure that public-safety and emergency personnel maintain their priority status on the 5G network on days when usage will be maxed out.
"We want to show we're a city on the cutting edge, that we care about public safety and technology," Gallego said.