Q&A: What Bloomberg Philanthropies' Jim Anderson has learned from 'What Works Cities'
At South by Southwest Interactive, StateScoop sat down with Jim Anderson, who leads the What Works Cities initiative, to talk about what he's seen in the first year of the program.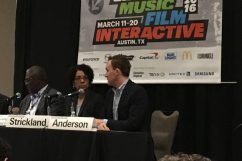 AUSTIN, Texas — Cities across the country are clamoring to find ways to work with the massive quantities of data that sit on their servers — and Bloomberg Philanthropies' What Works Cities initiative is trying to help.
The initiative plans to give $42 million to 100 cities that want to do more with the information they have. The cities can use their grants to hire the people and acquire the technology they need to use their data to make better decisions and become more efficient.
So far, 27 cities have been selected during What Works' two application periods.
"We believe that all of this positions a government to produce better impact in citizens' lives," Jim Anderson, the organization's director of government innovation programs, told StateScoop at South by Southwest Interactive. "That's the starting point and the end point."
StateScoop sat down with Anderson after his SXSW panel to talk about the program, and what he hoped the selected cities could achieve.
Editor's note: This interview was edited for clarity and conciseness.
StateScoop: We've seen a lot of buzz over the past few months about What Works Cities — just last week, you announced that six new cities would join the program, so this program is growing pretty rapidly. What have you learned so far?
Jim Anderson: The No. 1 takeaway is that the demand in cities for support and resources to get better at using data and evidence is huge and growing. Demand for the program has been very strong. One hundred and forty of the 280 eligible cities have applied. Mayors want to get better at using data and evidence, their staff members are excited to get better at using data and evidence, and to build on the many steps that they've already started to take.
SS: We saw a little bit of this on the panel you were on here at South by Southwest, but I think we're seeing more folks moving IT and the use of data and analytics out of the back room and into the boardroom — into the places decisions are made in cities. How important is that up-front involvement on the part of mayors and city managers to really get their hands dirty and work directly with those technology officials to get stuff done?
JA: So out of the backroom and into the boardroom is exactly what What Works Cities is all about and then much more. The whole point of What Works Cities is to get beyond the idea of simply releasing data or simply creating a performance dashboard and to have a much richer, deeper conversation that undergirds a lot of your decision-making.
We believe that you want to get out into the community and talk about strategic priorities with the community, we believe that data can be used to undergird all of the conversations that you're having with mid-level managers, we believe that there are terrific opportunities to engage the frontline around data and evidence use. We really do believe that this can become the basis for how you manage resources and relationships and get much better impact and results for people as a result. So yes, out of the back room is pretty critical.
SS: You have 27 cities in What Works. Who is doing that really exceptional work? Who has that case study that's really setting the mark?
JA: We're seeing excellent examples all over the country. Mayor Tony Yarber in Jackson, Mississippi, his government is very new to using data. He has very quickly created a performance management system, used a new sort of emphasis on data to have a conversation in the community about strategic priorities and is now beginning to create a culture around managing toward results. So that's a great example. I mentioned in the panel the other day the mayor of Seattle is rethinking the way that that city procures and manages its homeless services contracts in the face of a real calm challenging period — a homelessness crisis where the mayor has declared a state of civil emergency around homelessness.
SS: What does the end vision look like for you guys as you continue your goal to fund all of these cities and give them the resources they need?
JA: The end goal is to help cities produce much better results for their citizens. The end goal is to set a new standard together with all of the cities around what great use of evidence and data looks like in local government, and to help move many cities toward that standard. Ultimately we believe that all of this positions a government to produce better impact in citizens lives, that's the starting point and the end point. That's the North Star that we're moving toward. We know that when cities adopt these best practices, when they share information with one another, if we can create a real community amongst practitioners and amongst mayors, we will accelerate progress in cities and that's our goal here.
SS: And what does that look like? Is it cities saving money?
JA: Impact for citizens depends on the goals and priorities of every community. One of the hallmarks of the Bloomberg Philanthropies programs is that we're trying to put great tools and best practices into the hands of mayors and their practitioners, and to help them put those to good purpose and to use them against the priority issues that they face in their cities.
So for one city, that might mean we need to achieve cost efficiencies and produce economic development. For another, it might mean taking on homelessness in new ways or reforming some other key service area. We're trying to work, trying to beef up the tools, the skills, the cultures, that these cities are developing so that they can solve whatever their local priorities are much more effectively. It's going to look different in every city.
Contact the reporter who wrote this story at jake.williams@statescoop.com, or follow him on Twitter @JakeWilliamsDC.