Written by
Benjamin Freed
New York Mayor Bill de Blasio on Thursday announced that the New York Police Department's chief information officer, Jessica Tisch, will become the citywide CIO, ending a six-month search that began over a prolonged outage of a municipal wireless network in April.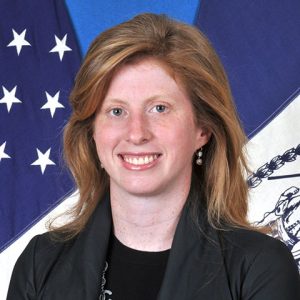 Tisch, a Harvard-trained lawyer who first joined the NYPD in 2008, has served as the department's deputy commissioner for information technology for the past six years. She started in the counterterrorism bureau, overseeing the development of a citywide network of surveillance cameras, license-plate readers and other devices. As the department's CIO, she has also been credited with modernizing 911 dispatches, how the city processes missing persons reports and equipping every officer with a smartphone while on duty. The smartphone adoption, though, hit an early bump when Microsoft stopped supporting the 36,000 Nokia phones the department had initially purchased, prompting Tisch to order iPhones as replacements.
As the top IT official for the city, Tisch will lead the 1,800-person Department of Information Technology and Telecommunications and its $724 million annual budget.
"Over the past six years, the Mayor has given me the rare opportunity to use technology to modernize the greatest police department in the world," Tisch said in a press release from de Blasio's office. "It is now my great honor to help him realize this vision across city government."
DoITT has been without permanent leadership since June, when then-CIO Samir Saini stepped down amid the fallout from an 11-day outage of a wireless network used by the city's public safety and sanitation agencies, including NYPD. The New York City Wireless Network, or NYCWiN, was offline from April 6 to April 17 because DoITT, which is responsible for its operation, neglected to install a critical update adapting to a change in the Global Position System, even though the U.S. government, which oversees the system, had given GPS users more than a year's notice to make the update, which corrected for a once-every-20-years recalibration known as the week-number rollover.
After NYCWiN was finally updated, De Blasio's office contracted the consulting firm Gartner to review the lapse. Gartner's report, delivered two weeks after Saini's resignation, placed the blame directly on DoITT, which was faulted for outsourcing too many maintenance tasks without sufficient vendor management. It took three hours for Northrup Grumman, the contractor that runs NYCWiN, to notify DoITT that the network had glitched out, and another two days for the department to set up a process for working through the outage with New York City Emergency Management.
Eusebio Formoso, the CIO of the city's Department of Finance, had been serving as DoITT's interim commissioner since Saini's departure.
Tisch, a member of a prominent New York family that co-owns the Giants NFL team and whose name adorns institutions like New York University's arts school, starts in her new post next Monday.