Louisville, Ky., loses Google Fiber after company placed lines too shallow
Google said it will end service in Louisville on April 15, though the city says it has other options, including a growing municipal fiber network.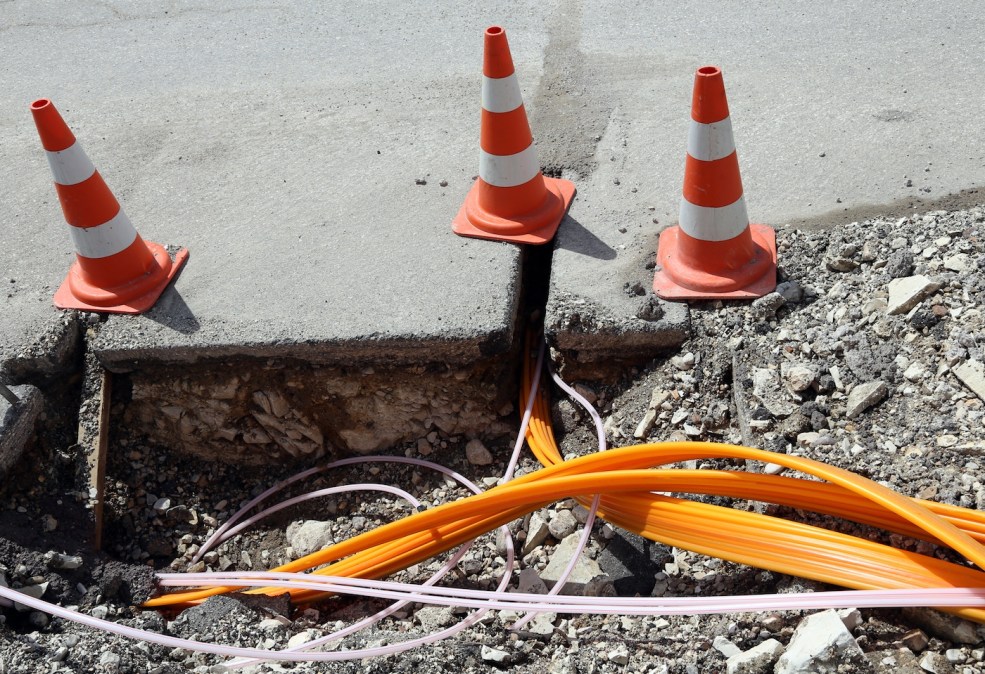 Google said Thursday it is ending its Fiber service in Louisville, Kentucky, marking the first time the company has completely exited a city where it had started offering the gigabit-speed internet service.
In a blog post, the company acknowledged that it had encountered "challenges" in Louisville that caused frequent service outages and disruptions to residents when making repairs.
In a follow-up statement, Google acknowledged those challenges were largely self-inflicted after the company attempted to modify its fiber installation method — known as "shallow trenching" — by burying its lines just two inches beneath the surface of city streets, instead of the usual six inches or deeper it goes in its other markets. As a result, service was frequently interrupted by surface damage, and repairs often required noisy road work.
"Given these challenges which were disruptive to residents and caused service issues for our customers, we would need to rebuild the entire network in Louisville, which is not a good business decision for us at this time," a Google spokesperson said.
But Google also said that Louisville, where it will end service April 15, has a very small customer base compared to its other cities, which include Atlanta, Austin, Salt Lake City and San Antonio. (Webpass, a subsidiary Google parent Alphabet acquired in 2016, also provides high-speed wireless service to a handful of large cities, including Chicago, Denver and Miami.)
Since it entered Louisville more than two years ago, Google offered residential consumers internet service advertising download speeds of 100 megabits per second or 1 gigabit per second using a fiber-to-the-premise model, in which a fiber line is run from the central network to a single building, such as a home or apartment complex. That method of installation is typically faster, but more expensive than the fiber-to-the-node model, in which fiberoptic cables run to a fixed location in a neighborhood, with the final connections to subscribers running on traditional, slower copper wiring.
Google was also providing free gigabit-speed service to three nonprofit organizations around Louisville that now stand to lose their internet provider. The company said it will give each organization $15,000 to support their connectivity needs, a figure that was doubled from $7,500 after a conversation with Mayor Greg Fischer.
Fischer's spokeswoman, Jean Porter, said that Google did make Louisville's internet service market more competitive, but also that the city can weather its departure thanks to the development of a municipal network.
"From the time Louisville Metro began working with Google Fiber, we've believed that adding this service as a choice for residents would lead other providers to offer better services, faster speeds and lower costs," she said. "Competition is good for a market. AT&T, Spectrum, and others have stepped up and increased investment in Louisville. We look forward to working with them and others to provide residents with choices for low-cost, gigabit-speed internet access. We are also excited by our expansion of internet network capacity through the LFIT middle mile fiber initiative and 5G wireless coverage."
The LFIT network serves the Louisville government's connectivity needs, including public safety agencies, a free Wi-Fi service and mobility services. In an April 2018 speech, Fischer said the city plans to expand the network by 500 percent, including nearly 7 miles of new fiber in Louisville's west end, which includes some of the city's poorest neighborhoods.
Google launched its Fiber service in 2011, when it laid down cables in Kansas City, Kansas. Expansions to Kansas City, Missouri, and suburbs on both sides of the state line followed later that year. But after several years of adding new metropolitan areas, Google Fiber's growth stalled in late 2016 amid cost concerns and the reassignment of hundreds of its employees to other Alphabet divisions. Rollouts in new markets were canceled.
Some places that had been expecting Google Fiber, like Palo Alto, California, have responded to the service's sputtering out, by developing plans to build consumer fiber networks of their own. Last June, the Silicon Valley city's then-chief information officer, Jonathan Reichenthal, announced plans to build a municipal fiber internet service. Though unlike Google, which might have built a fiber-to-the-premises network costing as much as $78 million, Palo Alto is settling for a fiber-to-the-premises network pegged at $15 million.