Elizabeth Warren proposes $85 billion in broadband grants
The Democratic presidential candidate says she wants to expand high-speed internet access by promoting municipal and publicly owned service providers.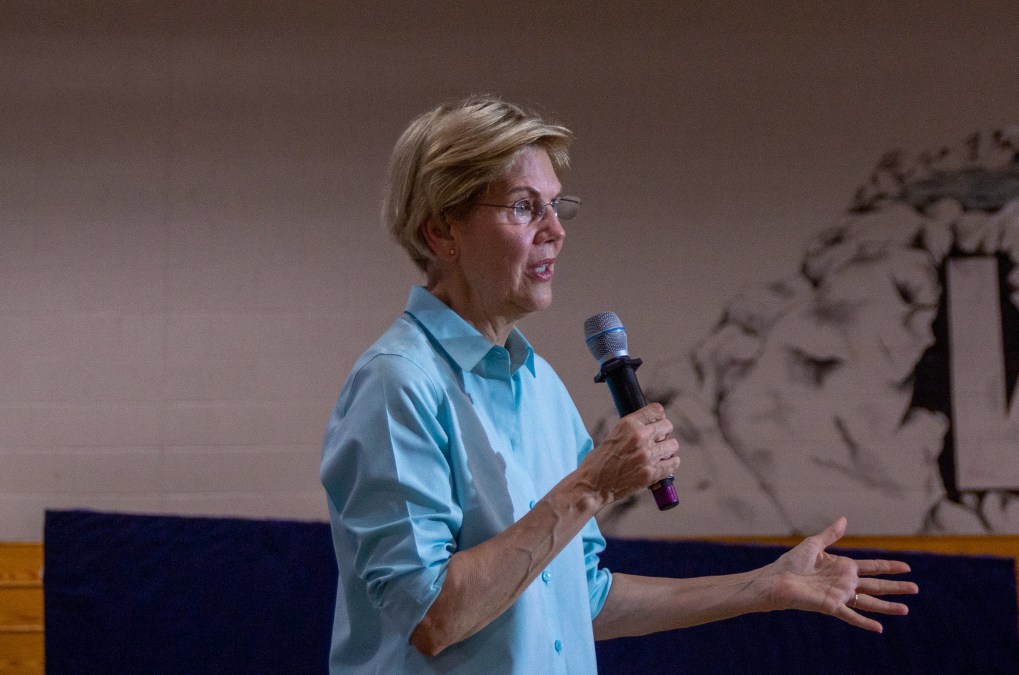 Democratic presidential candidate Elizabeth Warren on Wednesday published a detailed plan on high-speed internet access, saying she would offer $85 billion in new grants for rural broadband infrastructure and encourage the development of municipally backed internet service providers.
While the Massachusetts senator is hardly alone among 2020 candidates promising new investments in rural broadband — New York Sen. Kirsten Gillibrand said Wednesday she would spend $60 billion — Warren's proposal is built around building out internet access at the local level by encouraging publicly owned, municipal providers.
Warren's $85 billion grant program would be managed by a new Office of Broadband Access, and would only distribute funds to electric and phone cooperatives, nonprofit organizations, cities, counties or tribal governments. Her plan says grants would cover 90 percent of the costs construction of new high-speed broadband infrastructure on the condition that recipients provide connections directly to the premises for all residences under their jurisdiction. Applicants would also be required to offer at least one service level with upload and download speeds of at least 100 megabits per second and one discounted plan.
The Federal Communications Commission found in its most recent Broadband Deployment Report that 26.4 percent of rural homes and 32.1 percent of homes on tribal lands lacked access to broadband internet, compared to just 1.7 percent of all urban residences. Warren's policy paper compares the gap to the early 1930s, when private electric companies declined to extend their grids to cover rural areas, leading to the rise of local electric cooperatives funded by the New Deal-era Rural Electrification Administration.
"Just like the electric companies eighty years ago, today's biggest internet service providers have left large parts of the country unserved or dramatically underserved," the Warren proposal reads.
Along with funding new fiber construction, Warren aims to strengthen the competitiveness of municipal ISPs, which she argues have been weakened by both federal programs funneling broadband expansion dollars through major carriers like Comcast and Verizon, as well as state-level regulations that limit municipal and publicly owned services. Although a recent report found that six of the 10 fastest ISPs in the United States are locally owned and operated, municipal broadband has been diminished by laws in 26 states that make it more difficult for local communities to set up public or cooperative carriers.
Warren's plan states that she would use federal authority to preempt those regulations.
Tyler Cooper, the editor of BroadbandNow, a website that analyzes internet service providers, told StateScoop that much Warren's proposal is "long overdue."
"Making municipal broadband the national standard would allow thousands of cities to build out networks similar to those that already provide some of the best broadband services in America," he said.
Cooper noted that the requirement in Warren's proposed grant program that recipients install service directly to homes would be costly, saying that building fiber to a single residence typically costs between $3,000 and $8,000. But he did praise Warren's prioritizing municipal and cooperative carriers over big commercial networks.
"I tend to think that earmarking funds so that they can only be accessed by cooperatives, non-profit orgs, and municipalities is an excellent way to ensure that this new proposed grant program gets used more effectively than current and past rural expansion plans," he said.
Along with the $85 billion in grants and promotion of locally controlled ISPs, Warren's broadband plan also focuses on the oft-criticized coverage maps the FCC collects from internet carriers. Previously, the FCC only asked ISPs to report which census blocks they covered, though the commission voted last week to require companies to provide detailed geospatial information. Warren said an FCC under her administration would require ISPs to provide maps that report coverage and speeds down to the household level, as well as data about pricing.
Cooper said that level of granularity would be a "tangible improvement" over the FCC's current maps. "It wouldn't be the first time something similar was proposed," he said, "but if it came to fruition in 2020, this could substantially improve our ability to measure the digital divide in rural America."