Los Angeles county debuts open data site
The Los Angeles county government is moving to make its data more open and accessible through the launch of a new open data portal last week.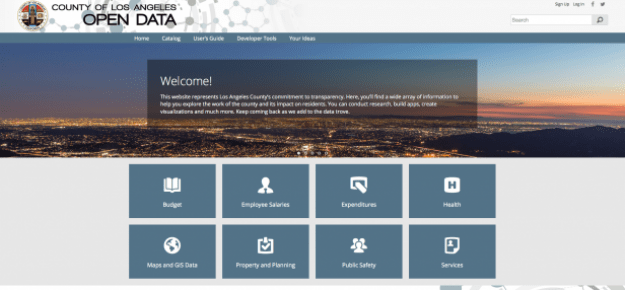 Less than two years after Los Angeles launched an open data portal, its county is following suit.
Los Angeles County launched a new open data website last week, designed to give the public "easy, one-stop access" to county records, according to a release from county officials. The new site will contain neighborhood crime statistics, restaurant inspection data, county employee salaries, budget expenditures and property assessment records.
According to the release, the property assessment records will be the largest online collection of those files in the United States.
"This is an important first step for the county," County Supervisor Mark Ridley-Thomas said in a statement. "We are now offering more information in an accessible and unprecedented way to our county residents."
The website allows visitors to filter, sort and create visuals from all of the data in the portal. Prompts on the site also encourage users to offer feedback to guide the development of the platform throughout the coming months.
The platform has been under development for about two years, but got the necessary spark to move forward when the board of supervisors, spurred by a motion from Ridley-Thomas, stressed the importance of the portal's creation. The motion also called for the county to create a task force that would be under the direction of the county's chief information officer, Richard Sanchez.
Now that the platform has launched, the task force will work to identify more data sets that the team can add to the portal.
"We will continue to ask for transparency and to encourage innovation with the treasure trove of data that our county collects," Ridley-Thomas said.
In addition to increasing the availability of this information to promote transparency and accountability, the portal also acts as a platform to encourage "entrepreneurial engagement," according to the release, by making the information available for app developers and others who can see a commercial or social benefit to creating new innovations or products to serve the public from the data.
"Our Open Data initiative represents a tangible milestone in the county's determination to provide new levels of transparency and accountability in the digital age," the county's interim Chief Executive Officer Sachi Hamai said in the statement.