D.C. leaders urge civic hackers to throw support behind open data legislation
Civic-minded coders gathered in Washington, D.C., to brainstorm ways to open up the district's data and make use of it.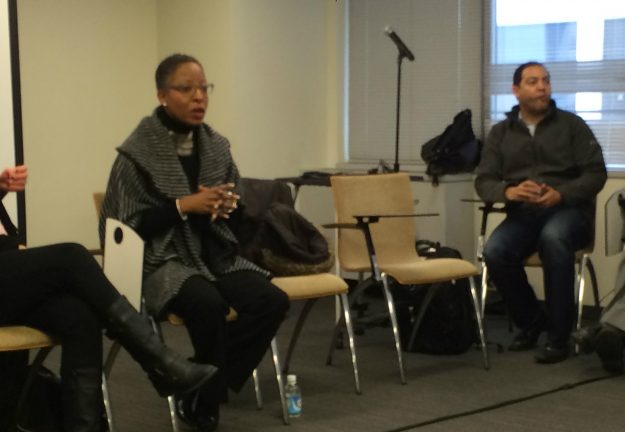 Washington, D.C., leaders are working fervently to open up more of the District's data and make its government more transparent, but they're hoping the city council will help jumpstart their efforts.
At "Open Data Day DC" — a gathering of civic hackers hosted by the open data advocates at the Data Foundation and data portal vendor Socrata — staffers with several city agencies implored attendees to throw their support behind pending legislation to make the city's data more available to the public.
The bill, called "Strengthening Transparency and Open Access to Government Amendment Act of 2016," would require the district's 200 boards and commissions to post all data generated by their meetings in an open format on a centralized portal. It was introduced in January, shortly after Mayor Muriel Bowser unveiled a draft policy on the city's open data.
"It really does provide some radical means for open government," Traci Hughes, the director of the district's Office of Open Government, said of the legislation.
Hughes noted that her staff of three people currently monitors how the District's public bodies post their agendas and meeting minutes online. But the bill would codify their responsibilities and funnel the information into a portal maintained by the city's Office of the Chief Technology Officer.
Hughes lamented that the bill is currently languishing in the council's Judiciary Committee, with Chairman Kenyan McDuffie yet to schedule a hearing on the legislation.
"We need voices en masse to really review this legislation and call for a hearing," Hughes said. She also urged the civic hacking community to contribute suggestions for the city's draft open data policy.
Hughes said she soon hopes to undertake an "open data roadshow" in the coming weeks to emphasize the value of the legislation — and open data more generally — to city agencies and lawmakers.
Julie Kanzler, lead GIS applications developer with the district's Office of the CTO and a key architect of the city's open data warehouse, said that effort comes in tandem with her staff's ongoing "enterprise data inventory." She said that initiative is aimed at adding "quality over quantity" to the district's data, as well as centralizing where the information is housed.
"We're trying to find out 'What are those various pieces that are sitting on different agency websites?" Kanzler said. "We need access in one common area."
Kate Rabinowitz, founder of DataLensDC — a blog dedicated to using open data to illustrate trends about the district — noted that the city's data efforts are already fairly robust. In particular, Rabinowitz said she considers the district's open data portal a valuable resource, especially when it comes to accessing geographic data.
However, she conceded that some of the district's data can still be difficult to find, hidden on websites for individual agencies instead of accessible on the central portal.
"You do have to Google ferociously, and often, to find district data sometimes," Rabinowitz said.
Nevertheless, she praised the district's Department of Transportation for posting reams of data related to its new "Vision Zero" effort.
The initiative's goal is to bring the number of traffic-related deaths in the District to zero by 2020, and the city is encouraging people to report dangerous drivers they see on the streets via a smartphone app or the city's website. The District then posts that data and maps it by where the reported incidents occurred.
Rabinowitz believes there's a host of things civic hackers and city workers can do with this data, but she cautioned that it doesn't provide a full picture of the biggest traffic trouble spots in the city. She noted that "the people who are often most active in these kind of civic initiatives tend to be wealthier or more highly educated than the general population," which could skew the data set.
"In order to get this data, you're relying on that person having an Internet connection," Rabinowitz said. "You're relying on that person to care enough about this initiative to download that app or go to that website, and then care enough to take the time."
She added that the district's staffers are aware of this deficiency, and working to increase awareness of the project and build participation from all the city's residents to help correct it.
"You're going to get a subset of the population whose voice is not heard or is lessened because of the way this data is collected," Rabinowitz said. "That's why it's really important to think about how your data was collected."
Contact the reporter at alex.koma@statescoop.com, and follow him on Twitter @AlexKomaSNG.