D.C. builds GIS buzz with social media challenge
The city's Office of the Chief Technology Officer used a series of Facebook and Twitter riddles to get people thinking about D.C.'s GIS tools.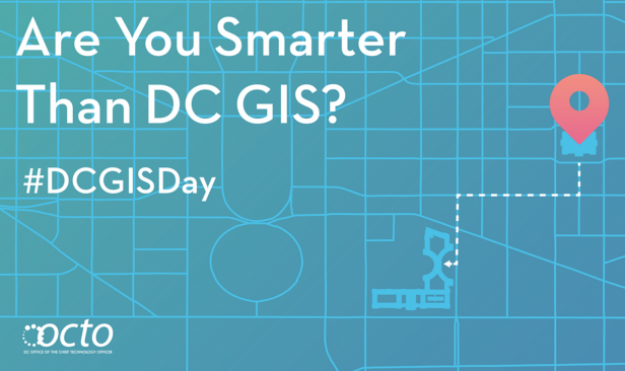 A wonky social media campaign has drummed up some serious interest in Washington, D.C.'s geographic data tools, according to the city's IT staff.
On Wednesday, D.C.'s Office of the Chief Technology Officer posted 15 riddles about points of interest across the capital on their Facebook and Twitter accounts, and directed their followers to use the city's geographic information systems, or GIS, portal to figure out the answers. Over the 4 1/2 hours that the office posed the questions, the posts reached more than 200,000 people.
The goal of the campaign — which was part of the international GIS Day— was to create an online experience that was "part scavenger hunt, part history quiz," Mike Rupert, the office's communications director, told StateScoop.
"We just wanted to show them how cool geography can be and how cool their city is," Rupert said.
Rupert added that 97 different people responded to the questions, and they received dozens of retweets and likes on the posts as well. He said that this wasn't the office's first community engagement effort, but it was the one with the broadest appeal.
"Our GIS team has done smaller get-togethers where they've invited people from that community in, and there's been a decent turnout," Rupert said. "But they really wanted to do something that was more citywide and wasn't quite as wonky as what a bunch of cartographers or geospatial folks would get into. They wanted to sort of open up that field of practice and specialty to the masses."
Accordingly, they set about developing questions that struck a balance between driving people to use the city's tools without seeming too complex.
"You could see that none of them were extremely difficult that required trigonometry or anything, but the average person could go and look at different tools and maps, whether it's our tools that we share or Google Maps," Rupert said.
Some of the questions were as simple as asking people to identify a specific part of the city, and add in something extra like a direction it was facing, Rupert said.
Can you identify this? Address? What direction are we viewing? #Clue6 #DCGISDay pic.twitter.com/1U0EErB1OZ
— DC OCTO (@OCTODC) November 18, 2015
Others were a bit more complex. Rupert was particularly proud of a riddle he called the "bowtie question," which required using "a little bit of geography or spatial relationships to figure stuff out." "We asked 'If you drew a line along these three streets where these streets connected, what geek garb would the lines make out?'" Rupert said. "It ended up being a bowtie."
Nice work @curlyjessp @aixpat_36 @SC_in_DC @emtpej on #clue3 #DCGISDay It's a bowtie! pic.twitter.com/xj5UTvcmU2
— DC OCTO (@OCTODC) November 18, 2015
Rupert said the staff ended up enjoying themselves as they tried to stump the public, but that task was easier said than done.
"We thought some of the questions that were going to be on there would be a little bit harder," Rupert said. "One question we actually thought was going to be a little bit tough, but someone answered it in 25 seconds, so we were like, 'OK, maybe we need to make this a little bit harder.'"
The office's workers will likely get a chance to think up more puzzling questions in the near future, according to Rupert. He believes that the success of this event will spur similar engagement efforts for the district's other digital resources.
"Sometimes technology gets kind of lost behind the really insider baseball terms, the servers and all that stuff," Rupert said. "I think we need to find ways to explain technology and how it actually benefits our lives. Sometimes that's difficult to do, but I think we're going to continue to try to find ways to do that."