Chicago mayor proposes massive overhaul of city's IT operations
Mayor Lori Lightfoot's proposal would merge the city's IT agency with the department that manages vehicles and buildings, which the city's former chief data officer called a "terrible decision."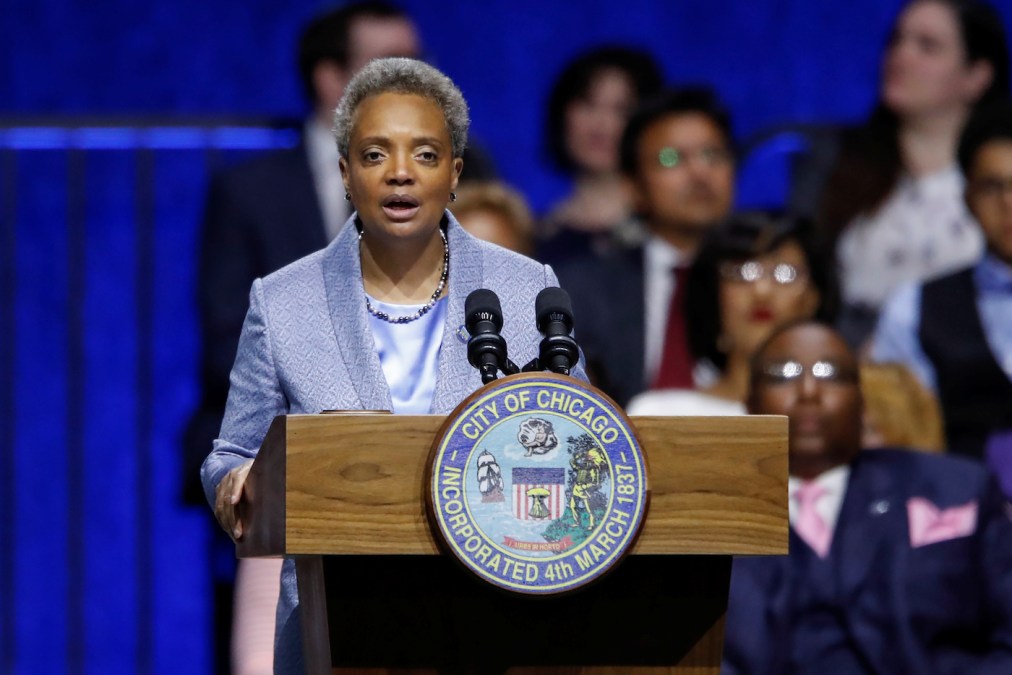 Chicago Mayor Lori Lightfoot on Tuesday proposed sweeping changes to the city's technology governance, including merging the Department of Innovation and Technology with the Department of Fleet and Facility Management, the agency responsible for maintaining the city government's vehicles, buildings and other municipally owned property.
Lightfoot's proposal would also move the positions of chief information officer and chief data officer from the IT agency to the mayor's office. In a press release, the mayor said the rearrangement would save the cash-strapped city $1 million.
"With significant financial challenges in 2020 and beyond, we remain committed to ensuring that the city operates in the most efficient manner possible, and that the maximum amount of resources are allocated equitably to serve all communities," said Lightfoot, who was elected in April.
If the merger of the IT department and fleet management department — or "2FM," as it's called by locals — is pushed through, the new agency will be responsible for most of Chicago's existing technology services, including IT procurement and support, cybersecurity, the city's 311 line and its open-data website. The merger remains subject to approval by the Chicago City Council.
The CIO and data officer roles, both of which are currently vacant, would be relocated to Lightfoot's office. According to the mayor's press release, appointees to those positions will "develop a vision" for IT management, including a renewed open-data strategy.
But Lightfoot's proposing to merge departments and move IT leadership positions to the mayor's office caught quick and brutal criticism from some who have previously worked in technology policy in the nation's third-largest city.
"Today, City of Chicago has made a terrible decision to merge IT operations with fleet and facility (who manages properties and city vehicles)," Tom Schenk Jr., who served as Chicago's chief data officer from 2014 to 2018, wrote on Twitter Wednesday night. "That's right, someone is going to have to manage cars, buildings and IT in one job."
Schenk went on to characterize Lightfoot's proposal as regressive, and said that putting the CIO and data jobs directly under the mayor would not lead to the efficiencies Lightfoot promised.
"Treating IT as a piece of physical infrastructure is incredibly dated and exactly the opposite of what technology organizations view their mission," he wrote. "This approach mirrors a philosophy of the 1990s. The CDO and CIO role is being moved to the Mayors office, which will deters those roles from being effective. You must keep leadership close to those implementing technology. To think IT can be orchestrated apart from the doing of IT is misguided."
Schenk also wrote that he thinks Lightfoot's IT realignment, if realized, won't last very long but that it could still have lasting effects.
"And it's sad to think this will one day have to be undone when it's realized this was a poor decision," Schenk tweeted. "[It's] a tremendous waste of resources and a killer of the culture. I'm truly disappointed to see the administration take such a poor step. This reflects poorly on Chicago."
The IT overhaul will be formally introduced Oct. 23 as part of Lightfoot's budget proposal for the 2020 fiscal year.