'Blockchain for Arkansas' summit shows off food-safety platform that uses decentralized records
The summit was hosted by Gov. Asa Hutchinson and IBM and included a number of Arkansas-based companies and universities.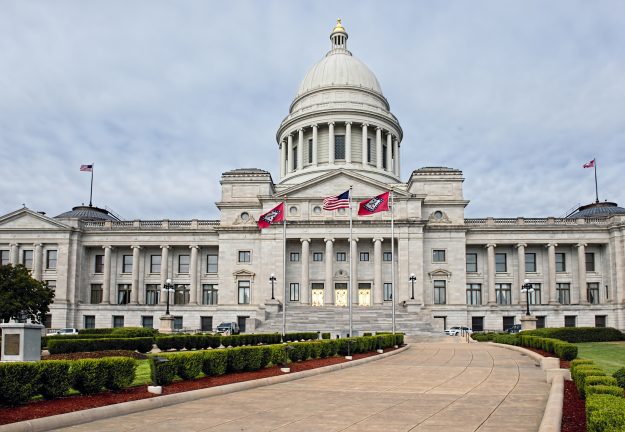 Arkansas officials said this week they are "beginning the conversation" on a statewide initiative to improve food safety through blockchain technology.
Gov. Asa Hutchinson hosted executives from the grocery, agricultural and technology industries earlier this week at a summit unveiling the state's new "Blockchain for Arkansas" program, called BC4AR for short. The companies included Walmart, Tyson Foods, JB Hunt Trucking and Riceland Foods. Representatives of the University of Arkansas, Arkansas State University and the University of Central Arkansas also attended the event.
Hutchinson's summit was put on in conjunction with IBM, which is also designing Food Trust, a platform that tracks food packaging and distribution on a blockchain ledger to safeguard against foodborne diseases and agricultural waste. Several of the companies at the event are already using Food Trust, including Walmart, which is based in Bentonville, Arkansas.
"Arkansas has a unique advantage … with some of the world's largest retailers and agricultural producers in our backyard," said Mariels Winhoffer, a vice president and global managing director at Walmart. "We want to harness Arkansas' unique agricultural and corporate landscape to define new skills, job roles and ways of working in the new blockchain market. Not only will it create cost savings and efficiencies for farmers and businesses, but it will contribute to a safe, transparent and traceable food-supply chain for consumers."
A handful of states are dabbling in blockchain technology beyond its best-known function as the backbone of cryptocurrencies like bitcoin. Connecticut recently announced a working group comprised of industry leaders to investigate potential government applications of blockchain, and other state-level projects have experimented with the tech on virtually every government record-keeping procedure, including classified information , elections and contracts .
The Blockchain for Arkansas summit was to designed to get industry on the same page as government leaders with regard to the state's potential use of the technology, but Hutchinson is leaving the details to the private sector.
"This initiative is industry-driven and any decisions on procuring technology will be made by industry," Hutchinson's press secretary, Chelsea O'Kelly, wrote in an email to StateScoop.
Hutchinson did sit down with six or seven working groups at the end of the summit to listen to pitches on the technology, and will receive a report outlining potential next steps, O'Kelly said. She added that the state could become the Food Trust blockchain's newest participant in the future, but has no plans to so do right now.