As data culture blossoms in Arkansas, officials pursue a 'golden record'
Though initially a sensitive subject, agency heads in Arkansas state government are increasingly sharing their data thanks to a new technology leadership team with big ideas.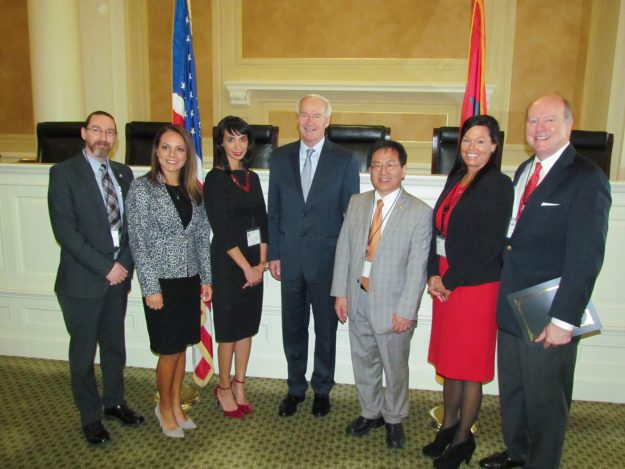 In the last few years, officials in Arkansas state government's technology agency tell StateScoop they've watched as a "data culture" has emerged, preparing agencies for new capabilities and the state for critical social changes.
Engineering a new workplace culture may not have been entirely purposeful, but the events that prompted it were. Since the creation of a task force in 2015 and subsequent passage of a law last year calling for improved data transparency, the state's technology agency — the Department of Information Systems — has hired a new deputy director, a chief data officer , two deputy chief data officers, and a chief privacy officer . The department has taken inventory of agency data because it was unclear previously what data was available and where it could be found. Now questions such as how to reduce the state's recidivism rate, which is one of the highest in the nation, have a technological foundation that leaders can build upon as they search for answers.
"We've been working with these agencies, these people with this data, for 17 years. We've seen this progression, but over the past year it's just been a sea change," said Robert McGough, one of DIS's deputy chief data officers hired last year.
McGough first joined DIS in 2001 as a technical writer and has worked in various technical and data roles in the department since. His counterpart, deputy chief data officer Adita Karkera, who started with DIS in 2000 as a database administrator, said the recent culture shift was expected, but perhaps that they didn't expect it to be so "huge."
"As we've had more and more conversations and open discussions, we've seen that culture shift and seen people become more data-literate and wanting to share data, wanting to share what data can do for them and what it can do for the state as a whole," Karkera said.
The state's data capabilities are still emerging, but officials said they can now see concrete possibilities on the horizon where before there were only line items on a wish list with no delivery date. At an inaugural chief data officer forum in November , several agency leaders signed a data-sharing agreement, the state's first. Yessica Jones, director of DIS, said it was the highlight of the event. That thing that so many CIOs talk about — "data-driven decision-making" — had arrived in Arkansas.
A "golden record"
"The immediate goal is to solve the issue of data integration across agencies," Jones said. "If we can come up with a way to come up with what we call 'the golden record' of the individuals across agencies, that's the first stepping stone to solve many, many business cases for any agency, period."
The topic of data sharing is sensitive, Jones said, but as talks have progressed in recent months, there's been more excitement about what it could mean for those involved.
In the case of the state's first data-sharing agreement, a "golden record" could prove transformative for a section of the population that sits at the intersection of almost every branch of state government: criminal offenders. Most governors tout plans to reduce recidivism because there is perhaps no better marker that a system is working well than its capacity to transform law-breakers who drain society's resources into people who contribute to that society. In Arkansas, though, poor results for those kinds of efforts made the issue particularly hot.
In 2014, Shiela Sharp, the director of the state's Department of Community Corrections, told lawmakers that the state's three-year recidivism rate was rising and approaching 60 percent. This is compared to a national average three-year recidivism rate of 43 percent, according to 2004 data from Pew Charitable Trusts.
Varying recidivism rates across states, across studies by various groups and across time are difficult to reconcile because of inconsistent methodologies and the complexity of the issue. The one constant is that none of the numbers look very encouraging. In 2014, the National Institute of Justice used data from 30 states to show that the national average was even higher — 68 percent recidivism within three years of release from prison, and 77 percent within five years. If the goal of prison is to reform or "correct," as the name would suggest, this means that most of the time, prisons don't work.
Restoring hope
Asa Hutchinson, Arkansas' Republican governor, told an audience at a press conference in 2015 that finding ways to change his state's particularly poor record in this area had been a priority for him before he even took office, and that the state needed help.
"If you look at the resources of the state, the capacity of the state, we can't get the job done for our children and those that are trying to reenter society, we can not do it simply as a state government," Hutchinson said. "We need to enlist partners in order to accomplish this mission."
In this case, Hutchinson wasn't talking about data or technology, but partnering with nonprofits and "the faith community" to reduce the number of children in foster care and to provide resources for people leaving prison and reentering society. Hutchinson's "Restore Hope" program takes on the state's resource shortage, but many of the state's institutional challenges remain. That's where the state's first data-sharing agreement comes in.
It's an agreement between the departments of corrections, community corrections, information systems, the state parole board and the state crime information center. McGough explained that this agreement was selected as an early project because while the challenge of reducing recidivism is not easy, the arrangement needed to share the data was easy. The challenge of sharing data across government entities was purely a political one, he said. With people now talking more about data and the state enjoying its new "data culture," that political challenge, too, is disappearing.
DIS is collecting data from across state departments to create what Jones calls a "360-degree view of an individual." Between data silos and questionable data quality, it's not easy for the state to understand who a given inmate is, what their history is, and what things might prompt them to wind up back in the same place in three years.
"The first step is to find what's causing recidivism so we can prevent it," Jones said.
Today, there's no way to track someone across multiple systems, such as between juvenile and adult facilities. A simple misspelling of someone's name can lead to lost data that could be useful in reducing prison reentry. And those same challenges persist across many other state government missions, Jones said.
"It goes back to kids and workforce," she said. "We don't have a way to track children from kindergarten to where they land in the workforce. Again, it's because we're siloed."
The state is pitting its data against other challenges — analytics to stop improper capitated payments when someone enters prison could save the state untold sums. Recent entry into an eight-state cohort led by the National Governor's Association is anticipated to bring data sharing best practices from across the country. No one expects Arkansas' prisons to empty out overnight, but as Jones says, "this is the first step."