Want to change the public's behavior? Make it 'easy'
Meeting public policy goals doesn't always have to be expensive or painful, says Michael Hallsworth of the Behavioral Insights Team.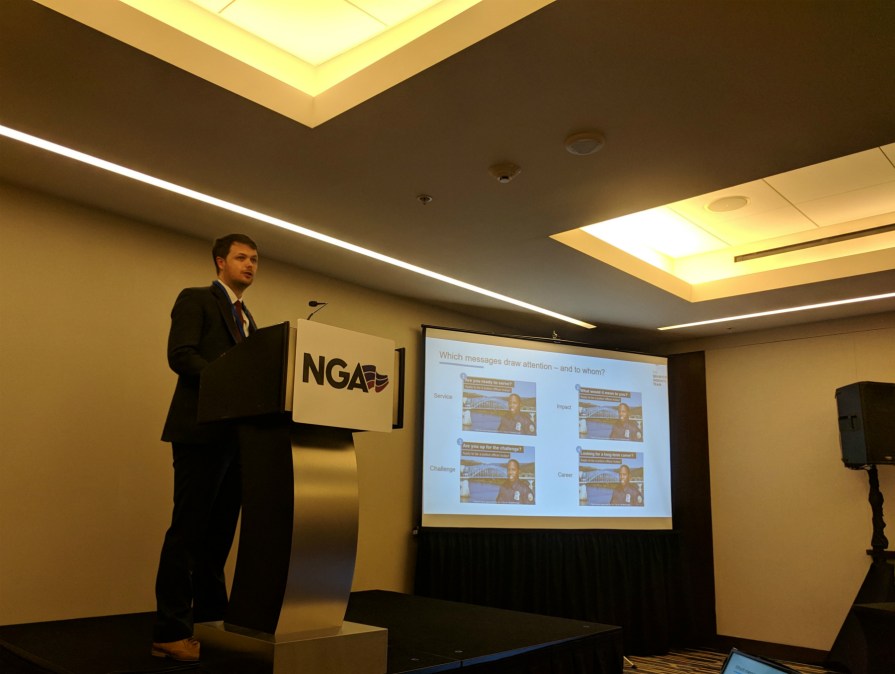 Getting people to change their actions en masse doesn't have to cost government much money or even take very much effort. It might just be a matter of presenting people with a more attractive alternative, the head of an organization that uses behavioral theory to develop policy told the National Governors Association Friday.
"In public health there's a sense you must make people do a hard thing and be converted, but why can't we look for easier options?" Michael Hallsworth, the North American managing director for the Behavioural Insights Team, a research group partly owned by the British government, said at the NGA's winter conference in Washington.
BIT, which led projects in 31 countries last year, has helped government agencies increase the rate that people pay their bills by redesigning the physical letters that instruct on what is owed and how to pay, used text messages to improve student course completion rates, and tapped into prescription drug data to convince doctors to be more judicious about which patients get medications, Hallsworth said.
In the United States, BIT is part of What Works Cities, a Bloomberg Philanthropies initiative that sponsors a rotating group of 100 cities searching for data-driven solutions to public policy issues.
Hallsworth said there are four motivations his organization looks for when searching for ways to change public behavior: "attractive," "timely," "easy," and "social."
He said his group advised states not to over-regulate electronic cigarettes when they were first introduced, noting that it was a safer and evidently more "attractive" alternative to a behavior — tobacco smoking — that many in government were trying to stop.
Making things "easy" for people can encourage a behavior or making it harder can reduce it. Hallsworth said there is research showing that issuing medications in blister packs, rather than bottles, makes medication more physically demanding to remove from the package, thus reducing the number of overdoses.
Targeting the "social" motivation, Hallsworth described a British pilot project analyzing public health data to find regions where doctors were prescribing antibiotics more frequently than doctors in neighboring areas. By sending letters to these doctors in the winter 2014-15 informing them of this fact and presenting alternatives to antibiotic prescription, Hallsworth said BIT was able to reduce antibiotic prescription dispersals and sustain the reduction over time. The change was equivalent to that which had been achieved through a 30 million pound (about $39 million) incentive program led previously by the government, he said.
"We take a pragmatic approach. We're not academics," Hallsworth said. "The point isn't just to find things out for their own sake, but to improve outcomes."
Using the "timely" motivation, Hallsworth said BIT was able to improve course pass rates among high-school students between 16 and 18 by pairing the students with "study supporters." Supporters, nominated by the students themselves, were provided with information about what the students were studying, key deadlines and other information that helped contextualize the conversations had over text message.
Instead of exchanges that began with questions like "What's going on at school," met by responses such as "Nothing much," supporters were able to ask start conversations by asking about specific assignments and tests around the time they were coming up. Those who received text messages in the pilot saw a roughly 6 percent higher pass rate than those in the control group. The program cost $12 per student per year.
But Hallsworth warned that these strategies must be tested before they are deployed or they can backfire, such as the case he shared of a poster that a government agency had planned to display in doctors' offices warning patients of the public health risks of antibiotic over-prescription. Upon testing, Halssworth's team found the posters had the opposite of the intended effect, increasing antibiotic prescription rates. He said BIT did not explore why this was the case, but surmised it had something to do with the imagery of a pill on a tongue shown on the poster and its small text, which they assumed most people had not read.
In finding ways to adjust behavior that leads to improved outcomes for a society, the idea is not to engineer entirely new solutions, Hallsworth said, but to suggest new behaviors to people that they might view favorably in some way, and opt to take on themselves.
"It's about making improvements to what's already there," he said.