Three homicides on Bay Area Rapid Transit spur $28 million high-tech security upgrade proposal
The head of the San Francisco Bay area's public transit system wants to install newer video cameras and back them with "cutting edge video analytics."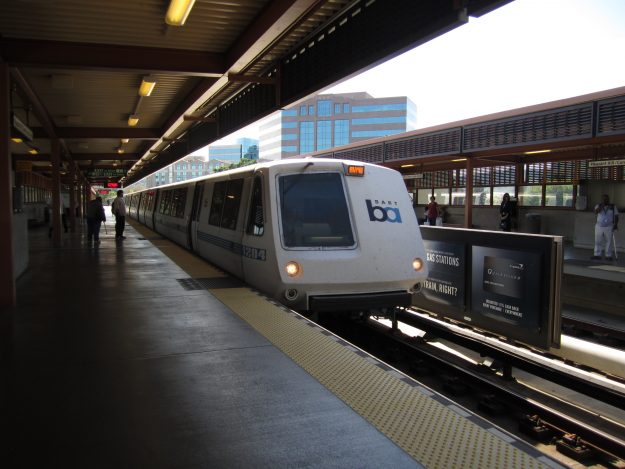 Three homicides in the span of a week last month on the San Francisco area's public-transit system punctuated a general rise in violent crime that has prompted officials to conduct a "top-to-bottom" security review. Now, the Bay Area Rapid Transit's board of directors is set to consider a series of technology-driven reforms and upgrades at its meeting Thursday.
Included in the proposals, which BART General Manager Grace Crunican is calling a "Safety and Security Action Plan," are plans to improve employee security training, add taller physical barriers to deter fare jumpers and implement a monitoring system with "cutting edge video analytics."
BART already has nearly 4,000 video cameras installed at its rail stations and parking lots. A new system integrated into those cameras would be capable "of monitoring thousands of simultaneous video streams and automating response recommendation" to police.
"The system automatically detects when normal patterns are disrupted, and it then sends an alert to dispatch to monitor the area," an agency press release states.
A system-wide implementation "could take" 12 months and cost $4 million initially and $1.3 million in ongoing costs. Crunican also suggested spending $15 million to replace the existing cameras with high-definition cameras over the next four-and-half years. In total, Crunican's proposals will cost BART an estimated $28 million.
Nick Josefowitz, a member of the BART board, told KGO-TV he wants to explore whether facial recognition systems could be integrated into the cameras, but a BART spokeswoman Anna Duckworth told StateScoop that facial recognition is not being considered.
"We are not introducing a facial recognition technology now because we need to know more about its effectiveness and flaws," Duckworth wrote in an email. "We are also not introducing anything that would allow the agency to track or store cell phone information."
One of the recommendations in the director's plan has already been implemented — on Monday, the BART Police Department temporarily cancelled all off days for its officers and scheduled all its patrol officers, community service officers and dispatchers to work six 10-hour days a week.
The increased police presence follows the July 22 death of 18-year-old Nia Wilson , who was fatally stabbed in an incident that also left her 26-year-old sister wounded; 27-year-old John Lee Cowell has been charged with murder and attempted murder.
"BART has always been focused on public safety but it's clear that we must do even more," Crunican said. "The tragic murder of Nia Wilson has deeply saddened everyone at BART as well as the communities we serve. Our riders are demanding that we do more to maintain public safety and this plan offers multiple new initiatives we can immediately begin to roll out."
A day before Wilson's death, a homeless man named Don Stevens was punched by another man at a BART station and died after falling to the platform, police said.
On July 20, 51-year-old Gerald Bisbee was found dead in his home two days after an altercation at a BART station that left him with a cut lip and small cut on his knee. An autopsy revealed he died from an infection from the cut on his knee. Police later arrested 20-year-old Abdul Bey.
Data compiled by the San Francisco Chronicle from the California Department of Justice and BART show that 2018 is on track to set new records for crime on the transit system. Last year, BART transported more than 120 million passengers and recorded 293 robberies, 130 aggravated assaults and five rapes.
If this year's trend continues, violent crime on BART will have risen 66 percent over the last five years. Technologies like video data analytics and facial recognition are sometimes heralded in the public safety community as an innovative solution to challenges in solving and preventing such violent crime, but those technologies also draw ire from privacy and civil rights advocates. Last month, the American Civil Liberties Union used Amazon's facial recognition software, called Rekognition, and erroneously matched 28 members of Congress with photos of criminal mugshots in a demonstration of the technology's immaturity.