State CIOs moving toward service broker model, survey finds
CIOs believe their roles are rapidly changing, as states continue outsourcing applications and IT services.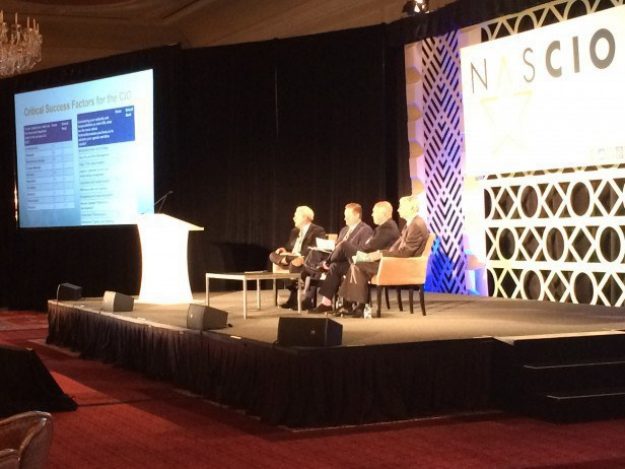 SALT LAKE CITY — State chief information officers see government IT departments moving increasingly toward becoming service brokers instead of service providers, according to the results of a new survey.
The National Association of Chief State Information Officers released the results of its sixth annual survey of 47 of its member states and territories Tuesday, and it shows that 85 percent of respondents believe their departments will be a broker for at least some services going forward.
"We want agencies and customers to come to us with not what they need, but how to do it. That's where we need to go," said Florida CIO Jason Allison at a presentation on the survey here at NASCIO's annual conference. "We definitely see ourselves moving in the 'CIO as broker' model."
The analysis, compiled over the last four months with the help of Grant Thornton and IT trade group CompTIA, also shows that more states outsource some of their IT applications and services. In fact, 79 percent of respondents reported doing some outsourcing in the area, up from 42 percent in 2010.
"The recognition that we can't do it all ourselves is what you're seeing in those application numbers," said Mark Raymond, Connecticut's chief information officer.
The survey's findings suggest that states will increasingly move in that direction in the future. Indeed, 55 percent of respondents foresee outsourcing business applications through a software-as-a-service model, while 43 percent predict an expansion of outsourcing in general.
"The focus is very much on consolidation and the limited expansion of outsourcing," said Graeme Finley, managing director of Grant Thornton.
At the same time, just 2 percent of those surveyed suggest that they will build new data centers or add state IT staff, respectively, and 49 percent believe downsizing is on the way for state-owned-and-operated data centers.
"The owner-operator role may continue to diminish," said Doug Robinson, NASCIO's executive director.
The report concludes "the state CIO business model of the future" is that of a "broker of services."
Yet, NASCIO's researchers caution that "the transition to a broker model does not come easily," largely due to the changes required for the funding models for state IT departments.
Of those surveyed, 60 percent believe they'll need to add broker service fees to managed services fees to recoup additional costs, while 32 percent feel their organization's revenue will drop due to the shift.
"There's a challenge with a changing revenue base, but fixed assets," Finley said. "I think that's a big challenge, but I haven't seen anyone come up with a solution yet."
The survey also revealed changes in the way state IT staffs roll out new software. Increasingly, CIOs believe their departments are moving away from "traditional waterfall life cycle projects and towards the rapid delivery of software in an incremental fashion, often using agile software development techniques."
Nearly half of respondents said their states have standards and guidelines for agile software development, 47 percent in total, while 36 percent said those standards are currently in development.
"We asked the question thinking there'd be a few states scattered around, but that's not really the case," Finley said. "Almost all states have some level of agile activity."
However, the survey shows less progress in how states are actually taking advantage of that development method. Only 32 percent of CIOs said they're using agile development on a pilot or trial basis, while 34 percent said they're using it, but it's currently limited and uncoordinated.
Even still, 70 percent said that they expect to increase adoption of agile development in the next year or two. Procurement regulations are the biggest inhibitor, as just 23 percent of respondents believe that their purchasing rules fully support agile development.
"When you have a traditional procurement model, it doesn't really match with that process," Finley said.
Procurement in general was a contentious topic among CIOs as well. A combined 47 percent of respondents said they were "very dissatisfied" or "moderately dissatisfied" with their state's process, and only 4 percent reported being "very satisfied."
"The general feedback is the people are good and they want to help, but the rules are archaic in many ways," Finley said. "People try to work around the rules, but there's only so much you can do."
Overall, NASCIO said the results show the "importance of agility and delivering value to the business customer."
"It's prudent for us to put the state's data in the hands of the most efficient and effective provider," Allison said.