Workforce worries loom as CIO roles evolve, NASCIO's 2022 survey finds
NASCIO's annual member survey found CIOs concerned about recruiting newer and younger workers, but also cementing their elevated roles.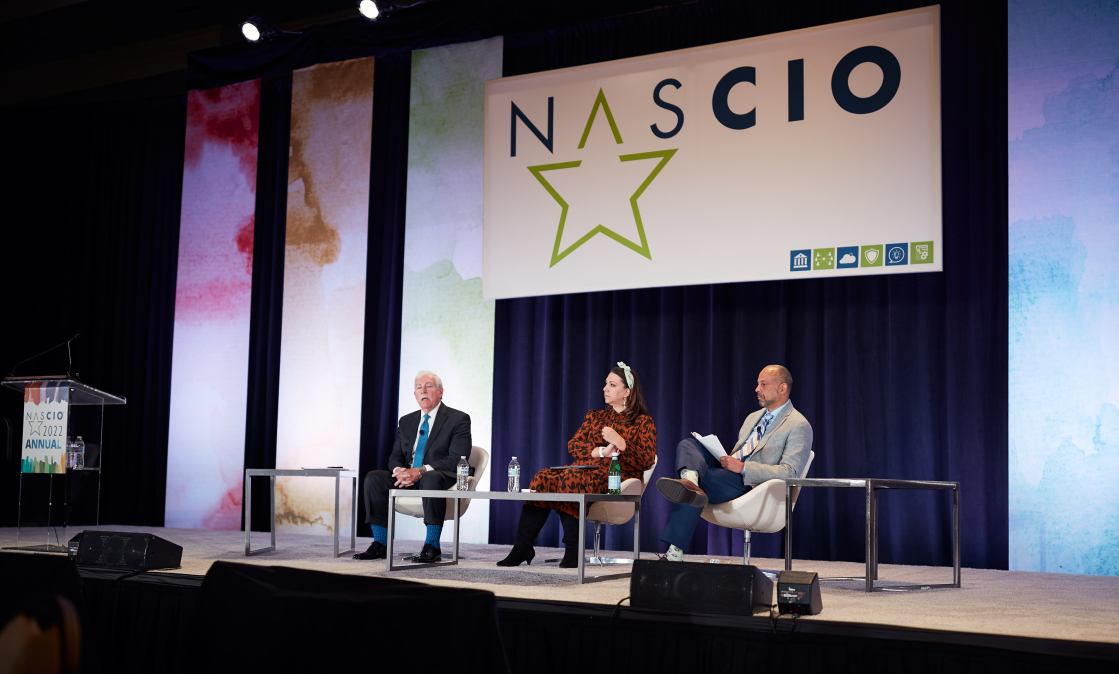 State IT leaders are increasingly concerned about the future of government technology workforces, a trend fueled by ongoing interest in hybrid schedules and telework, rising turnover across the public sector and whether government service can be made appealing to young people entering the job market, according to a new survey from the National Association of State Chief Information Officers.
The annual canvass of NASCIO's members, published Monday at the organization's conference in Louisville, Kentucky, found nearly every respondent citing workforce issues as a top priority. When asked what steps would be most effective in improving recruitment and retention, many CIOs cited retraining current employees to fit modern tech demands, making job titles and descriptions less wonky and increasing the availability of remote work.
While those responses are largely in line with 2019, the last time NASCIO's survey honed in on workforce matters, the legacy of the COVID-19 years and an influx of younger workers has heightened the issue. In a wide-ranging survey that included CIOs' thoughts on modernization, digital services, data privacy, broadband and government business models, the workforce concerns were evident across the board, said NASCIO Executive Director Doug Robinson.
"Workforce issues, people issues, talent management issues were all embedded in all of those," he said.
Murky job titles and descriptions have been a lingering concern in the CIO community for years, with some states taking gradual steps to make their open positions more appealing toward a broader applicant pool. But as millennials and, increasingly, members of Generation Z become the majority of the workforce, the pressure is on to make government IT jobs more appealing, particularly as many state and local government workers consider quitting.
Thirty-one percent of CIOs said it would be beneficial to align IT job titles and descriptions more closely with those offered by the private sector. That's roughly in line with responses in previous years, but in 2022, NASCIO for the first time asked specifically about remote and hybrid options, and 18% of members said increased remote work availability would have the most impact in finding new workers.
"You know, the old joke is that state government is still in the 'post and pray' mode," Robinson said. "But they can't do that if the title is 'data processing specialist three,' which means nothing to candidates in the field."
Recruiting Gen Z
Robinson also said states need to approach younger job candidates with the assumption they won't be around for the long haul.
"Some of the Gen Z generation, they do want to serve the public, they want to give back," he said. "They're not coming for a pension. So state government has to be comfortable with the three-to-four-year process of cycling in and cycling out, and government practices are not based on that type of flexible and accelerated change."
CIOs who answered the survey shared many of their own thoughts in the report, including speeding up hiring processes and opening their listings to out-of-state residents, a step very few states have taken.
"A new hire cannot take nine months if people only stay in the job three years," one CIO is quoted as saying. "This will take a complete rethinking of the recruiting, training and retention processes or we will simply be underperforming through constant churn."
There does seem to be an appetite among CIOs for making some of these changes: 76% said they've tried increasing non-salary benefits, 73% cited increased remote work and 65% said citing the call to public service remains a successful tactic.
Newer workers also increasingly expect their employers to offer diverse and inclusive environments. CIOs, the survey reads, "ignore diversity at their peril."
Staying elevated
As they focus on the future of their workforces, CIOs are continuing to see changes in their overall role in state leadership. During the height of the pandemic, NASCIO members said the health crisis had elevated their roles substantially. A major factor in that trend: the surging demand for digital services, remained the top answer when CIOs were asked what pandemic-era practices will continue, followed closely by an increased priority on modernizing legacy technology.
But nearly every CIO responding to the survey said their organizations' overall missions had not fundamentally changed because of COVID-19. Large majorities of CIO offices remain focused on developing IT strategies, delivering infrastructure services to agencies and ensuring compliance with security and regulatory requirements.
But in practice, CIOs said the increased visibility they've had among other department heads and elected officials is persisting even as attention on the pandemic has waned, and that requires them to take an approach focusing on more than technology, the report read.
"Focus on being a trusted strategic partner to the state and the agencies that you serve," one member is quoted as saying. "Enterprise technology services are important, but all of your focus can't be on technology services, the strategic leadership aspect is very important."
The emphasis on strategy coincides with a midterm election cycle putting 39 gubernatorial offices up for grabs and setting up a wave of CIO transitions. Robinson said NASCIO uses election years to ask its members to rank factors for success when dealing with other state officials. Strategy, communications and relationship management took the top spots, while "being a technologist" ranked ninth.
"Leading change is a huge part of the role of a state CIO today," he said. "But also part of their whole mission now is overcoming the organizational resistance to change, focusing on things like business process, innovation and modernization as part of that whole practice. I think something implicit in the role today is explaining that to governors and other [officials]."
The only success factor that trailed "technologist" was politics.
"Unless you are already a master of politics, don't be tempted to play," a CIO told the survey. "You will die, game over, no reset."
"You need to be a diplomat," Robinson said. "One of the challenging roles of the state CIO is communicating the overarching value to the mission. It's really more about how you help the business."